Tom Brady's Wife and Kids Hilariously Troll Him by Speaking Another Language
In football terms, Tom Brady knows everything. He knows better than anyone who has ever suited up in the NFL how to win Super Bowls (seven and counting). He knows what the defense is planning to do on the next play before he even snaps the ball. He even knows when to leave a 20-year relationship with the New England Patriots and still flourish with another team.
But around the Brady household, the future Hall-of-Fame QB knows nothing. At least that's what his wife, Gisele Bündchen, and kids say behind his back in Portuguese.
Tom Brady's family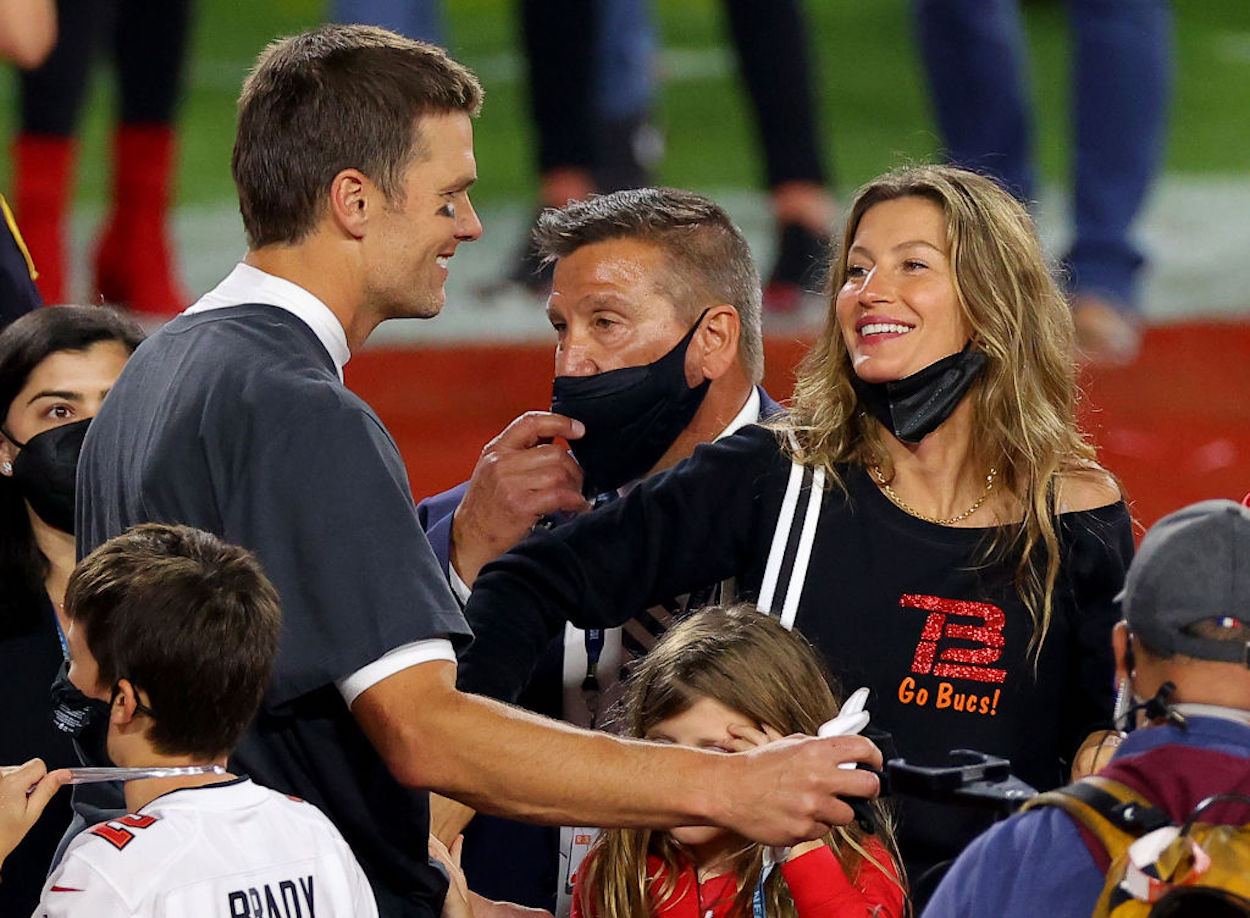 Tom Brady is one of the most well-known athletes to ever live, but he might not even be the most famous person in his immediate family. Gisele Bündchen, who's been married to Brady for 12 years, is a famed Brazilian supermodel known best for her work with Victoria's Secret in the late 1990s.
Bündchen isn't just more famous than Brady, though. She's richer, too. In 2016, Forbes named Bündchen the wealthiest supermodel in the world with a $386 million net worth, while Brady boasts a more modest net worth of $200 million.
Brady and Bündchen have two children together — Benjamin and Vivian. The QB also has another child — Jack — from his past relationship with actress Bridget Moynahan.
The Brady family splits its time between its houses in Florida, New York, California, and even Montana.
Gisele Bündchen is fluent in five languages
Over the course of her lengthy career as a supermodel, Bündchen has had to learn multiple languages as she traveled the globe for work. Growing up in Brazil, Portuguese was her first language, but she added four more to her repertoire over the years.
Today Bündchen speaks five languages fluently — Portuguese, English, French, Italian, and Spanish. She tries to teach her family as much as she can about the different languages, but Brady is a little busy during the season to keep up.
Tom Brady's wife and kids hilariously troll him in Portuguese
During media day leading up to Super Bowl 55, Tom Brady spoke to reporters about what life is like in the Brady household. It turns out he's the main target for pranks in the family, and his wife and kids make fun of him behind his back in Portuguese.
"Let me say this — my son, who is 10, his Portuguese is amazing,'' Brady told reporters. "My 8-year-old daughter is fluent in Portuguese. Unfortunately, their dad is way behind in his understanding of how to speak the language. I can usually understand a lot of things my wife will say — 'Papai não sabe de nada,' which means, 'Daddy doesn't know anything.' I usually get that a lot in the house.
"I know when they're speaking Portuguese kind of what they're saying, even if they're taking shots at their dad. Sometimes when I do use my Portuguese words my daughter will be like, 'Daddy, you spoke Portuguese,' which is pretty great.''