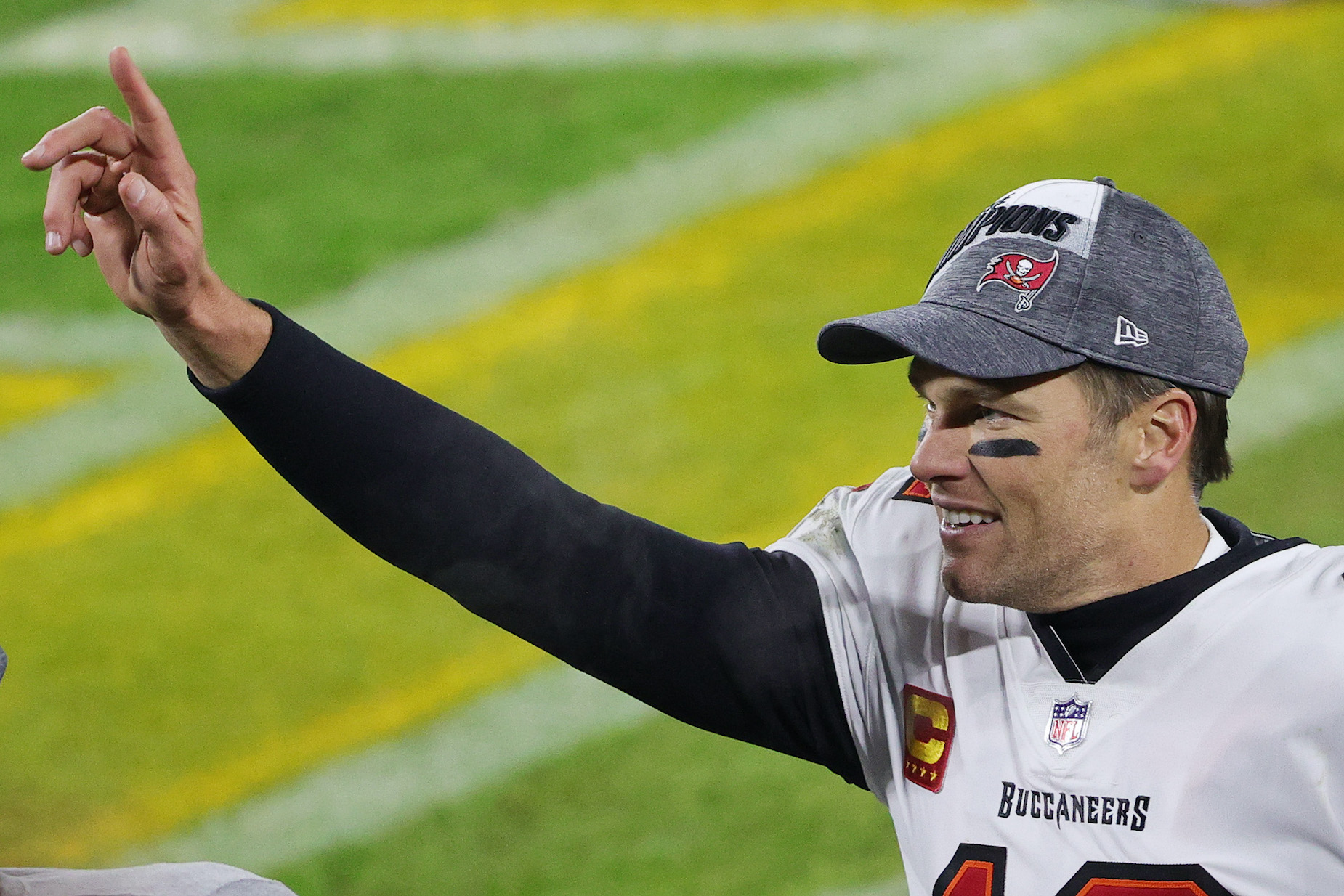 Tom Brady's Super Bowl Media Day Included a Subtle but Epic Flex Regarding His Greatness
While Super Bowl media day featured plenty of notable quotes, Tom Brady managed to slip a massive flex into his question and answer session.
At this point in his career, it's not exactly groundbreaking to say that Tom Brady is a great quarterback. During his time on the gridiron, TB12 has built up a resume that would be the envy of virtually every other player. During Super Bowl media day, the Tampa Buccaneers' main man made sure to remind everyone of that reality.
Although Tom Brady didn't show up to his media availability rocking six Super Bowl rings or anything like that, he still managed to pull off a massive—if somewhat subtle—flex.
Tom Brady rose from a sixth-round draft pick to the NFL's GOAT
These days, even the most hardened hater can't take too much issue with Tom Brady's credentials. When the quarterback arrived on the NFL scene, though, it was a much different story.
Although Brady played his college football at the University of Michigan, he didn't enter the NFL draft with too much hype. He only joined the New England Patriot as a sixth-round pick and started his career at the bottom of the depth chart; Drew Bledsoe, the starter at the time, didn't think he'd ever become anything more than a journeyman backup.
That, of course, did not happen. In September 2001, Mo Lewis knocked Bledsoe out of the game; Tom Brady stepped under center and, from there, the rest is history.
While he's since left New England, Brady is still going strong. This February, the quarterback will be appearing in his 10th Super Bowl; he's already won six championships, has claimed three NFL MVP awards, and done just about everything else possible on the gridiron.
A Super Bowl media day like never before
During his time in the NFL, Tom Brady has seen and done just about everything imaginable. The 2020 season, however, has been a completely new experience for the veteran quarterback.
Like everyone else, Brady has adjusted to social distancing, video calls, and the other quirks that constitute 'the new normal.' Even after an entire season of talking to reporters virtually, though, this year's Super Bowl media day was still something of a novelty.
On Monday afternoon, the quarterback tweeted a picture of his video set-up, noting, "This year's a little different than the others…" A video shared by the Buccaneers' official Twitter account also shared a video of him taking pictures to "document this unique Opening Night."
Tom Brady also managed to include a sneaky flex about his Super Bowl success
During Super Bowl media day, no one is going to make too outlandish of a statement; the last thing anyone wants to do is create bulletin board material for their opponents. Tom Brady, however, still managed to remind everyone of his greatness.
As noted by James Palmer of the NFL Network, Brady said, "This is a crazy media day. I'm sitting here in an empty room. This is very different than the other nine experiences." While that might not seem like anything to write home about, the number nine is still pretty impressive.
Some players spend their entire career dreaming of playing in a single Super Bowl without ever getting there. Others, who have the fortune of finding themselves in a favorable situation, might appear in a couple of Super Bowls over the years. Tom Brady, however, will be taking the field in his 10th Super Bowl this January. He's been there enough times to compare media days the way an average person might talk about family get-togethers.
When he and his Tampa Bay Buccaneers take the field on Sunday, Tom Brady will face a tough challenge in the Kansas City Chiefs. The NFL veteran, however, can quite literally act like he's been there before.