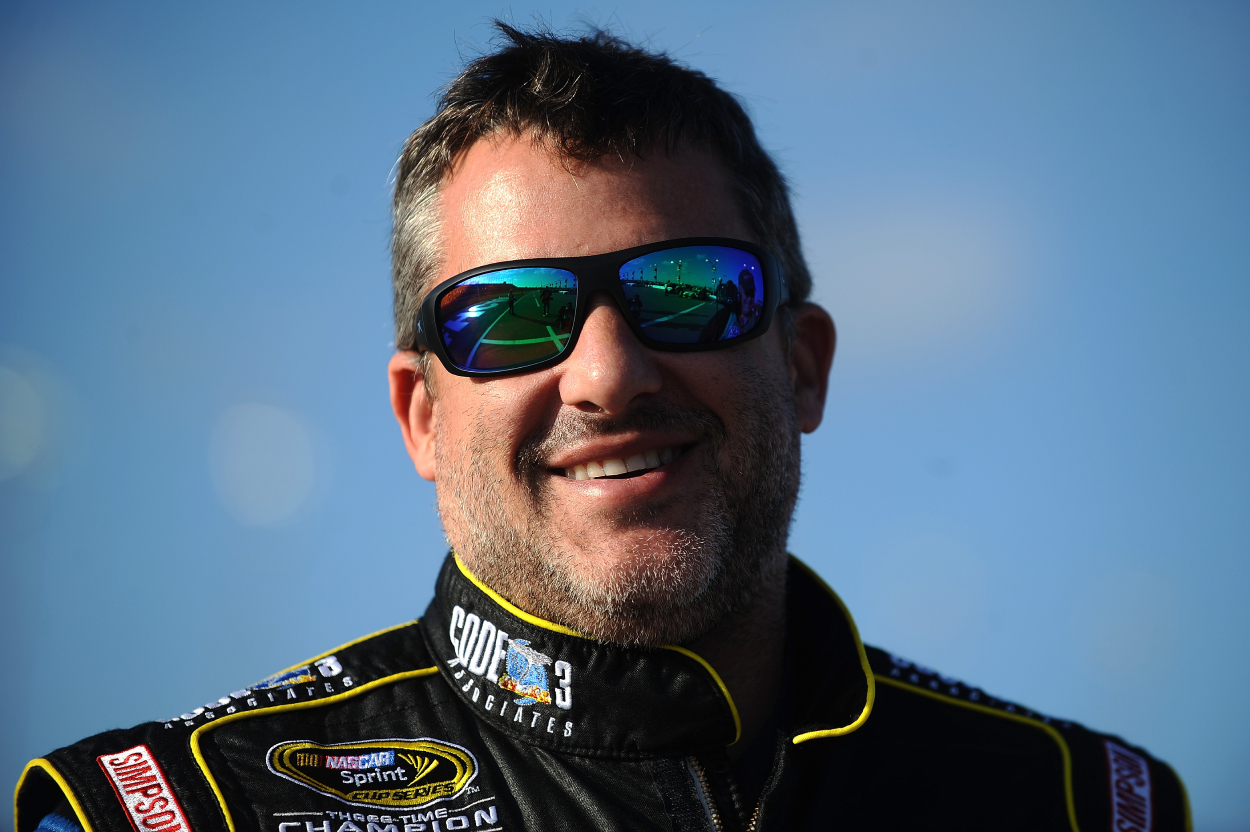 Tony Stewart Became a NASCAR Team Owner After a Criminal in Prison Approached Him With a Life-Changing Offer
Tony Stewart had a very successful racing career as a driver. His success as a team owner, though, all started because of a man in prison.
Tony Stewart was initially one of the most successful drivers in motorsports and NASCAR history. He had won championships and had proven to be among the best of the best. However, he has since had a great deal of success as a NASCAR team owner as well. His decision to become a team owner, though, was, at the time, a brave one. This is because a man who had been serving a prison sentence approached Tony Stewart about the life-changing racing decision. That man was Gene Haas.
Tony Stewart had an incredible racing career as a NASCAR driver
Tony Stewart was about as successful as a NASCAR driver can be during his career.
He won three NASCAR Cup championships as a driver in 2002, 2005, and 2011. Stewart is also the only driver to ever win both a NASCAR Cup Series championship and an IndyCar championship.
His efforts as a driver ultimately led to Stewart getting inducted into the NASCAR Hall of Fame.
"The bulk of the time, I knew I had to be on my game. I mean the guy's tenacious. If you left the slightest opening, he was going to take it," Jimmie Johnson said of Stewart, according to NASCAR.com. "I just respected that and enjoyed it. … I knew when that orange hood was coming, I was fighting for my life."
Tony Stewart has not just had success in racing as a driver, though. In 2011, after becoming co-owner of Stewart-Haas Racing, Stewart won his 2011 Cup Series championship as a driver and team owner.
The story of how he became a team owner, however, is what's interesting.
Gene Haas approached him while serving a prison sentence
Gene Haas, co-owner of Stewart-Haas Racing, pleaded guilty in 2007 to "defrauding the federal government of $34 million in taxes," according to The New York Times. He served 16 months in prison but, according to ESPN, was initially sentenced for two years.
Prior to teaming up with Tony Stewart, Haas owned Haas CNC Racing. It had not been too successful, though. According to ESPN, among the 12 drivers who had raced for him between 2002 and 2008, they had only combined for 16 Cup series wins in their careers before Stewart came along. Ward Burton and Jeremy Mayfield combined for 10 of them. His drivers had also been winless in 284 races.
This led to his then-general manager Joe Custer coming up with the idea to go after Tony Stewart, who had been with Joe Gibbs Racing. So, while serving his prison sentence in 2008, Haas approached Stewart with a proposition. Stewart would take on half of what was Haas CNC Racing and bring over his driving talents.
"I thought Tony was a little crazy for doing it, but Tony is a little bit smarter than you think sometimes," Haas said, according to ESPN. "He obviously saw some potential in what we did. He has a lot of great relationships. Like we had a lot of great relationships with Hendrick, so we had good equipment."
Stewart ultimately chose to team up with Haas and the decision has paid off.
Tony Stewart and Stewart-Haas Racing have had a lot of success
Since seeing Tony Stewart take over Stewart-Haas Racing, the team has had a great deal of success. In addition to Stewart winning the Cup Series title as a driver and team owner in 2011, Kevin Harvick also won the Cup Series title in 2014.
The other notable drivers to race for Stewart-Haas Racing have included Danica Patrick, Ryan Newman, Kurt Busch, and Daniel Suarez, according to NASCAR.com. Their current drivers as of 2021 include Chase Briscoe, Aric Almirola, Cole Custer, Kevin Harvick, and Xfinity Series driver Riley Herbst.
Tony Stewart took a big risk by joining a struggling Haas CNC Racing team. It has since paid off in a big way, as he is no longer just a former successful driver but he is also an accomplished team owner.
Like Sportscasting on Facebook. Follow us on Twitter @sportscasting19.