Top NFL Head Coach Candidates in 2023 After Black Monday
Black Monday is the day after Week 18 Sunday, when NFL coaches get fired. People losing their jobs is no fun (even if you're not a fan of your team's coach). However, there is a flip side to Black Monday. For every coach fired, a new one will be hired. This gets new blood into the highest ranks of the football coaching profession, and who knows, the coach your team hires this year could turn into the next Bill Belichick, Andy Reid, or Mike Tomlin. With that in mind, here are the top NFL head coach candidates in 2023.
NFL head coach candidates with head coaching experience
Sean Payton, former New Orleans Saints head coach — Payton is the crown jewel of the 2023 NFL head coach candidates. He's the only person on this list with a Super Bowl trophy on his mantel, and he's an offensive mastermind. The downside is any that hires him will have to give the Saints compensation, and he recently told his FOX Sports colleagues there's a 7/10 chance he'll be on TV again next season. 
Jim Harbaugh, Michigan head coach — The former 49er head coach is 44-19-1 as an NFL head coach and has done a decent job turning his alma mater around. The knock on Harbaugh is that he's difficult to deal with behind the scenes, and anyone who hires him will have to deal with that. An owner from the hedge fund world — like the Panthers' David Tepper could be the one to look past the personality.
Frank Reich, former Indianapolis Colts head coach — After a tough ending in Indianapolis, it's easy to forget the former Colts head coach and Super Bowl-winning offensive coordinator has a winning 40-33-1 record. He may need a year to detox after a brutal 2022 campaign, but either way, he'll be back in the league soon.
Leslie Frazier, Buffalo Bills defensive coordinator — Frazier hasn't had a head job since 2013, when his 21-32-1 tenure with the Vikings ended. He's been coordinating the Bills defense for six years now, though, consistently making them a top unit in the league. His biggest issue may be that all the jobs are gone by the time the Bills season finally ends.
Raheem Morris, Los Angeles Rams defensive coordinator — The former Buccaneers head coach didn't have a great year in 2022, as the entire Rams franchise suffered from a Super Bowl hangover. If Sean McVay decides to retire (or take a sabbatical) after this season, though, Morris will make the most sense for that job.  
Dan Quinn, Dallas Cowboys defensive coordinator — The Cowboys once again had a top 10 defense in 2022, and Quinn continued to show that he's one of the top defensive minds in the game today. Plus, with his recent success, maybe people around the NFL will remember his two playoff seasons in charge of the Falcons instead of his uninspiring last two-plus seasons.  
Steve Wilks, Carolina Panthers interim head coach — After the Panthers fired Matt Rhule, Wilks took a 1-4 team and guided them to a 6-6 record, just missing the playoffs. Keeping an interim head coach rarely works out well, but Wilks proved that after he didn't get a fair shake with the Cardinals back in 2018, he deserves another chance at being one of the top NFL head coach candidates in 2023.
Offensive-minded assistants
Eric Bieniemy, Kansas City Chiefs offensive coordinator — Bieniemy is a former NFL player with a huge track record of success as an assistant working with Patrick Mahomes. The problems are it's hard to know how much of the success is due to Andy Reid. Also, Bieniemy has some off-field issues in his past a team that hires him will have to deal with.
Ken Dorsey, Buffalo Bills offensive coordinator — Dorsey has made a nearly seamless transition stepping in for Brian Daboll in Buffalo. With Daboll's success with the Giants, there is a lot of interest in the former Miami Hurricanes QB. His issue is that he's had just one year on the job, and teams might want to see more or a track record. 
Ben Johnson, Detroit Lions offensive coordinator — After making Jared Goff look like a top QB, Johnson is definitely one of the hottest NFL head coach candidates in 2023. If an NFL team does hire a young, creative offensive assistant this hiring cycle, it will almost certainly be Johnson or the name below.
Shane Steichen, Philadelphia Eagles offensive coordinator — Steichen's boss, Nick Siriani, is a favorite to win NFL Coach of the Year after leading the Eagles to the NFC crown in 2022. That means his right-hand men — especially Steichen, who helped develop Jalen Hurts — are going to be major candidates the next offseason. 
Defensive-minded assistants
DeMeco Ryans, San Francisco 49ers defensive coordinator — The top NFL head coach candidate on the defensive side of the ball ahead of Black Monday is two-time Pro Bowl linebacker and 49ers DC DeMeco Ryans. He is a leader of men and can relate to today's young athletes, as the 39-year-old was one of them not that long ago. It would be a surprise if Ryans didn't lock down one of the league's open jobs this offseason.
Ejiro Evero, Denver Broncos defensive coordinator — Evero turned down the Broncos interim head coach job after his buddy, Nathaniel Hackett, got fired. That may not be a great look in some owners' eyes. That said, he's still getting an interview with his current team, so that's a good sign.
Jerod Mayo, New England Patriots defensive coordinator — Coaches who have played or coached under Bill Belichick surprisingly haven't had much success in the NFL. The biggest exception to that is Belichick's former linebacker Mike Vrabel. Mayo, like Vrabel, has an impressive playing career, so hopefully, that helps him break the Belichick curse.
Jonathan Gannon, Philadelphia Eagles defensive coordinator — Just like his offensive counterpart, Gannon is a big name after all the success the Eagles have had this season. His issue will be that Shane Steichen developing Jalen Hurts is flashier than "just" having a top 10 defense, so he'll be the No. 2 (or even No. 3 behind QB coach Brian Johnson) candidate on his own staff. 
Other names to watch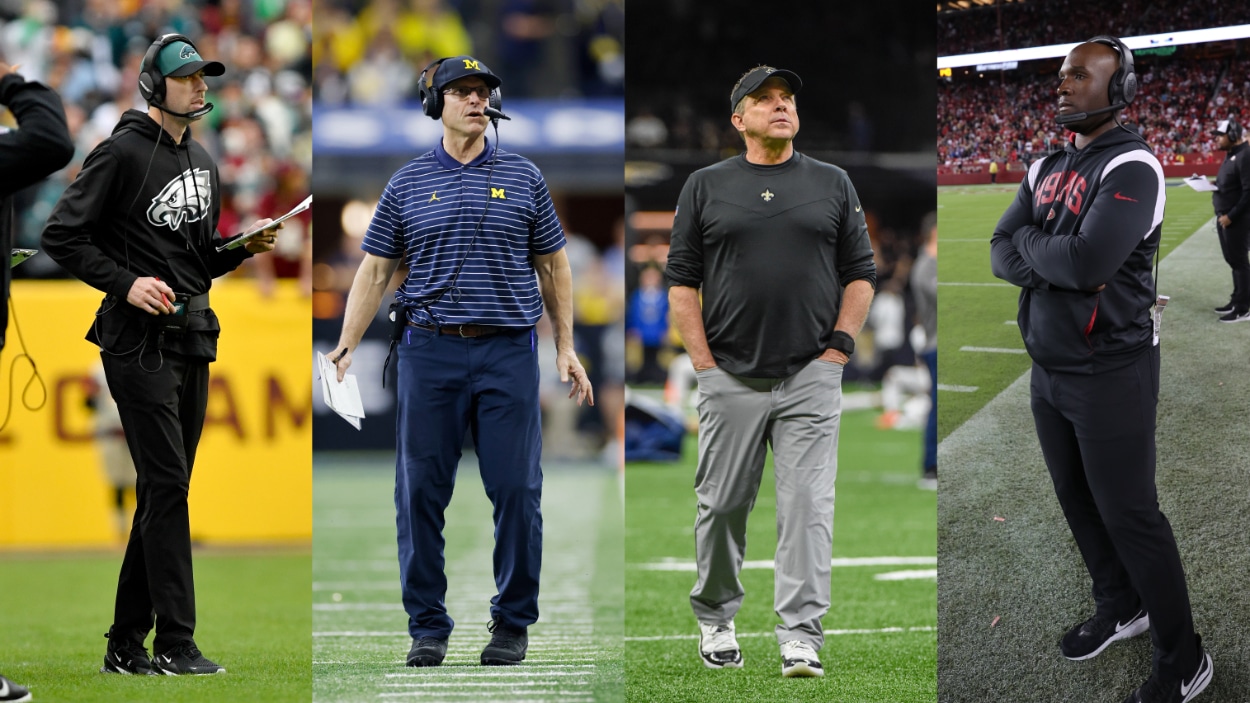 These other names are NFL head coach candidates, but for one reason or another, they aren't quite as hot as the names above. You probably don't need to dig deep into these coaches' CVs on Black Monday, but they are worth keeping in the back of your head.
Jim Caldwell, former Detroit Lions head coach
Shane Waldron, Seattle Seahawks offensive coordinator
Brian Callahan, Cincinnati Bengals offensive coordinator
Kellen Moore, Dallas Cowboys offensive coordinator
Mike Zimmer, former Minnesota Vikings head coach
Lou Anarumo, Cincinnati Bengals defensive coordinator
Aaron Glenn, Detroit Lions defensive coordinator
Wink Martindale, New York Giants defensive coordinator
Brian Johnson, Philadelphia Eagles quarterbacks coach
If news starts coming out that these coaches are impressing in interviews, it is possible they get a job in after Black Monday.