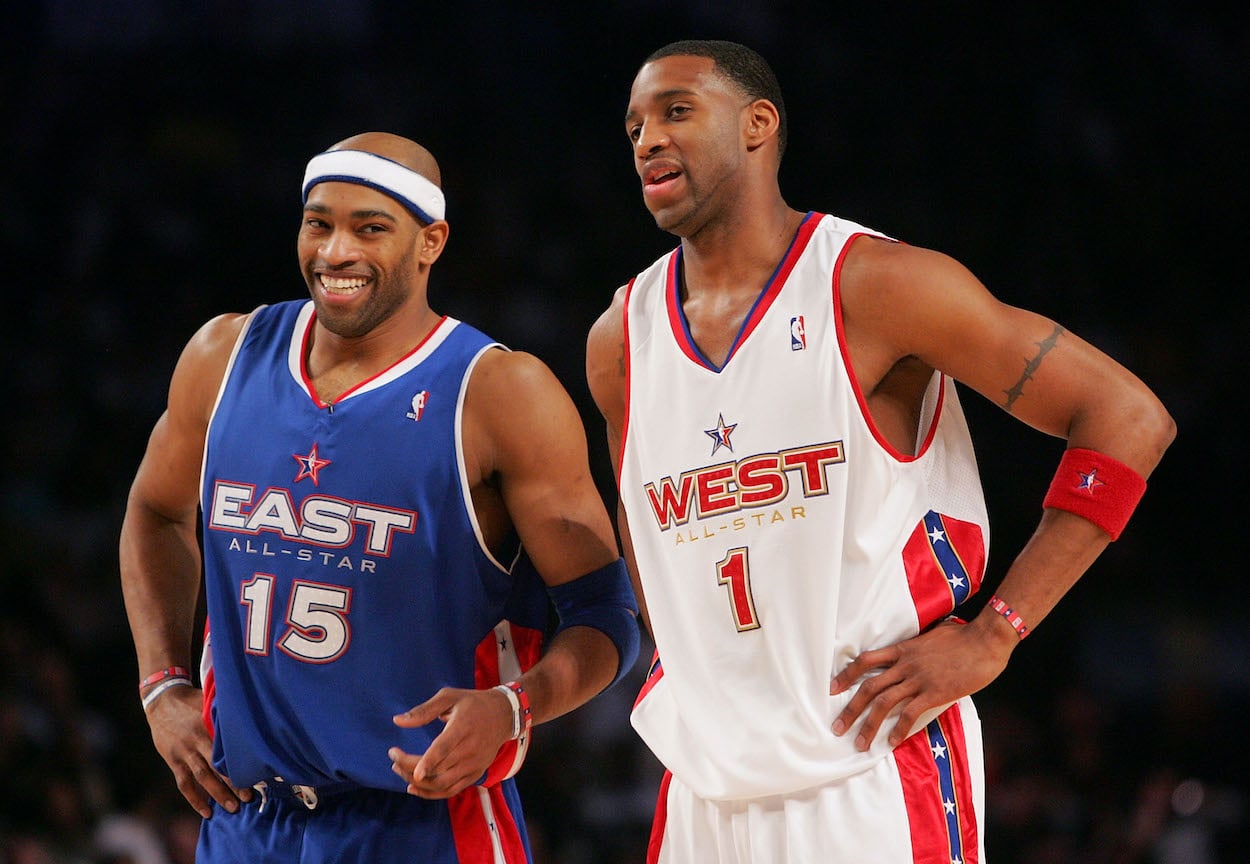 Tracy McGrady Didn't Know Vince Carter Was His Cousin Until He Got Drafted by the Raptors
Tracy McGrady and Vince Carter grew up playing basketball together without knowing they were cousins.
Tracy McGrady and Vince Carter might be the best pair of blood relatives ever to play on the same NBA team. The cousins combined to score more than 43,000 points and play in 15 All-Star Games. McGrady was inducted into the Naismith Memorial Basketball Hall of Fame in 2017, and Carter will join him in Springfield at some point in the near future.
The third cousins were close during their time with the Toronto Raptors and remain best friends today, but they actually didn't know they were related until McGrady was drafted in 1997.
Tracy McGrady and Vince Carter grew up two hours apart and played AAU together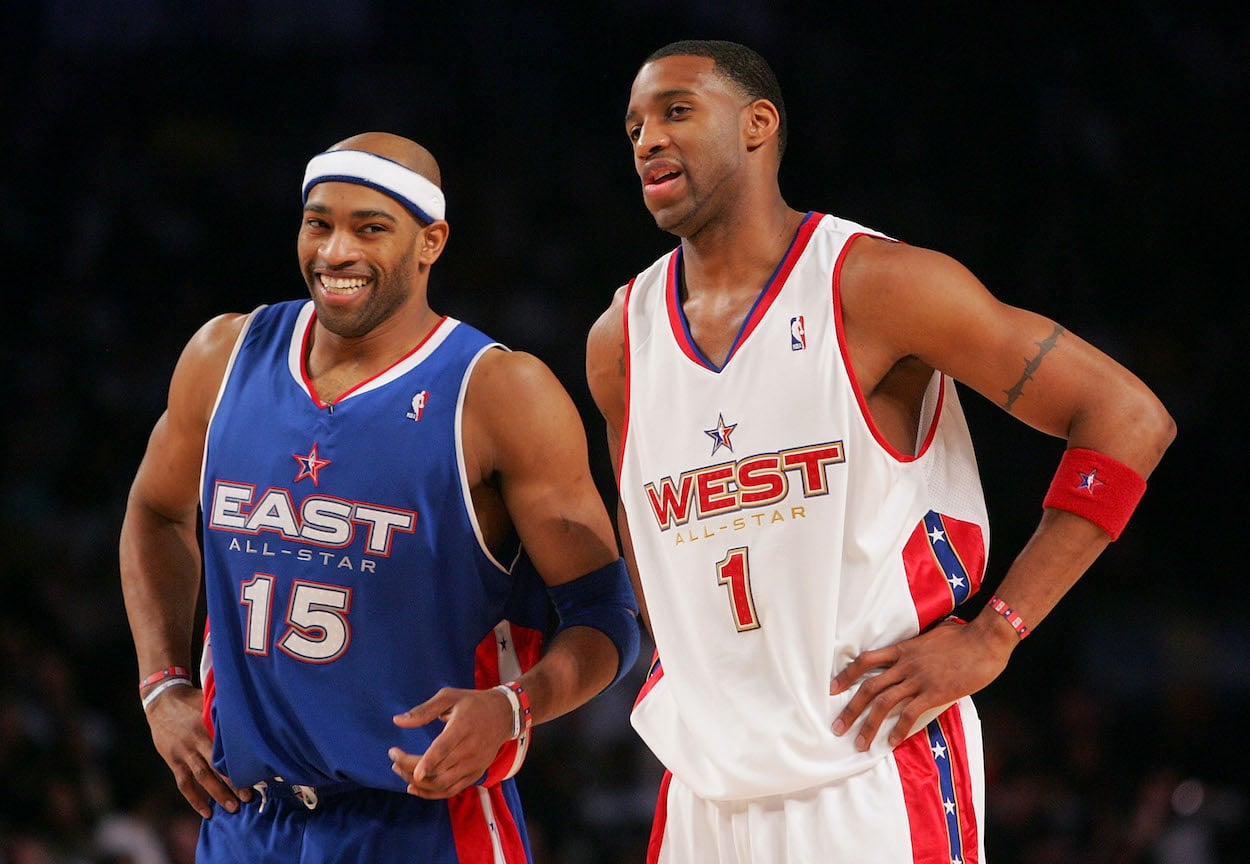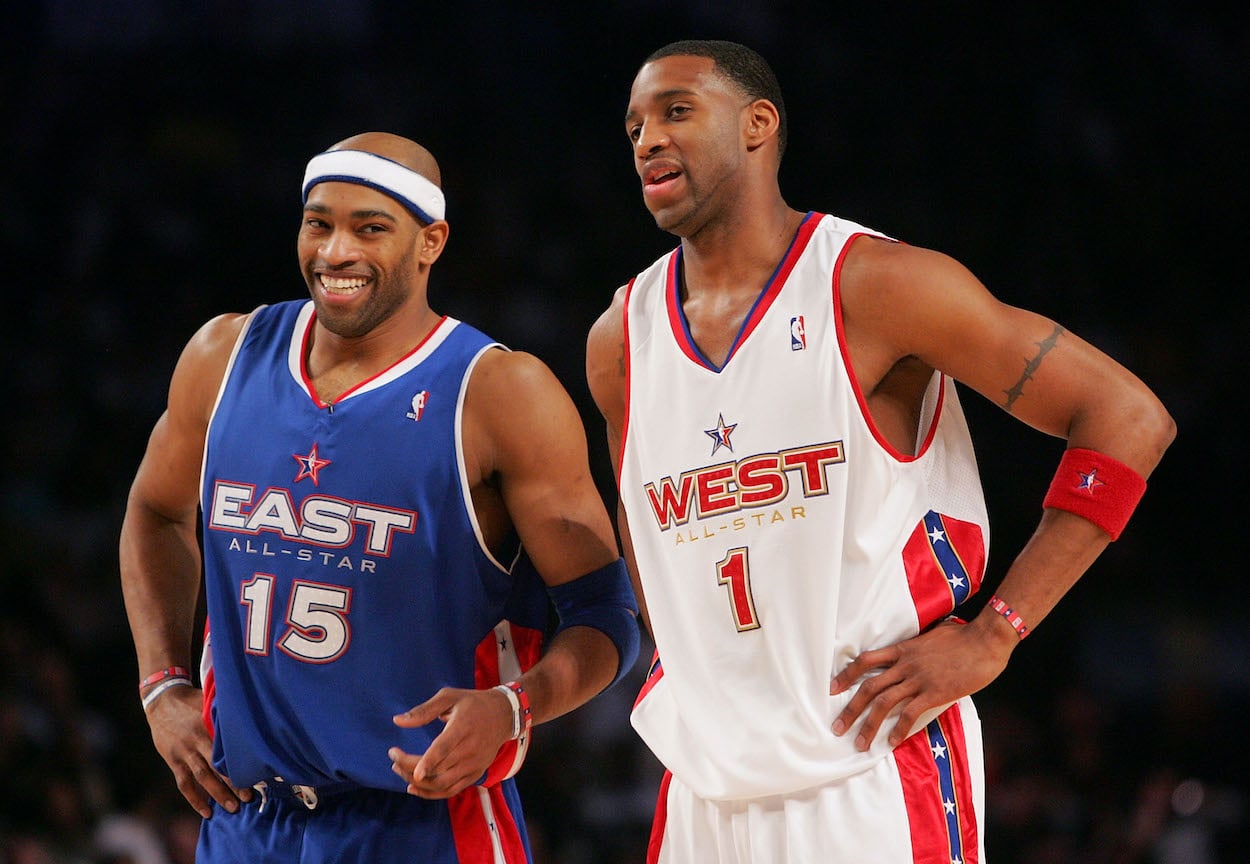 In the early 1990s, McGrady and Carter were two of the most talented high school players coming up in the state of Florida. McGrady played for Auburndale High School, while Carter played for Mainland High School, which is located just two hours away.
The two played in the same AAU circles and knew each other growing up, but they had no idea they were related in any way. In 1995, Carter left Florida to play college ball at the University of North Carolina. Two years later, McGrady decided to skip college and enter the NBA Draft, where he wound up getting picked ninth overall by the Raptors.
It wasn't until then that T-Mac learned his AAU buddy was actually his third cousin.
McGrady didn't know he was related to Carter until he got drafted
While McGrady was preparing for his NBA career and Carter was playing in college, the two played together on UNC's campus. Incredibly, they learned they were third cousins a few days later.
McGrady explained the hilarious story during a recent appearance on Barstool Sports' Pardon My Take podcast.
"I knew Vince because I played on the junior Florida team and he played on the senior Florida team, so I used to play before him. So I would go over there to UNC, and he let me use his locker," T-Mac explained. "I think this was like a Thursday. Friday I told him, 'I won't be here. I'm going back home to attend a family reunion.' He's like, 'Cool, I'll see you when you get back.'
"I get to my family reunion, I'm sitting down talking s***. My grandmother tells me — she introduced me to a cousin. She was like, 'Hey, my grandson plays college basketball.' I was like, 'Who does he play for?' And she was like, 'He plays for UNC.' I was like, 'North Carolina? Tar Heels?' And she was like, 'Yeah!' I was like, 'Who is he?' She was like, 'Vince.' She called him Vincent. I was like, 'Vince Carter?!' I said, 'Please call him right now. He's gonna freak out. I was just with him the other day!'
"So she calls him, and, you know, I get on the phone, I'm excited. 'What up cuz!' He was like, 'Who the hell is this?' 'It's Mac man!' 'Mac?' 'Boy, this T-Mac!' He was like, 'What you doing on my grandma's phone?' I said, 'Bro, you ain't gonna believe this. She's at the family reunion. We're family, bro!'
"That's how we found out, just like that."
McGrady and Carter went on to become teammates on the Raptors and face off in the 2000 Slam Dunk Contest, completing one of the wildest stories in NBA history.
Like Sportscasting on Facebook. Follow us on Twitter @sportscasting19.