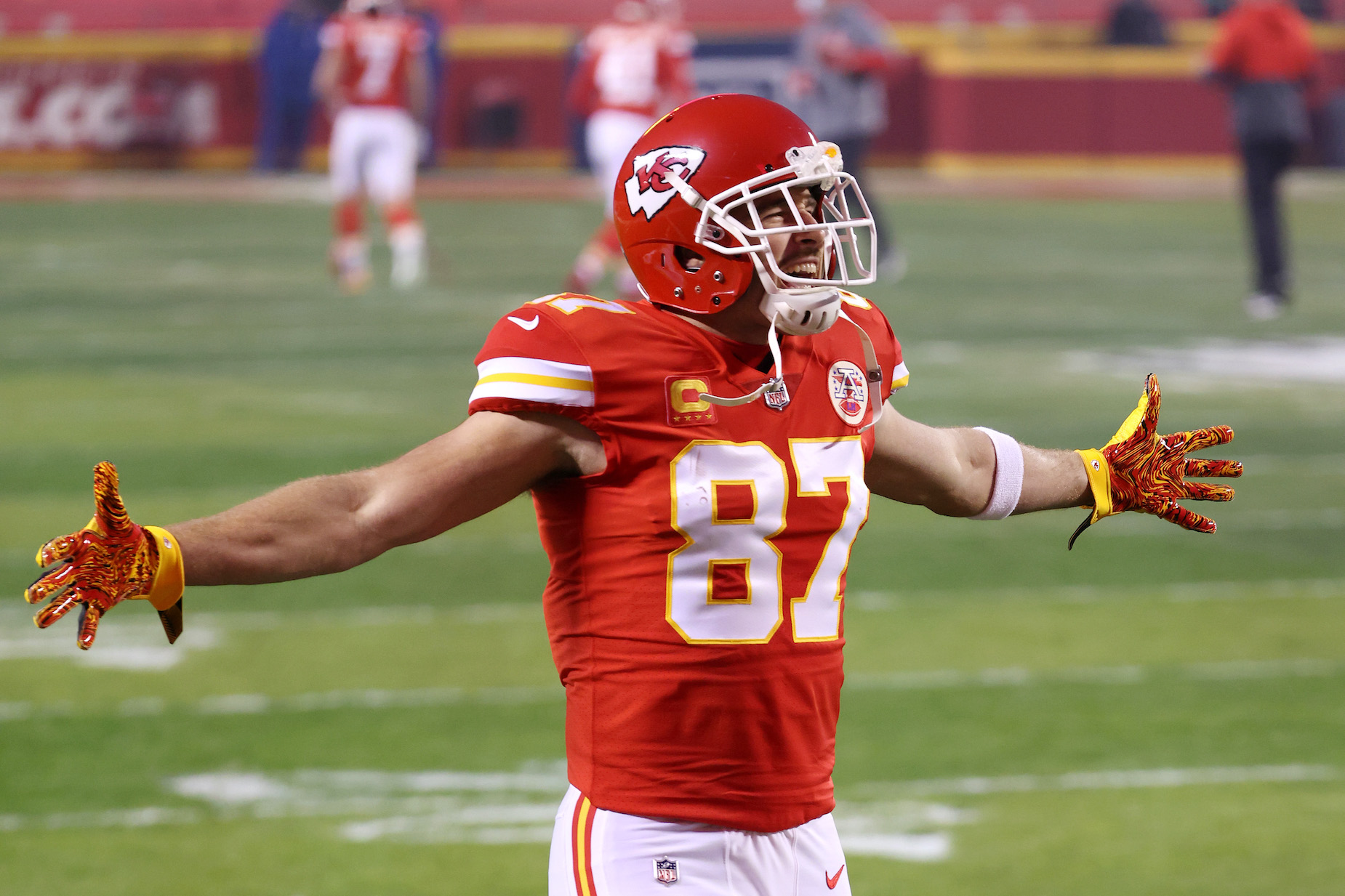 Travis Kelce Scored an Offseason Victory Over George Kittle in the Battle for Tight End Supremacy
Is Travis Kelce or George Kittle the best tight end in the NFL? According to Pro Football Focus, the Chiefs man has an advantage.
In the modern NFL, a good tight end is a key part of any successful offense. Gone are the days when you could simply stick a big body presence at the end of the line to serve as an extra blocker; now, you need a legitimate athlete who can survive in the trenches but catch and run like a receiver. Take, for example, Kansas City Chiefs star Travis Kelce.
Although the Chiefs' 2020 campaign ended in disappointing fashion, Kelce still managed to score an offseason victory. According to Pro Football Focus' latest positional rankings, he's officially overtaken George Kittle in the battle for tight end supremacy.
Football fans have debated Travis Kelce vs. George Kittle for the past few seasons
For better or worse, sports fans love to debate. That reality, at least in part, helps explain the arguments over Kelce and Kittle's respective spots in the tight end hierarchy.
Given that Kelce has been around for longer — he's been in the league since 2013 and first broke the 1,000-yard receiving mark in 2016 — the Chiefs tight end seemed like the easy pick to take over Rob Gronkowski's mantle as the position's top dog. Kittle, however, exploded onto the scene in 2018, forcing himself into the conversation.
Magnified by fantasy football and the importance of having a power ranking at each position, the Kelce-Kittle debate has raged for a few seasons now. Those on the former side of the argument cite Kelce's athleticism and sheer production; those in Kittle's corner point to his comparable offensive production, plus his added value as a blocker.
While a quick google search will return plenty of articles comparing the two tight ends from a variety of perspectives, the two men in question don't seem very bothered by the debate. Kittle and Kelce have become friends over the years and, during the 2021 offseason, are hosting a tight end summit.
The Chiefs' tight end claims victory in this year's Pro Football Focus rankings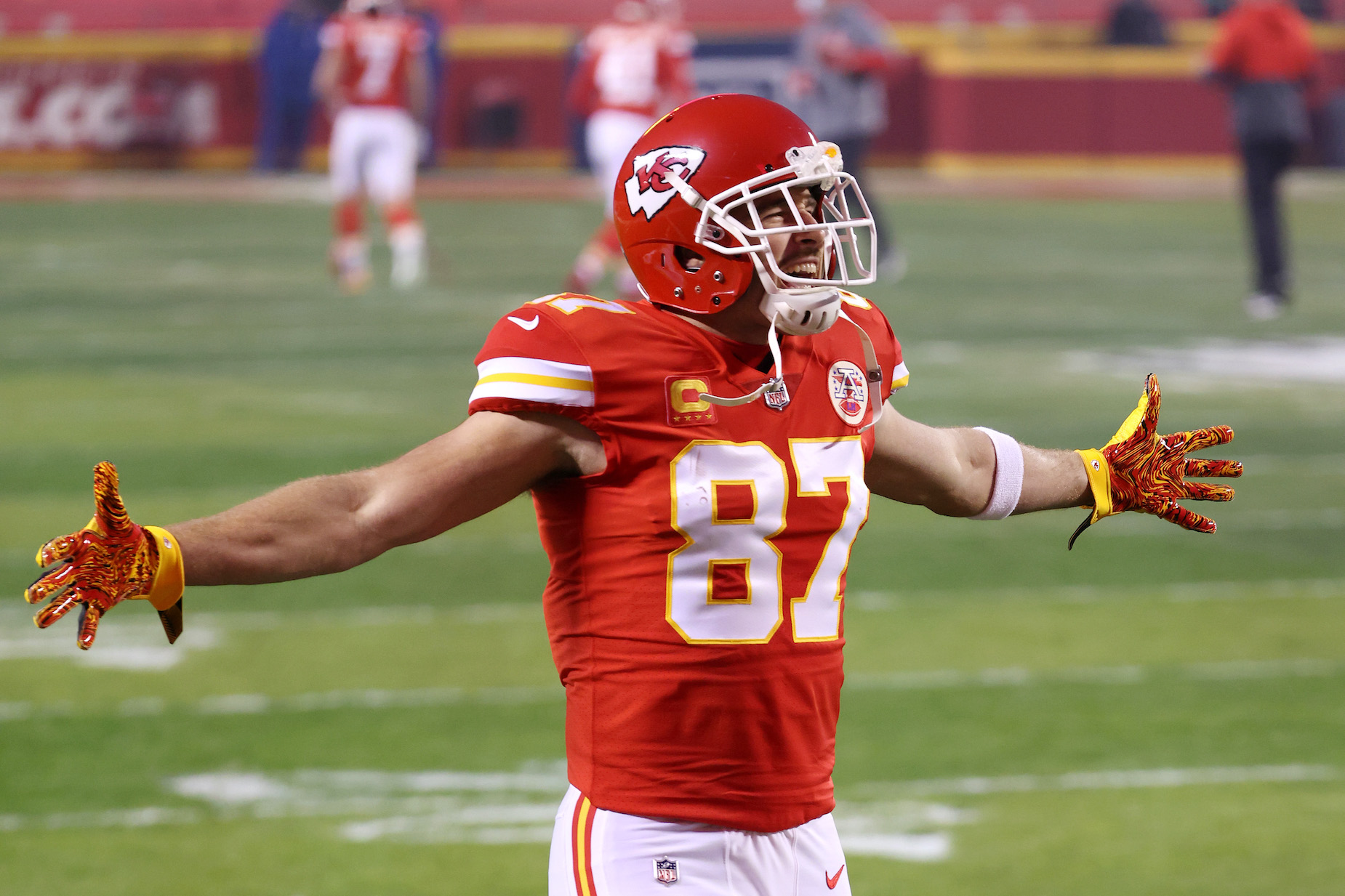 Ahead of the 2020 NFL campaign, Pro Football Focus ranked Kittle as the NFL's top tight end. This year, however, Kelce has stolen the crown back from his positional rival.
While that change isn't exactly surprising — Kittle suffered through an injury-plagued season and, Kelce set the NFL record for most receiving yards by a tight end — it's still a feather in the Chiefs star's metaphorical cap.
"Over the last five seasons, Kelce's 2,639 receiving yards after the catch are over 400 more yards than any other tight end or wide receiver in the NFL," Ben Linsey explained. "Only Golden Tate and Jarvis Landry have forced more missed tackles over that same span. His knack for getting open paired with that after-the-catch ability makes him the most dangerous receiving threat at the tight end position the league has to offer right now."
Travis Kelce will have his eye on an even bigger prize, though
On a personal level, Kelce will probably appreciate being PFF's top tight end; professional athletes, after all, are nothing if not competitive. The Chiefs' star, however, will also have his sights set on a much bigger prize.
With Patrick Mahomes under center, Kansas City is firmly in "win-now" mode. The franchise broke a lengthy Super Bowl drought in February 2020 but fell painfully short of claiming back-to-back titles this past winter. General manager Brett Veach has spent the offseason retooling his team's offensive line, ensuring that Mahomes can stand tall in the pocket and make the best use of his talents.
While pass protection really isn't part of Kelce's job, the tight end will still play a key role in Kansas City's success. At this point, teams know all about Tyreek Hill's blazing speed; while defenses are also prepared for Kelce, it's a bit harder to stop both a speedy deep threat and a bigger target working to exploit a mismatch. If the Chiefs want to lift another Lombardi Trophy, it's safe to assume their tight end will be a key contributor.
No matter what happens this season, though, the Kittle vs. Kelce debate probably won't go away anytime soon. If the Chiefs' man claims another Super Bowl title, though, it will be pretty tough to argue with his NFL resume.