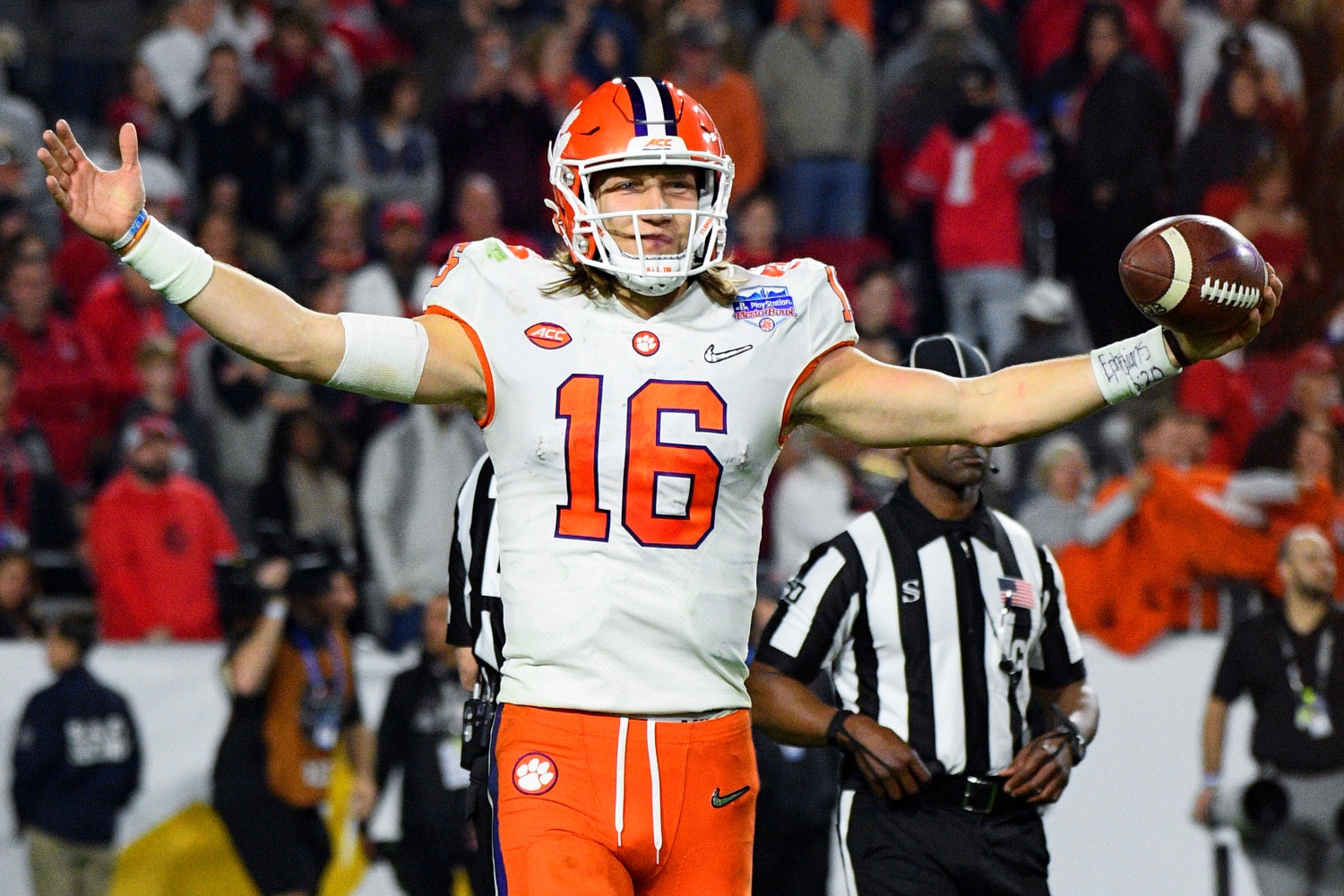 Trevor Lawrence Has Already Proved Why His Groundbreaking Business Decision Was Well Worth the Risk
While his crypto deal seems destined to work out, Trevor Lawrence needs the Jaguars to knock the 2021 NFL draft out of the park to ensure he has success on the football field.
Trevor Lawrence is about as close as you can get to a can't-miss prospect. After all, there's a reason he's been pegged as a future No. 1 overall NFL draft pick dating back to his freshman year at Clemson. But for a quarterback who doesn't take many risks with the ball, Lawrence took a gamble with a recent business move never before seen in the sports world.
Luckily for the future face of the Jacksonville Jaguars, his decision already seems to be paying off.
Trevor Lawrence has a significant amount of guaranteed money coming his way very soon
While nobody can project how a prospect will do once he makes it to the NFL, it would be shocking if Lawrence does not live up to expectations. He checks all the boxes from a height-weight-speed perspective. His production speaks for itself. And his overall combination of physical tools and mental makeup should allow him to carry over his success from college to the pros.
But even if he somehow fails to deliver on his No. 1 pick status, Lawrence can look forward to becoming a wealthy young man this summer. Barring any surprises Thursday, he will secure the most lucrative draft slot of any available prospect.
Because the NFL salary cap will drop in 2021, Lawrence won't top Joe Burrow's $36.2 million contract. However, Spotrac projects that he will receive a four-year, fully guaranteed deal worth roughly $34.7 million. His rookie pact should include a signing bonus of about $22.6 million.
After spending the last three years playing under the strict rules of the NCAA, Lawrence will finally cash in on his skills. And if his next business deal takes off as quickly as his latest one, the talented quarterback will only add to his riches.
The projected No. 1 pick's groundbreaking business move has already paid off
Cryptocurrency continues to captivate attention all over the world. Add Lawrence's name to the list of people who have tied their financial futures to the concept of virtual currency.
On Monday, Blockfolio took to Twitter to officially announce their partnership with the projected No. 1 pick in the 2021 NFL draft. The company competes with apps like Coinbase as an investment platform designed to let users buy, sell, and track Bitcoin and other cryptocurrencies. Lawrence's endorsement deal represents an unprecedented move by a professional athlete.
Although specific terms have not been disclosed, Blockfolio reportedly paid the 21-year-old his entire signing bonus in crypto Friday night. According to longtime sports business reporter Darren Rovell's calculations, the value of Lawrence's mix of Bitcoin, Ethereum, and Solana has increased by more than 10% since that time.
That early return provides a glimpse of why so many people have become fascinated with cryptocurrency. While any investment carries risk, the upside of Lawrence's groundbreaking deal could inspire future athletes to seek a similar one that pays out in crypto.
And speaking of the future, the former Clemson star desperately needs the Jaguars to take care of business in the draft to ensure his career trends in the right direction.
Lawrence's future success depends on how the Jaguars handle the 2021 NFL draft
Jacksonville has a prime opportunity to improve dramatically this weekend. After Lawrence goes No. 1 overall, the Jaguars have four more top-65 picks. If they play their cards right, they can surround their new quarterback with key pieces to help him succeed.
Don't be surprised if general manager Trent Baalke uses the 25th pick on an offensive lineman. Current left tackle Cam Robinson only has one year left on his rookie deal. Longtime center Brandon Linder played just nine games in 2020, and he will be a free agent after the 2022 season. It would be wise to get ahead and draft a potential replacement for either player.
The Jaguars also have two second-round selections and the first pick in the third round to bolster their roster. For Lawrence's sake, he better hope his new team invests those assets wisely.
All contract data courtesy of Spotrac.