Trey Lance's Finger Just Pointed Kyle Shanahan Down an Easier Path Toward Naming the 49ers' Starting QB
We're just about two weeks away from the start of the NFL season, and the San Francisco 49ers still haven't named their starting quarterback for Week 1. Jimmy Garoppolo seems to be the leader in the clubhouse. However, No. 3 overall draft pick Trey Lance presents more upside if head coach Kyle Shanahan believes he's ready for the bright lights.
Any minor update could lead Shanahan to finally announce a starter, and Lance's recently injured finger might've just pointed his head coach in the right direction.
49ers still undecided on Trey Lance and Jimmy Garoppolo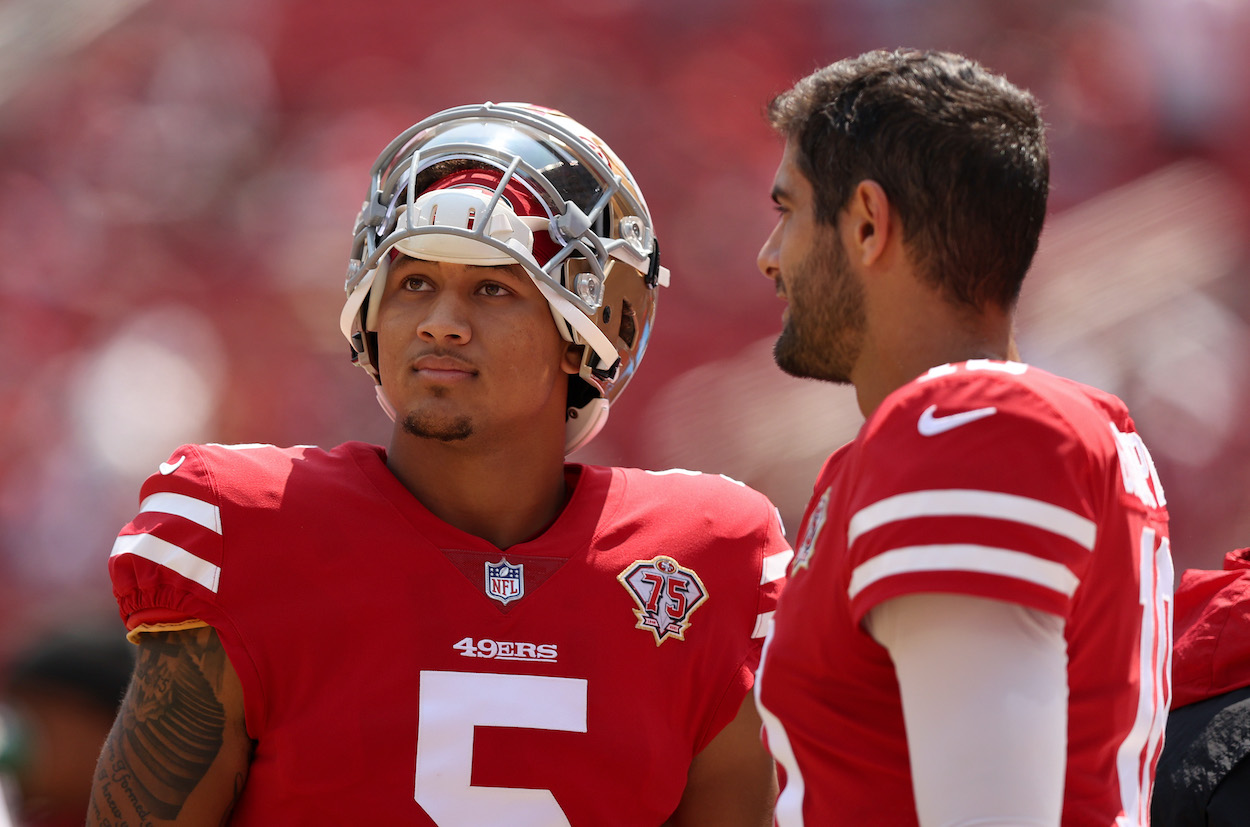 Quarterback competitions are starting to materialize around the NFL. The Chicago Bears have decided on Andy Dalton over rookie Justin Fields. The Denver Broncos went with Teddy Bridgewater over Drew Lock. And the New England Patriots fully committed to Mac Jones by surprisingly releasing Cam Newton.
As for the 49ers, though, they still don't have a definitive answer on their starting QB job.
Garoppolo has been the starter for much of the last four seasons when he's been healthy, and he even led the 49ers to a Super Bowl appearance just two years ago. The 29-year-old is surely an above-average NFL quarterback, but Shanahan might not believe he's the guy to take San Francisco to the next level.
Enter Trey Lance. The tantalizing rookie out of North Dakota State has a bigger arm than Garoppolo and is a much more dangerous threat to hurt opposing defenses with his legs. But Lance only played in 19 games at the college level. He might not be ready for the NFL spotlight by Week 1.
It's possible Shanahan employs a dual-QB strategy to start the season, but he'll need to decide on a starter at some point.
Lance to miss a week with a "chip" in his finger
It's possible Shanahan still doesn't know who he wants to see under center when the 49ers open the 2021 season next month against the Detroit Lions. Does he want to play it safe and start Garoppolo until Lance is ready to take over the job, or would he prefer to throw his rookie QB into the fire right away?
Well, Lance might've just made that decision for him.
On Monday night, Shanahan revealed that Lance suffered a small "chip" in his finger and will miss a week of practice. He declined to reveal which finger or even which hand has been injured.
Lance's finger just pointed Shanahan to an easy decision
Shanahan might've just received a cop-out in his most important decision of the entire offseason. He most likely wasn't even ready to name a starter this week, but Lance's injured finger just pointed him in the right direction.
Garoppolo has proven to be more than a serviceable QB for the 49ers over the past few seasons. When he's healthy, Garoppolo can run Shanahan's offense cleanly and effectively. It's perfectly fine for San Francisco to ride the veteran signal-caller until the team believes Lance is ready to jump in.
After trading up for Lance in the 2021 NFL draft, it's clear Shanahan believes he was the missing piece that can unlock this offense, but there's no rush to force him into the starting lineup for Week 1. The 49ers open the season with the Lions and the Philadelphia Eagles, so either QB should be able to lead them to a 2-0 start.
Lance will eventually win the starting QB job in San Fran, but it shouldn't happen in Week 1.