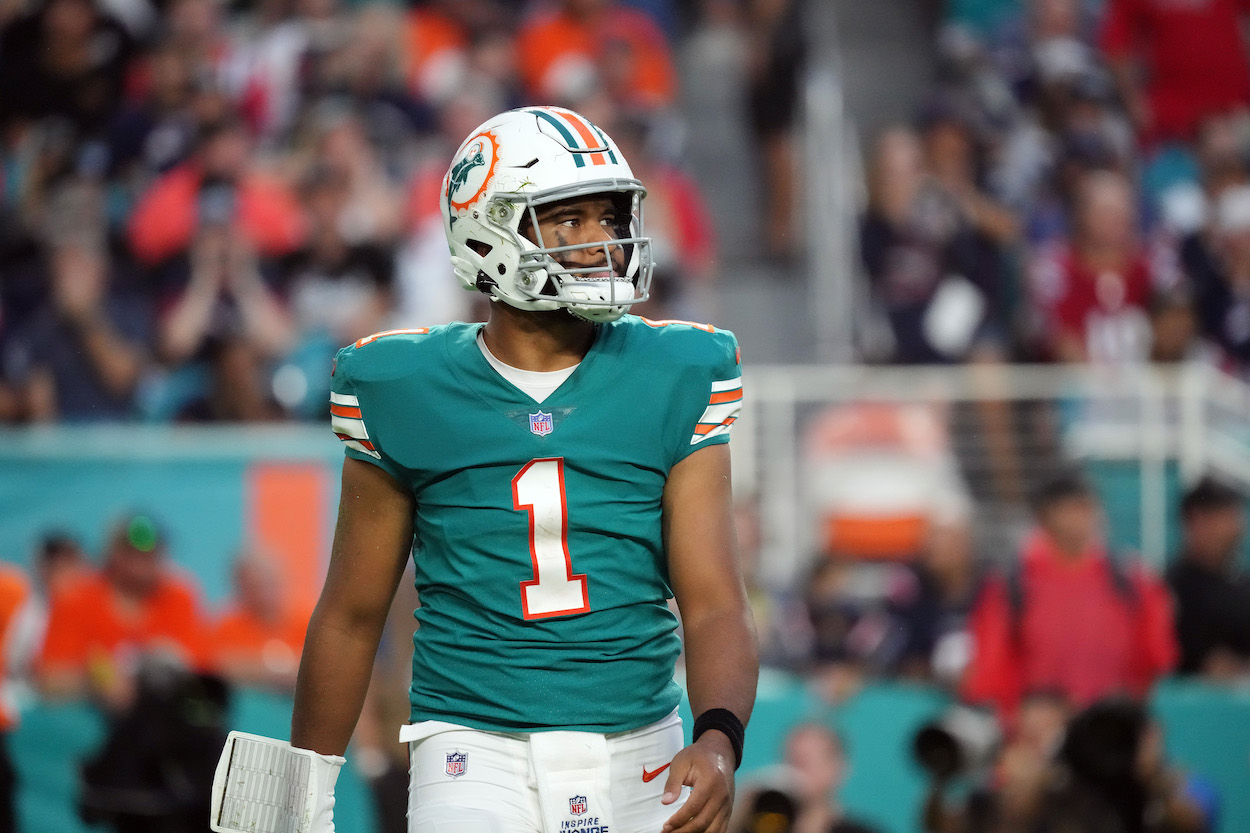 Tua Tagovailoa's Future With the Dolphins Looks Grim After Getting Bashed by Anonymous Teammate: 'I'm Wasting My Career Here'
The Miami Dolphins are starting to lose faith in Tua Tagovailoa, as evidenced by an anonymous teammate bashing him to a reporter.
Miami Dolphins fans must be having a tough time talking themselves into Tua Tagovailoa as the future of the franchise. The young quarterback just finished up his second mediocre season as the starter, and it doesn't help that Miami passed on Justin Herbert to take Tagovailoa in the 2020 NFL Draft.
Evidently, fans aren't the only ones having doubts about their franchise quarterback.
In a recent interview, an anonymous Dolphins defender bashed Tagovailoa for his inability to make NFL-level throws, saying he's "wasting" his career in Miami if the team doesn't find a new QB.
Tua Tagovailoa has been unexceptional through two seasons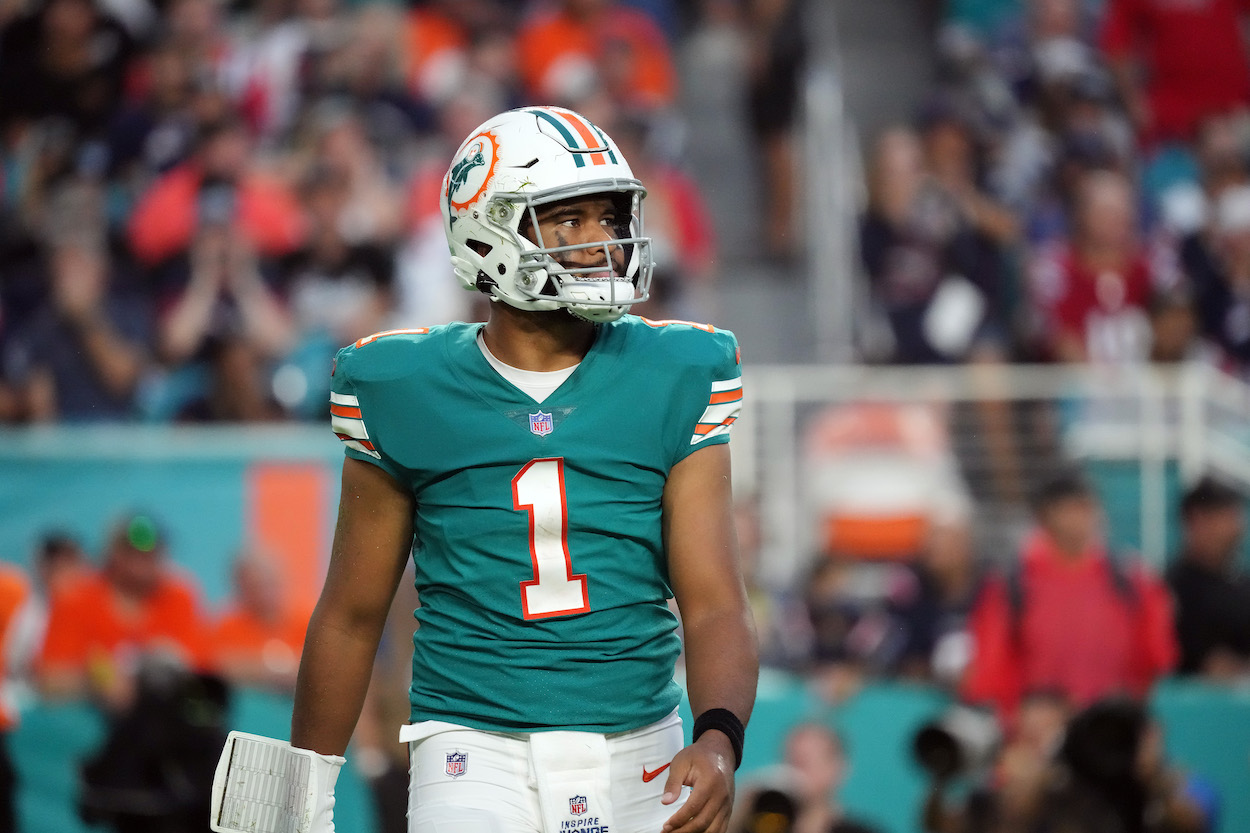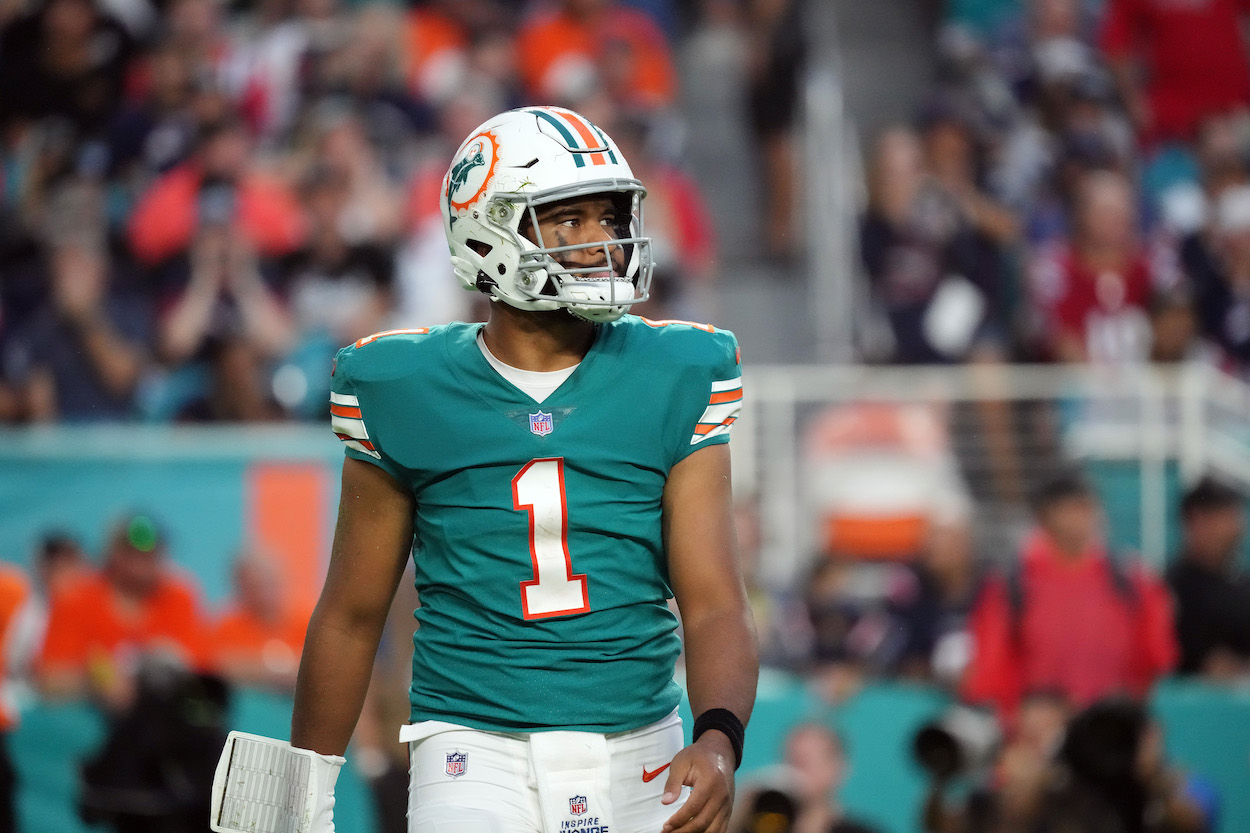 The Dolphins have been searching for a franchise quarterback since Dan Marino was in charge of the offense throughout the 1980s and 1990s. Miami thought it finally found one when the team drafted Tagovailoa, the Alabama product, No. 5 overall in the 2020 NFL Draft.
But the national championship-winning QB has been anything but special in his two seasons as the starter.
After a rookie season in which he threw for 1,814 yards and 11 touchdowns in 10 games, it was just more of the same from Tagovailoa in 2021. In 15 starts, Tagovailoa recorded 2,653 passing yards to go along with 16 touchdowns and 10 picks.
The loudest critique of Tagovailoa's game through two seasons has been his inability to push the ball down the field, which is becoming essential in today's NFL. This season, he averaged just 10.1 yards per completion. Only Jared Goff and Ben Roethlisberger averaged fewer yards per completion in 2021.
Tagovailoa simply hasn't been the explosive downfield passer with the Dolphins that he was at Alabama, and now his own teammates are starting to turn against him.
Anonymous Dolphins teammate bashes Tagovailoa
Tagovailoa has only started 21 games in the NFL, so he deserves at least one more season to prove he actually can be the answer to Miami's quarterback problems. But according to one of his teammates, he shouldn't start another game for the Dolphins.
In a recent interview with Omar Kelly of the Sun Sentinel, an anonymous Dolphins defensive player didn't hold back his honest feelings about Tagovailoa:
He can't make every throw. He's only going to take us so far. I'm wasting my career here if that's what we're doing.

Anonymous Dolphins defender
I suppose if anyone knows whether Tagovailoa has the chops to make it in the NFL, it might be a player who defends his passes every day in practice. Still, it's a bit premature to give up on him after just two seasons.
If the Dolphins were to make that decision, though, the same anonymous player would like to see Houston Texans QB Deshaun Watson take over.
"Watson's an elite quarterback now," the player said. "We're ready to win."
Should the Dolphins dump Tagovailoa for a player like Deshaun Watson?
All season long, the Dolphins seemed to be the most popular team linked to Watson trade rumors. Tagovailoa was forced to listen to those rumors week in and week out, and once the trade deadline passed without a deal in place, he started to play much better for Miami.
It would be foolish to give up on Tagovailoa after just two seasons. No, he hasn't proven he has the arm strength to make game-breaking throws on a weekly basis, and his decision-making still needs to improve. But young quarterbacks are rarely finished products when they first enter the NFL, and Tagovailoa's biggest issues are fixable in a short period of time.
If the entire team feels the same way this unnamed player does, we might have a different conversation on our hands. But this is most likely an anomaly inside Miami's locker room.
Tagovailoa deserves at least another season with a new head coach to prove his worth, and if things don't improve by then, his all-important second contract will start to look unlikely.
All stats courtesy of Pro Basketball Reference.
Like Sportscasting on Facebook. Follow us on Twitter @sportscasting19.