QB Guru Jordan Palmer Crushes Dolphins Coach Mike McDaniel for 'Totally Pointless Statement' About Tua Tagovailoa
The 2022 NFL season is a make-or-break year for Tua Tagovailoa, quarterback of the Miami Dolphins. The third-year QB has to get his team over the hump (and probably into the playoffs) to avoid the franchise replacing him in the next draft. The pressure is on, and QB guru Jordan Palmer thinks his new coach, Mike McDaniel, just turned that pressure up by making a "totally pointless statement about his signal-caller.
New Miami Dolphins head coach Mike McDaniel tried hyping up Tua Tagovailoa
Miami Dolphins quarterback Tua Tagovailoa has been OK in his first two seasons in the NFL. He's had his ups and downs but hasn't produced to a level a franchise hopes for when it spends the No. 5 overall pick in the draft on a college passer.
Heading into the 2022 NFL season, Tagovailoa has all the weapons he could ever want and an offensive-minded head coach in Mike McDaniel to run the show.
Despite all this, there are still questions about whether the former Alabama QB has the arm strength and other skills to blossom into a top NFL signal-caller.
To help answer these questions and hype his quarterback up, McDaniel sang Tagovailoa's praises during a recent appearance on the Dan Le Batard Show with Stugotz. Regarding Tagovailoa's accuracy, McDaniel said he throws "the most accurate, catchable ball I've ever seen."
The first-time head coach explained that in his system with the San Francisco 49ers, yards after catch were crucial, and ball placement and accuracy lead to YAC.
When Dan Le Batard pressed McDaniel to confirm that Tagovailoa's throws are, indeed, "the most accurate, catchable ball I've ever seen?" the 36-year-old coach responded, "I mean," followed by a five-second pause. "Yeah."
QB guru Jordan Palmer thinks McDaniels shouldn't have said that about his quarterback
Jordan Palmer might not be a household name like his older brother. But in football circles, he is every bit as famous as the former Cincinnati Bengals, Oakland Raiders, and Arizona Cardinals QB.
That's because the younger Palmer is one of the premier private quarterback coaches in the country. In this capacity, he's tutored elite NFL QBs such as Patrick Mahomes, Deshaun Watson, Josh Allen, and Joe Burrow.
Palmer recently joined the Dan Patrick Show to discuss the biggest QB stories of the upcoming NFL season. The former NFL backup weighed in on Mike McDaniel's comments about Tua Tagovailoa.
"I think it's a totally pointless statement to make. I saw that, I thought, maybe a misquote? Because why a head coach would just say that? Or even a player to say that?" Palmer mused. "You're going to have a guy on the hot seat right now — but I don't care if we're talking about Joe Burrow. To say, 'this is the greatest, the most catchable ball I've ever seen,' I mean, I don't know how you quantify that. I just thought it was a weird statement."
Mike McDaniel's "weird statement" aside, Palmer thinks the Dolphins quarterback's biggest problem is actually staying healthy more so than arm strength or accuracy. However, what he does agree on with everyone else is that 2022 is a huge season for Tagovailoa.
The Miami Dolphins QB is out of excuses in 2022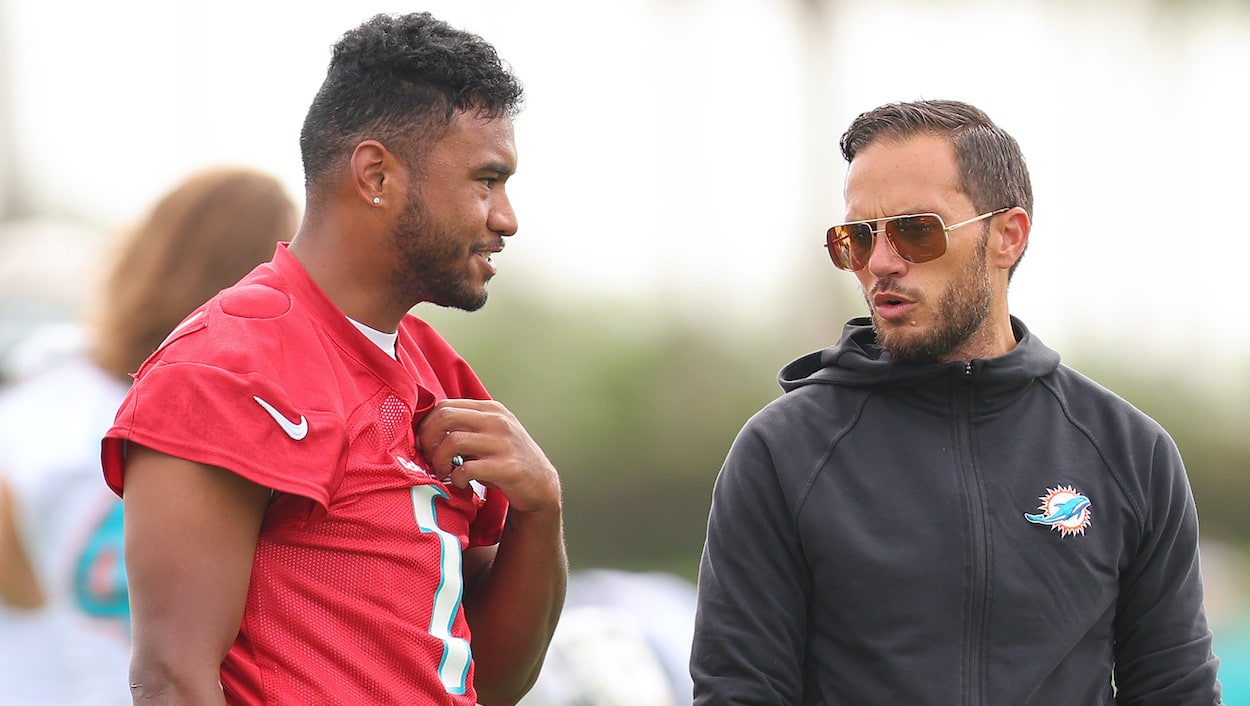 The Miami Dolphins selected Alabama quarterback Tua Tagovailoa No. 5 overall in the 2020 NFL draft. That fact in and of itself isn't necessarily a problem, but when Oregon's Justin Herbert went one pick later, the pressure on Tagovailoa began.
The QB has played well at times, winning games on the back of solid game-management and defense, but has also struggled to stay on the field during certain periods due to injury or ineffectiveness.
In his first two seasons, Tagovailoa is 13-8 as a starter with 4,467 yards, a 66.2% completion rate, 27 touchdowns, and 15 interceptions. Not terrible, but not great by any means.
This season, though, it is sink-or-swim time for Tua Tagovailoa.
He now has an offensive-minded head coach in Mike McDaniel, who helped guide Matt Ryan (2016) and Jimmy Garoppolo (2019) to Super Bowl appearances. And the Miami Dolphins are now loaded with offensive weapons.
Tagovailoa will get to throw and/or hand off to some of the best playmakers in the NFL this season, including Tyreek Hill, Jaylen Waddle, Chase Edmunds, Raheem Mostert, and Mike Gesicki.
If Tua Tagovailoa can't create an upper-echelon NFL offense with those tools, he may not be an NFL quarterback, no matter how catchable his ball is.
Like Sportscasting on Facebook. Follow us on Twitter @sportscasting19 and subscribe to our YouTube channel.
RELATED: Miami Dolphins Training Camp: 3 Position Battles to Watch in 2022