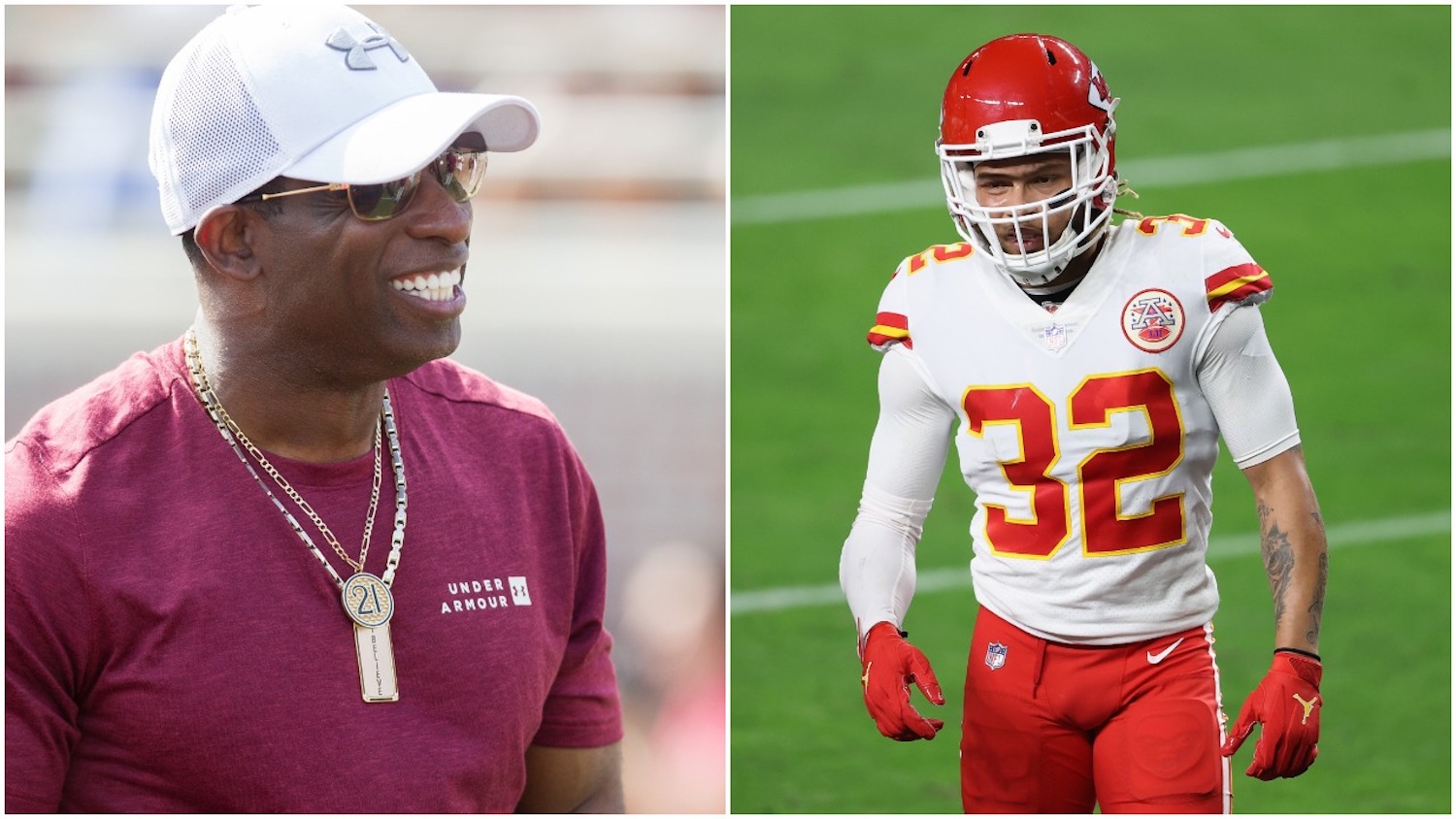 Tyrann Mathieu Owes At Least Part of His $58 Million NFL Career to an Assist From Deion Sanders
Before he ever reached the NFL stage, Tyrann Mathieu received an invaluable assist from Deion Sanders.
While he might not make headlines with the same regularity as Patrick Mahomes, Tyrann Mathieu is a key part of the Kansas City Chiefs' recent success. Since taking over from Eric Berry as the leader of the secondary, the safety has earned himself a Super Bowl ring and set himself up for another big payday, whether he's playing in Arrowhead Stadium or heading elsewhere after the 2021 campaign.
Although every NFL player has gotten plenty of help on their way to the pros, Mathieu owes a major thank you to a living football legend. If not for Deion Sanders, the safety's career could have turned out much differently.
Tyrann Mathieu looked like a star at LSU but hit a rough patch after his sophomore season
When a top-tier high school talent heads to LSU, that usually means he's on his way to football stardom. At first, it looked like Mathieu was following that template to a tee.
Although he started to make a name for himself as a freshman, the safety truly burst onto the scene as a sophomore. During the 2011 campaign, he recorded 77 total tackles, forced four fumbles, and pulled in two interceptions. That performance helped earn him the "Honey Badger" nickname and made him a Heisman Trophy finalist. While Mathieu didn't take home that illustrious title, he did win the Chuck Bednarik Award as college football's top defender.
The safety seemed poised to build on that success as a junior, but he never played another down for the Tigers. As documented in a 2012 ESPN story, LSU dismissed Mathieu from the football program for what sources called "a violation of the school's substance-abuse policy." He later entered a drug rehabilitation program and re-enrolled in college, although he never returned to the football team.
Instead, he entered into the 2013 NFL Draft.
Getting a boost from Deion Sanders and carving out a $58 million NFL career
Based on the way his time at LSU ended, Mathieu's young football career could have crashed and burned. At his lowest point, however, he received an assist from a living NFL legend: Deion Sanders.
"Coach Prime came to see me when I was kicked out of LSU," Mathieu told Alexis Nicole Neely of HBCU Gameday. "It was one of the toughest times in my life — being up for the Heisman, coming off a National Championship, and then having all that taken away from me. A lot of people turned their backs on me."
While it's not exactly clear how close he came to throwing in the towel, Mathieu's quotes seemed to suggest that he might have left the gridiron forever if Sanders hadn't supported him.
"When Coach Prime showed up, and him just believing in me — the greatest cornerback in history — that I can play at the next level, that was enough for me to keep going," the safety said.
Mathieu expressed a similar sentiment through Langston Newsome of the Clarion Ledger. "Getting kicked out of school and suspended, he was one of the first people to reach out to me and support me — publicly too — [he] really encouraged me," the safety explained. "We've been having this relationship going over a decade now. It's been a blessing for me to have a guy like him in my life."
As Mathieu noted, Sanders publicly praised him ahead of the 2013 NFL Draft, and, when the big day came, the safety joined the Arizona Cardinals as a third-round pick. He's been a fixture at the professional level ever since, taking home a shade over $58 million in raw salary over the years. Barring any unforeseen injuries or issues, the 2021 campaign will bring Mathieu's NFL earnings over the $73 million mark, and after that, he'll be poised to cash in on a new contract.
Deion Sanders has kept supporting the Honey Badger in the NFL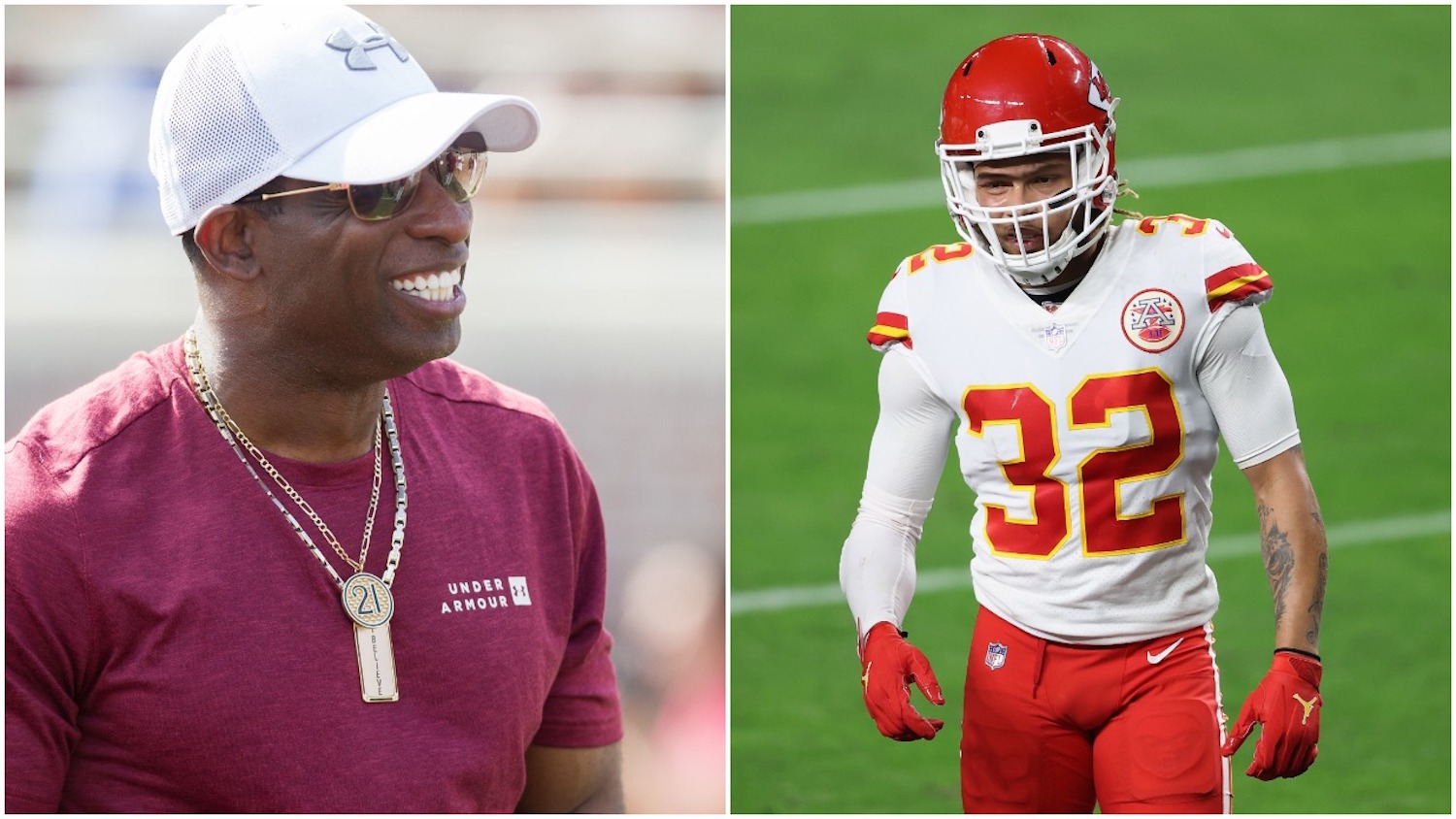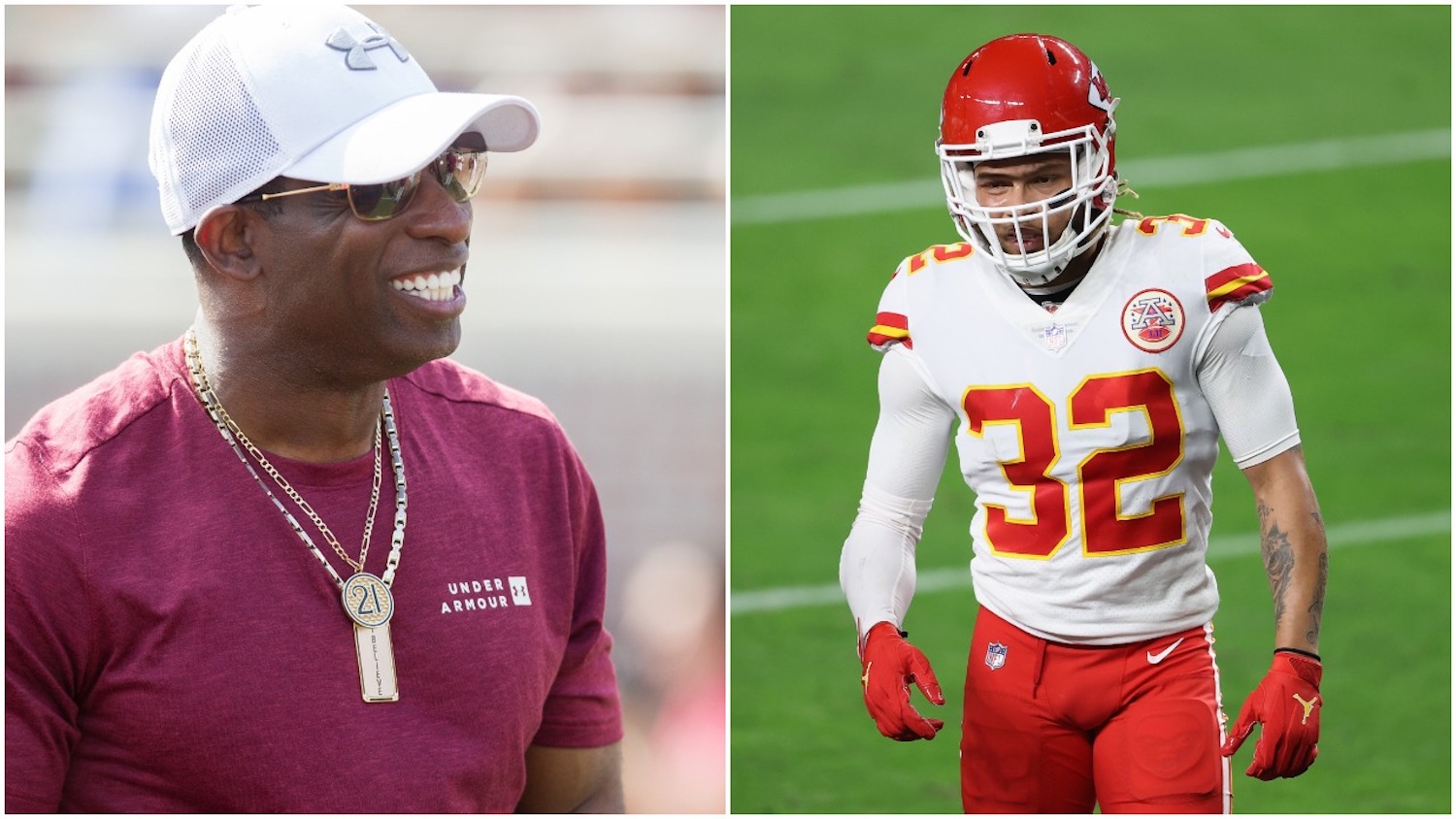 While we can't know exactly how everything would have played out without Primetime's endorsement, it's safe to assume that Mathieu benefited from the NFL legend's support. Even if he had the talent to cut it in the professional ranks, the Honey Badger's relationship with Sanders seems to have provided a boost in confidence. An endorsement from Deion might have also bumped the safety a few places higher in the draft order, which would have scored him a few extra bucks on his rookie contract.
Even though Mathieu is now an established pro, he and Sanders still have quite the relationship. After the Chiefs won the 2019 AFC Championship, for example, the defensive star received a congratulatory call from Primetime.
"I just tweeted about you before the game. I told them that if there's anybody got anything to say about you, put they face up to the screen and let me slap it because I don't play about you, man," Sanders said in a video shared on Chiefs.com. "Man, I watch you like a dad, like a big brother, like an uncle."
No matter how confident pro athletes may seem, even they can occasionally use a boost from someone in their corner.
For a defensive back like Tyrann Mathieu, receiving support from the likes of Deion Sanders has to make you feel like you can do anything…including earning more than $50 million as a big-name NFL star.
Financial data courtesy of Spotrac
In the U.S., contact the Substance Abuse and Mental Health Services Administration helpline at 1-800-662-4357.