UNC Asheville's Drew Pember and His Dirk Nowitzki-Style Game Are Coming Back for More
Part of the joy of college basketball is seeing players and programs flex their metaphorical muscles. For every Duke and Kentucky, countless other names manage to make an impact every season. Consider UNC Asheville's Drew Pember the latest example.
While neither the 6-foot-11 senior nor the UNC Asheville Bulldogs are household names in the world of college basketball, that might not matter in March. Pember and his smooth shooting touch, reminiscent of one Dirk Nowitzki, could be keeping an eye on.
That will be especially true as he returns for another NCAA campaign.
Drew Pember's history-making performance tells you everything you need to know about his game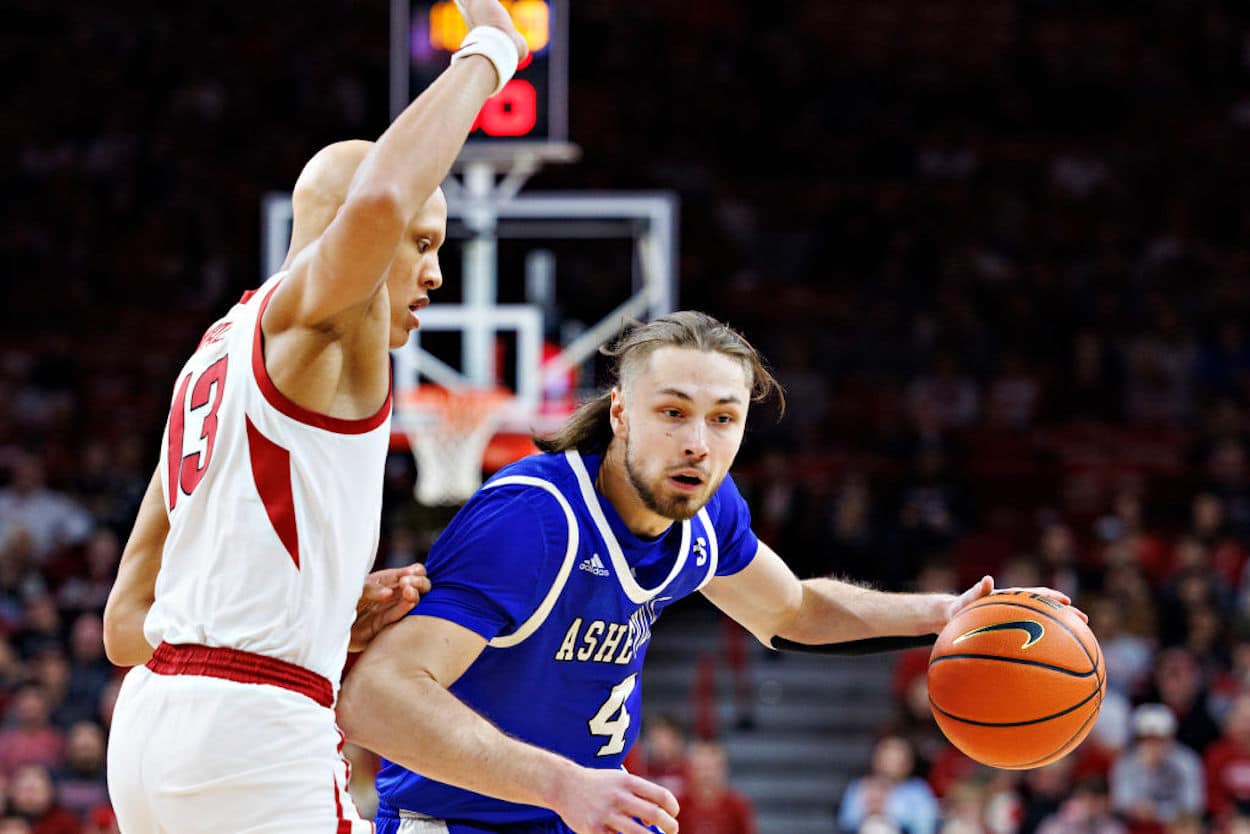 As the cliche says, many statistics can be positioned to support whichever position you desire. There's no mistaking one recent stat line, though.
During a Jan. 25 date with Presbyterian, UNC Asheville's Drew Pember had a night for the ages. Not only did he finish the evening with a program-record 48 points, but he also sank eight three-pointers, pulled down 12 boards, and blocked two shots in an overtime victory.
While those numbers are impressive enough — it doesn't take encyclopedic basketball knowledge to know that potting 48 points is quite the feat — things look even better when you stack Pember up against modern history.
As noted by Opta, the UNC Asheville forward is the only Division I player to post such a stat line in the last 25 years. Even when you bring the pros into the equation, only James Harden has ever accomplished the feat, and that came during an eye-popping triple-double, albeit against stiffer competition.
That Dirk Nowitzki-style game will make Pember worth watching when he returns for the 2023-24 campaign
When you hear about an incredible outing, it's tempting to consider that a one-off occurrence. And while Drew Pember isn't dropping 48 points every time he takes the court, his historic outing — the third 40-point performance of his collegiate career — wasn't that much of an anomaly.
The forward clocks in at 6-foot-11 and 215 pounds, which allows him to play as a stretch big. His shooting touch — 38.8% from distance on 4.2 deep attempts per game this season — allows him to step to the perimeter, but Pember is still capable of handling business on the inside, as indicated by his 9.2 rebounds per outing.
He was also the 2021-22 Big South Defensive Player of the Year, demonstrating an ability to work through mismatches and shine anywhere on the floor. And, if that honor wasn't enough, the Knoxville native cruised to the 2022-23 Big South Player of the Year title and retained his DPOY crown. Given that he was the first player in conference history to top the scoring, rebounding, and block charts, neither of those developments were that surprising.
If you'd prefer an alternate take on his value, consider Sports Math Network's TPA (total points added) metric, which aims to qualify a player's per-possession contributions on both ends of the floor. Within the Big South, Pember towers over the competition:
| Player | Offensive Points Added | Defensive Points Added | Total Points Added |
| --- | --- | --- | --- |
| Drew Pember (UNC Asheville) | 57.25 | 30.54 | 87.79 |
| Isaiah Wilkins (Longwood) | 30.61 | 13.51 | 44.12 |
| Tajion Jones (UNC Asheville) | 41.29 | 1.33 | 42.62 |
| Zack Austin (High Point) | 25.18 | 4.20 | 29.38 |
| Claudell Harris (Charleston Southern) | 53.53 | -25.19 | 28.34 |
Data provided by Sports Math Network as of January 2023
Or, if you're more of a visual learner, consider how Pember stacks up against the rest of the Big South.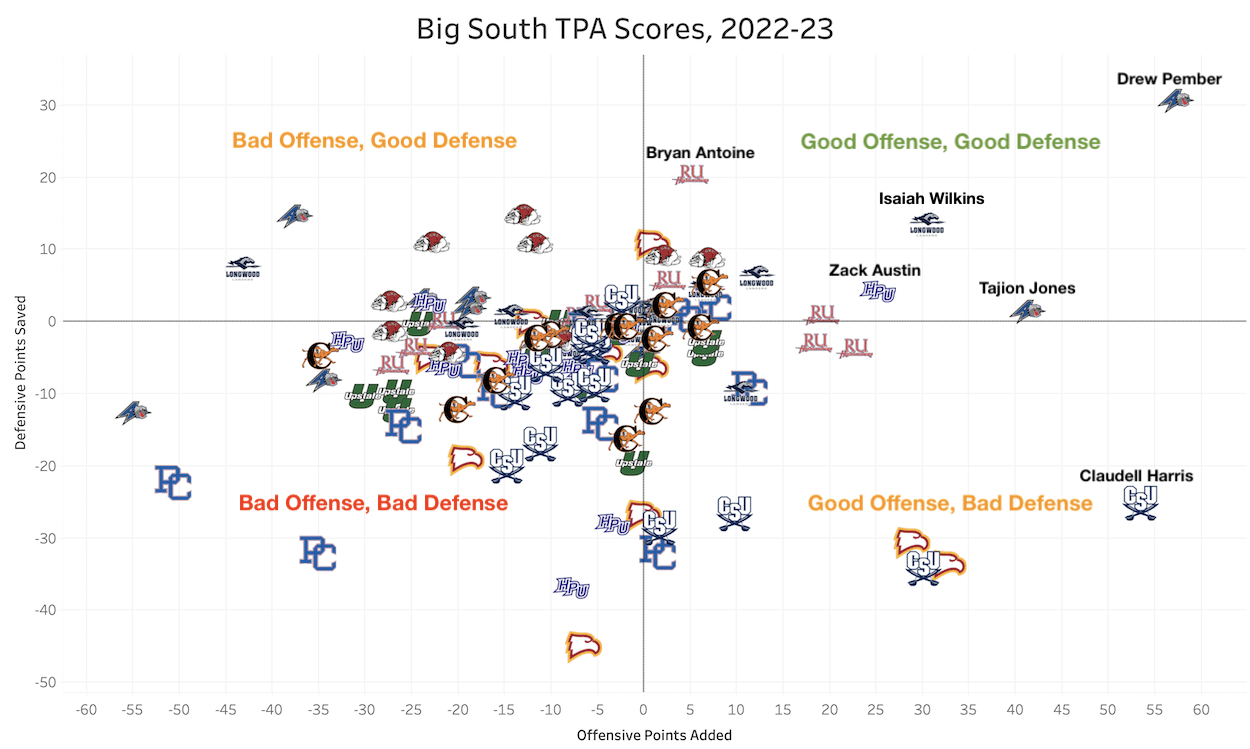 So, now that we've established the 6-11 forward's value, let's search through our basketball brains. Who else was a stretch forward with swept-back hair and a knack for big-time performances? None other than Dirk Nowitzki.
While you might think that's a bit hyperbolic — Dirk is a modern NBA legend, after all — he and Pember do have some statistical similarities. It's important to note the difference in sample sizes and level of competition, but consider the table below:
| Metric | Drew Pember (2022-23 season) | Dirk Nowitzki (Career) |
| --- | --- | --- |
| PPG | 20.4 | 20.7 |
| RPG | 9.2 | 7.5 |
| APG | 2.4 | 2.4 |
| BPG | 2.3 | 0.8 |
| FG% | 46.8 | 47.1 |
| 3P% | 38.8 | 38.0 |
| Height | 6-foot-11 | 7-foot-0 |
| Weight | 215 lbs | 245 lbs |
Pretty striking, right?
It's easy to latch onto Pember's incredible night and view that as the entirety of the story, but there's a different way forward. Consider it your chance to get familiar with someone who you'll see more of moving forward; the big man will be returning to UNC Asheville to play out his final year of eligibility during the 2023-24 campaign.
So, when you consider his body of work — beyond all the individual accolades we've already laid out, Pember's MVP performance was a key part of the Bulldogs winning the Big South Tournament — and his additional experience — this was his second year of being "the guy" for UNC Asheville — the forward's trajectory seems clear.
Pencil it in now: Drew Pember will be a name to remember when the new college basketball season arrives.