Vince McMahon Asked 1 Thing of Paul Heyman' In Case You Drop Dead' and It Shows Why the WWE is Succeeding After Vince's Retirement
Paul Heyman's involvement in professional wrestling began as a teenager when he talked his way backstage at a WWWF (now WWE) event at Madison Square Garden as a wrestling photographer. The New York native has been in the business for the past 40-plus years since. With Vince McMahon stepping down as CEO of WWE, Heyman recently shared some thoughts on working with the longtime WWE boss. One of the stories Heyman shared involved the first thing McMahon asked him when he joined the company, which surprised him.
Vince McMahon and Paul Heyman had an interesting and prophetic conversation when Heyman started with WWE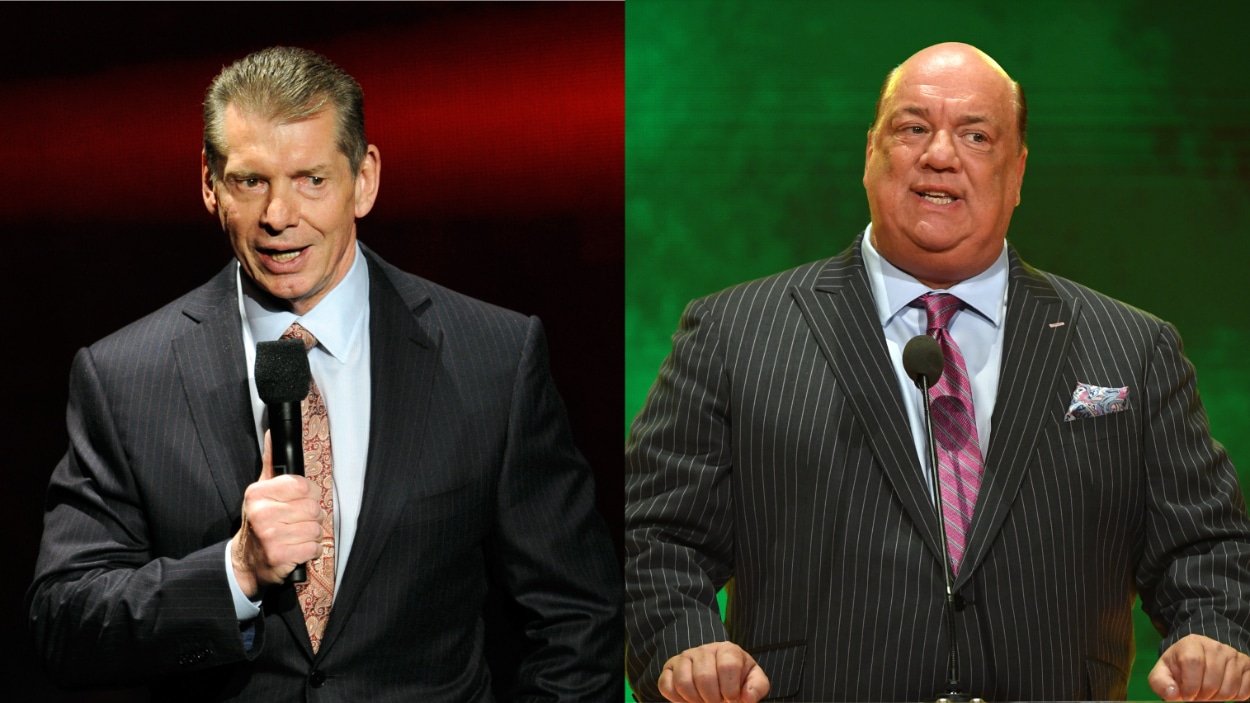 Paul Heyman's career in pro wrestling is among the most unique in the business. On the heels of his teen days as a fake wrestling photographer, he became a real one as well as a publisher of wrestling magazines and newsletters.
That led to a career as a writer, producer, and on-camera manager (named Paul E. Dangerously) in various wrestling promotions and a job running ECW.
In 2001, as the Monday Night Wars wound down and ECW was heading toward insolvency, Heyman joined the company he first snuck backstage with in the 1970s, WWE.
On a recent appearance on the Ringer's MacMania podcast, Heyman shared an interesting conversation he and Vince McMahon when he first came into the WWE universe.
"When I took the job as executive director, I asked Vince, what is the greatest service I can give this company in this role," Heyman recalled. "And I thought it would be something like oversee the best writing, give me your best storyline, work you're a** off, put the task at hand first. And his answer was, get your successor ready unless you drop dead. Because the show goes on with or without you."
McMahon also told Heyman something that would turn out to be prophetic of the last few weeks. He continued, "And he looked me straight in the eye and said, 'because the show goes on without me. With or without me.'"
This conversation highlights one of the reasons that the transition from Vince McMahon to Nick Khan, Stephanie McMahon, and Triple H has been so smooth.
Despite his inappropriate actions — or maybe because of them — Vince knew the WWE show would someday have to go on without him, so he insisted that everyone in the organization prepare their successor. And Vince did the same.
That's why the future of the WWE is secure, despite its longtime captain leaving.
Like Sportscasting on Facebook. Follow us on Twitter @sportscasting19 and subscribe to our YouTube channel.
RELATED: 4 WWE Superstars Who Will Benefit From Triple H Taking Over Creative (And 4 Who Won't)