What Happened to Former Dallas Cowboys Running Back DeMarco Murray?
It does not seem like it was that long ago when DeMarco Murray was arguably the best running back in the entire NFL. However, he has not played since the 2017 season after a mediocre year with the Tennessee Titans. Since he has not played the last two seasons, what has the former Dallas Cowboys star been up to?
DeMarco Murray was a star for the Dallas Cowboys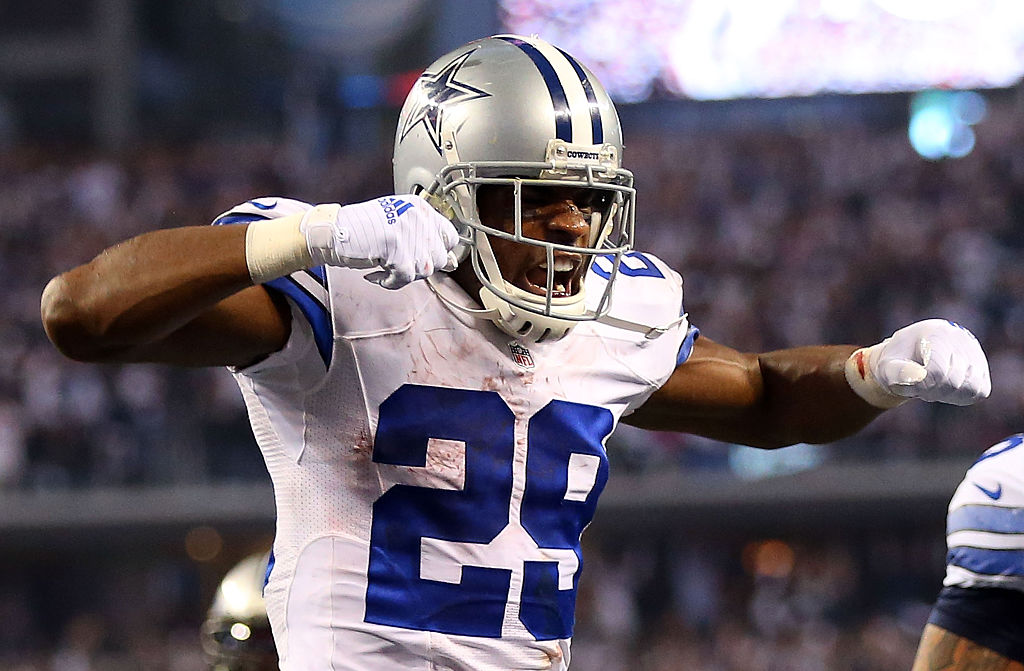 DeMarco Murray had a decent college career at Oklahoma. He ran for 1,214 yards and 15 touchdowns in his senior season. This led to the Dallas Cowboys selecting him in the third round of the 2011 NFL draft. 
Murray had a decent rookie season in 2011 as he ran for 897 yards in 13 games. He then ran for 663 yards in 10 games in 2012. However, he was arguably the best back in the NFL in 2013 and 2014. 
In 2013, Murray earned his first Pro Bowl selection as he ran for 1,121 yards and nine touchdowns. Then, in 2014 he was just absolutely dominant. Murray led the NFL in rushing yards in 2014 with 1,845 and rushing touchdowns with 13. He also caught 57 passes for 416 yards that season, which led to him leading the NFL with 2,261 yards from scrimmage. His play led to him earning another Pro Bowl selection, first-team All-Pro honors, and the 2014 AP Offensive Player of the Year award. The Dallas Cowboys were pretty good that season too as they went 12-4 and won a playoff game.
That season was ultimately his last one with the Dallas Cowboys, though.
Finishing his career on the Eagles and Titans
DeMarco Murray shockingly left the Dallas Cowboys in free agency and signed with the Philadelphia Eagles in 2015. Things with the Eagles did not really pan out, though. Murray only ran for 702 yards with the Eagles in 15 games during the 2015 season. His yards per attempt went from 4.7 in 2014 to 3.6 in 2015.
Murray was then traded to the Tennessee Titans in 2016, according to NBC Sports Philadelphia. He then had a bounce-back year in 2016 with the Titans. Murray earned his third Pro Bowl selection as he ran for 1,287 yards and nine touchdowns. However, in 2017, injuries affected his season, according to NFL.com, and he only ran for 659 yards and six touchdowns for the Titans that season. 
He then announced his retirement in July 2018, according to NFL.com.
Murray is now working his way up the coaching ranks
In January, Murray returned to his alma mater. Oklahoma head coach Lincoln Riley announced that Murray was hired as the team's running backs coach.
"This is very surreal," Murray said, according to Sooner Sports. "Obviously I never thought I'd be back coaching at the place where it all started for me. Having the opportunity to come back and be among great coaches and be with some of the people I grew up with is exciting. I'm thankful for the opportunity coach Riley is giving me and I'm looking forward to being back home."

DeMarco Murray
Before going to Oklahoma, though, Murray was the running backs coach at Arizona during the 2019 season, according to Sooner Sports.
Riley, who has helped Oklahoma become one of the most well-respected college football programs in recent years with three straight College Football Playoff appearances, also seemed excited about hiring Murray.
"This is a really exciting day, being able to welcome one of our program's all-time best players back to Norman," Riley said, according to Sooner Sports. "DeMarco had a tremendous playing career both at OU and in the NFL and has a passion for coaching and helping young men grow as players and people."
DeMarco Murray knows a thing or two about being a successful running back. Now, he gets to teach everything that he knows to young running backs and gets to help lead one of the best college football programs in the entire country. He may be retired, but DeMarco Murray is still thriving on the football field.