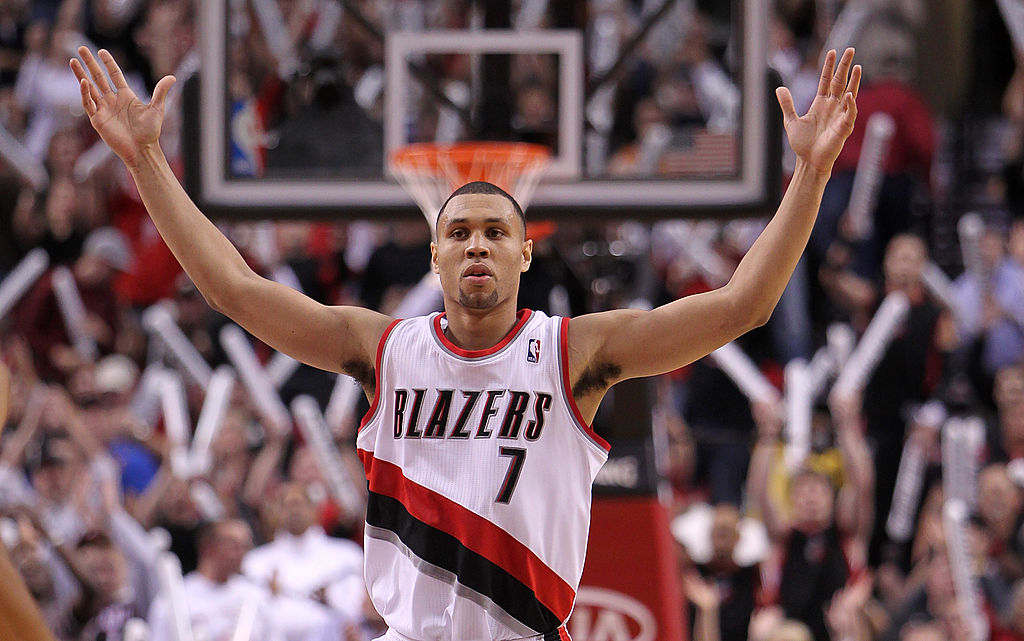 What Happened to NBA Star Brandon Roy?
Brandon Roy emerged as one of the top players in the NBA. Then a degenerative knee condition forced him to retire early. Where is Roy now?
By the time he was 25, Brandon Roy had made three NBA All-Star teams. Just two years later, he retired. Though he made a brief five-game comeback in 2012, the former Portland Trailblazers star essentially played only five seasons in the NBA before a bone-on-bone knee condition ended what could have been a Hall of Fame career.
One of the league's top scorers, Roy had a complete game that commanded respect from his peers and teammates. His competitive drive and toughness even earned praise from the immortal Kobe Bryant. And although his playing career officially ended nearly a decade ago, Roy has continued giving back to the game that once made him one of the NBA's most popular stars.
Brandon Roy became an All-Star by his second NBA season
Originally drafted by the Minnesota Timberwolves with the sixth pick in the 2006 NBA draft, Roy ended up getting traded on draft night to the Portland Trailblazers. The former University of Washington star became an overnight sensation. As a rookie, Roy averaged 16.8 points, 4.0 assists and 4.4 rebounds in 55 starts. The combination of Roy and fellow rookie LaMarcus Aldridge helped Portland increase its win total from 21 to 32.
The following year, the 6-foot-6, 215-pound sharpshooter increased his production across the board and earned his first All-Star selection. However, Roy reached elite status in the 2008-2009 season when he averaged a career-high 22.6 points per game to go along with 5.1 assists and 4.7 rebounds.
With Roy ascending to top-10 guard status, the Trailblazers also experienced a franchise turnaround. Portland went 54-28 before falling to the Houston Rockets in the first round of the Western Conference playoffs. They followed up with another 50-win season in 2009-2010, but the Phoenix Suns knocked them out of the first round.
Degenerative knee condition forced Roy to retire
When it comes to NBA careers cut short by injury, Roy ranks near the top. A truly dynamic playmaker and clutch scorer in his prime, the Seattle native simply couldn't continue playing due to degenerative knee issues.
Roy began experiencing trouble in 2008 when he had to get a piece of cartilage removed from his left knee. By the middle of the next season, he suffered bone bruise and meniscus tear in his right knee and underwent surgery.
Sadly, Roy's knees wore down to the point where there was no cartilage left. The painful bone-on-bone condition prevented him from playing to his capabilities. Six surgeries and no cartilage later, Roy retired from the NBA when his doctor told him he may not be able to walk if he continued playing. Although he had signed a lucrative four-year contract extension just a couple years earlier, Roy's playing days were over.
Former Trailblazers star transitioned to coaching in 2016
Following a short comeback attempt with the team that originally drafted him, Roy embarked on a coaching career. In 2016, he became the head coach of the Nathan Hale High boys' basketball team. The opportunity allowed him to work with future NBA lottery pick Michael Porter Jr.
Like he did in the NBA, Roy dominated the competition immediately as a coach. Nathan Hale went 29-0 in the regular season, and Roy received the prestigious Naismith National High School Coach of the Year award.
He then began coaching at Garfield High School in Seattle, where he led the school to a 2018 state title. Though Roy did not coach during the 2018-19 season, he returned this year and led the Bulldogs to a 25-4 record, including a 10-0 mark at home. Roy's NBA career may have been cut short by injury, but he hasn't let that affect his love for the game that made him over $80 million.