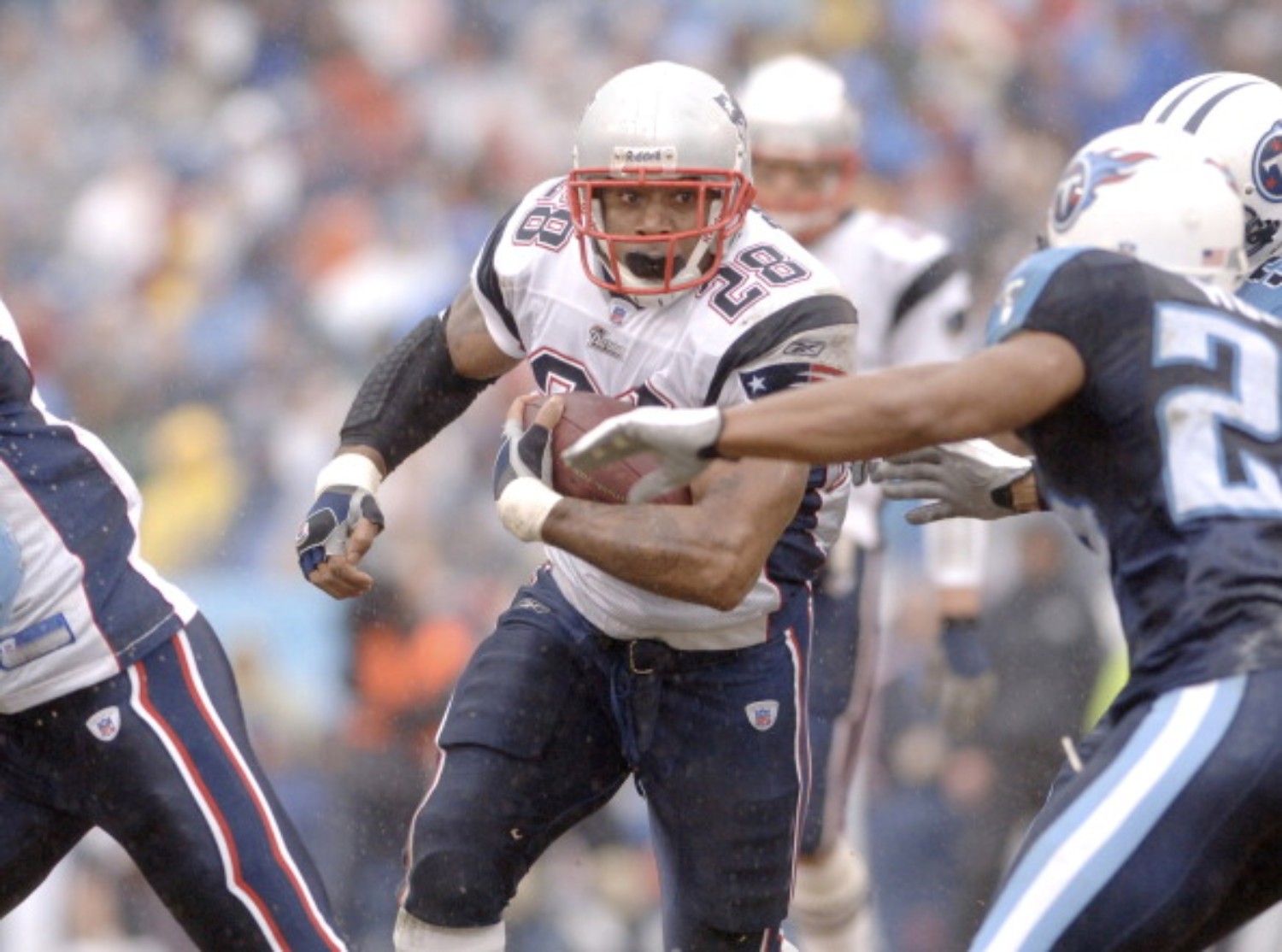 What Happened to Patriots Star Running Back Corey Dillon?
Running back Corey Dillon had an impressive NFL career and won a Super Bowl with the New England Patriots.
Corey Dillon put together an impressive NFL career. The former running back played for two teams during his career. He had a lot of success playing with the New England Patriots. Though he only played three seasons with the Patriots, he made a name for himself there.
Dillon won a Super Bowl with the Patriots and was recently named to the Patriots all-dynasty team.
Corey Dillon excelled in college before entering the NFL
Dillon started his college career at the junior college level. During his freshman year, he attended Garden City Community College in Kansas. He rushed for 1165 yards and 16 touchdowns in 1994. Dillon transferred schools the next year and attended Dixie State College in Utah. The talented running back continued to have success as he rushed for 1899 yards and 20 touchdowns. He was named the JC Offensive Back of the Year by College Sports magazine.
After an impressive junior college career, he attended the University of Washington. At Washington, Dillon put together an impressive career there. He set the team all-time single-season records for rushing yards (1,695 yards) and touchdowns (24) in 1996. In a game against San Jose State, Dillon dominated on the field. He rushed for 222 yards and caught an 83-yard touchdown pass. Dillon set NCAA records for both rushing yards and all-purpose yards (305) in one quarter.
He had a breakout performance during the season against UCLA. Dillon scored five touchdowns and earned Sports Illustrated National Player of the Week honors. During the 1996 Holiday Bowl against Colorado, Dillon was the star of the game. He rushed for 140 yards and scored two touchdowns. After his collegiate career, the Cincinnati Bengals selected Dillon in the second round of the 1997 NFL draft.
Corey Dillon was a star in Cincinnati
Before playing for the Patriots, Dillon spent his first seven seasons with the Bengals. During his rookie season, Dillon became one of the Bengals top players on offense. He rushed for 246 yards and four touchdowns in a 41–14 win over the Tennessee Oilers. That performance broke Jim Brown's rookie single-game record that stood for 40 years. Dillon's performance is still a Bengals record for carries, yards, touchdowns, and a franchise record for touchdowns.
He finished his rookie season rushing for 1,129 yards and 10 touchdowns. His 1,129 yards is still a Bengals rookie record. Dillon wasted no time making an impact on a struggling Bengals team. During his time in Cincinnati, he was selected to three consecutive Pro Bowls, from 1999 to 2001. From 1997 to 2002, he rushed for over 1,000 yards. During the 2000 season, Dillon had a record-setting performance against the Denver Broncos. He set an NFL record for most yards rushed in one game as he had 278 yards. That broke Walter Payton's single-game performance of 275 yards in 1997.
That record was broken twice by Jamal Lewis and Adrian Peterson. Though Dillon had success in Cincinnati, he was ready to leave the team due to their struggles. 
Corey Dillon continued to dominate playing with the Patriots
In 2004, the Bengals traded Dillon to the Patriots for a second-round draft pick. During his first season in New England, Dillon set a career-high in rushing attempts (345) and rushing yards (1,635). He was a part of the Patriots team that won their third Super Bowl as they defeated the Philadelphia Eagles. Dillon rushed for 75 yards and a touchdown and finished the game with 106 total yards. 
In his three seasons with the Patriots, Dillon scored the most touchdowns during his career. During the 2004 and 2005 season, he had 12 rushing touchdowns, and in his final season, he had a career-high 13 rushing touchdowns. He finished his career rushing for 11,241 yards and 82 touchdowns. Dillon currently ranks 20th on the all-time rushing list. 
After his career, Dillon has been out of the spotlight for the most part. In 2010 he was arrested on suspicion of assaulting his wife during an argument at their home in Southern California. According to the LA County sheriff's office, deputies went to Dillon's home after his wife called 911. The sheriff's office said the couple argued against a pending divorce and child custody issues. Dillon's wife had minor injuries, and he was booked and released on $50,000 bail. Throughout his NFL career, Dillon was a top running back in the league, and he was a player that wanted to have success during his career.