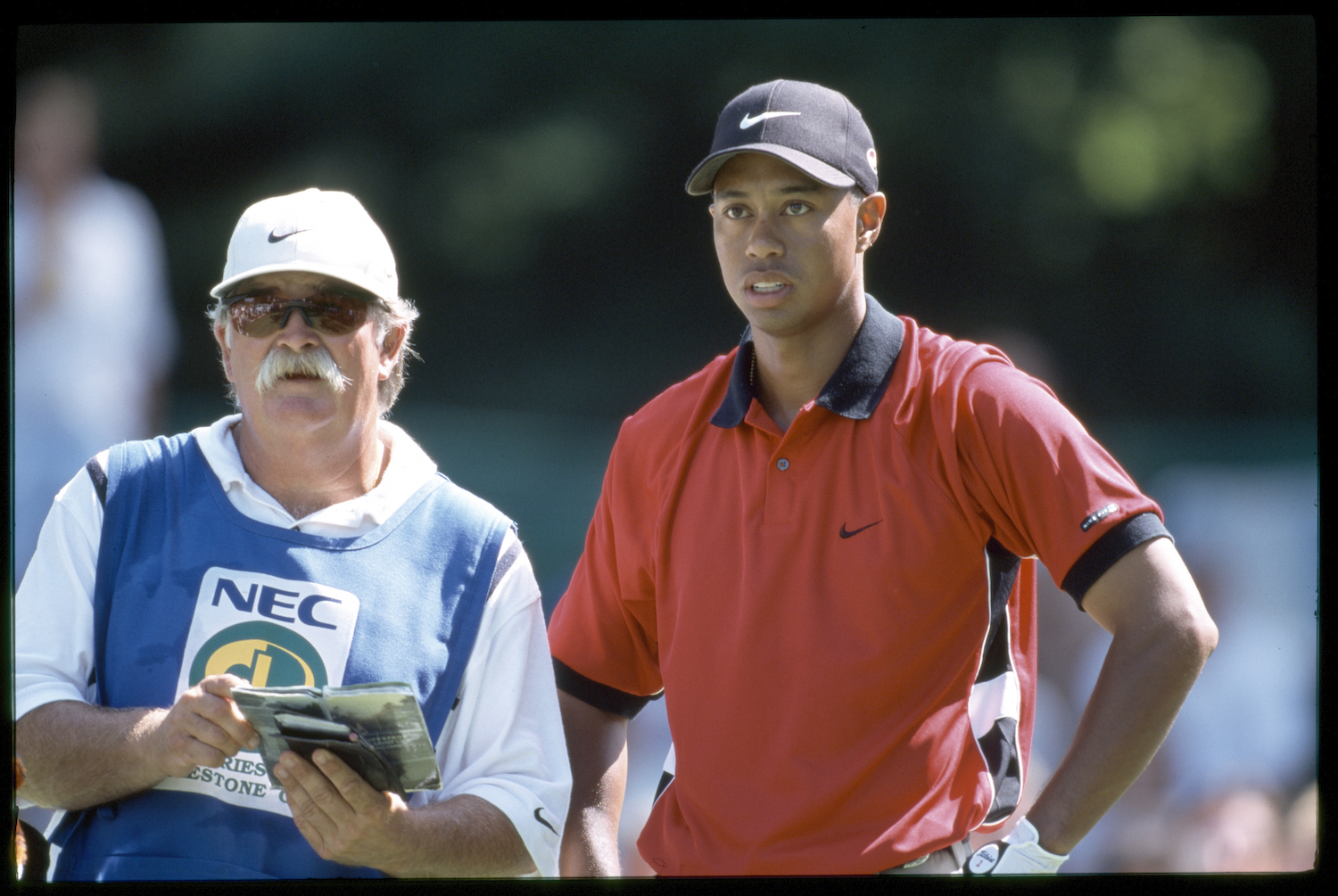 What Happened to Tiger Woods' First Caddie Mike 'Fluff' Cowan?
Tiger Woods made his pro debut in 1996. He dominated the Masters in 1997. Mike "Fluff" Cowan caddied for him during those early days. What happened to Cowan?
Tiger Woods made his professional debut in August 1996. He played in eight tournaments that year, made all eight cuts, and won twice. In April 1997, the 21-year-old stunned the golf world, winning the Masters by an unbelievable 12 shots. 
While there's no denying Woods had the talent, the leadership of veteran caddie Mike "Fluff" Cowan was instrumental in Woods' success during those early days. Their partnership abruptly ended in 1999. Woods went on to win 75 more times on the PGA Tour, including 14 majors. What happened to Mike "Fluff" Cowan?
Mike 'Fluff' Cowan teams with Tiger Woods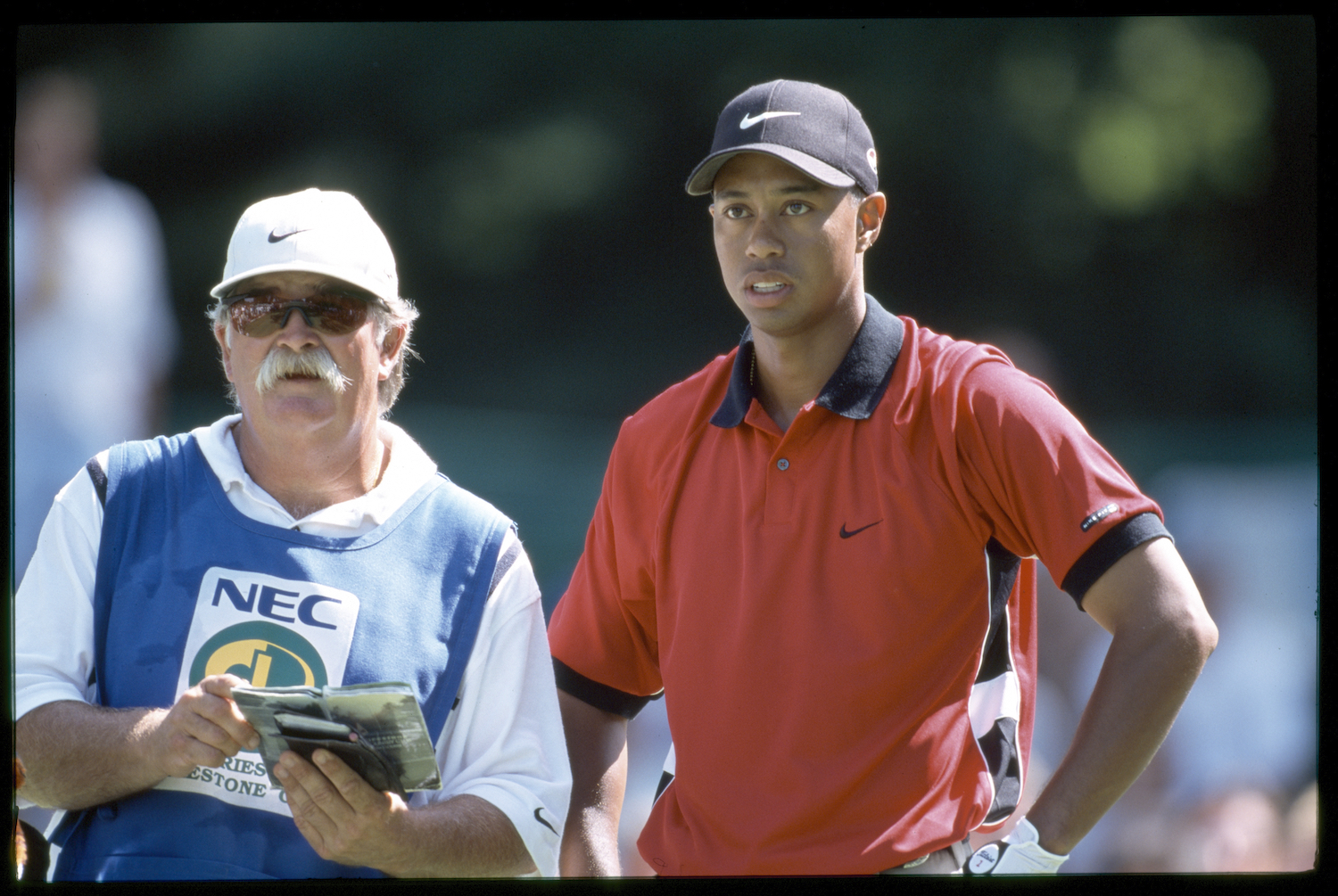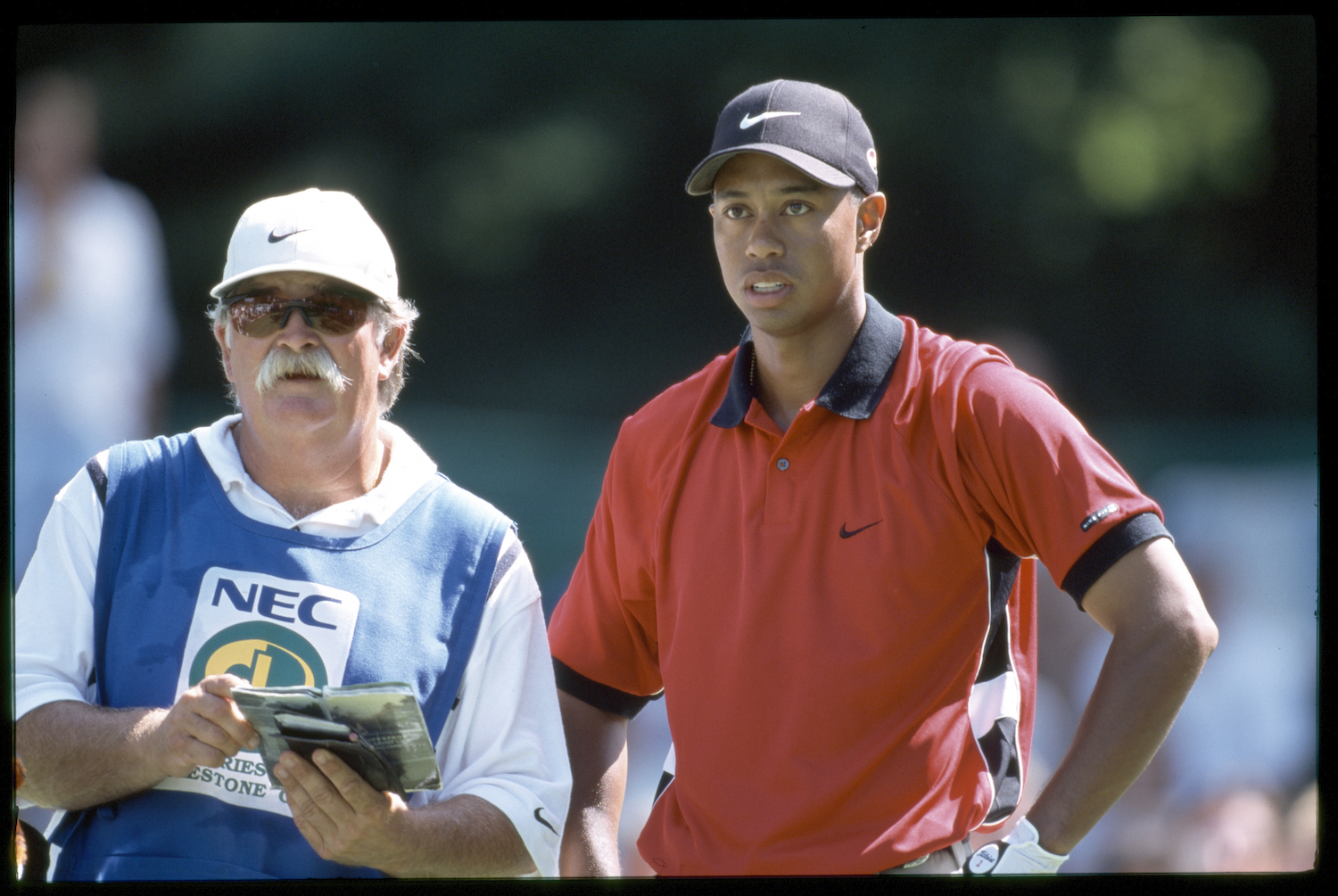 Timing is everything. In the summer of 1996, Peter Jacobsen needed a break. His ailing back wouldn't allow him to continue. Around that same time, Tiger Woods had won his third U.S. Amateur Championship and was about to turn pro. He was in the market for a caddie. 
With the veteran golfer out of commission, Woods inquired about the availability of Jacobsen's caddie, Mike "Fluff" Cowan, who had carried his bag for 19 years. Cowan and Jacobsen had a heart-to-heart conversation. When it was over, Jacobsen gave his blessing.
"Someone asked me if I was mad at Fluff for leaving," Jacobsen told the Baltimore Sun. "I told them that the only thing I was mad about was that Tiger didn't ask me to caddie for him." 
Mike 'Fluff' Cowan and Tiger Woods enjoy early success together
With Mike "Fluff" Cowan by his side, a 20-year-old Tiger Woods debuted at the 1996 Milwaukee Open. He made the cut and tied for 60th. A couple of months later, Woods earned his first professional victory in Las Vegas. Two weeks later, he won again.
Woods went on to win five of the first 20 events he played, including the 1997 Masters, where he put on a show, outpacing the field and winning by an unheard of 12 shots. Following that victory, 1993 PGA Championship winner Paul Azinger summed up what he witnessed during those four days in April. 
"Tiger is a great player, but I don't know if he would have done what he is doing here without Fluff. He is invaluable for any player, especially a young player."
Woods agreed. 
"I always say that Fluff is the best caddie in the world. He is not only a great caddie, but a great friend. And with that relationship in there, I trust whatever he says on the golf course."
Woods and Cowan break up
After winning four times in 1997, Tiger Woods struggled in 1998 and managed just one victory. Early in 1999, there appeared to be trouble brewing between Woods and Mike "Fluff" Cowan. During the Nissan Open, the pair reportedly had a verbal altercation. 
Rumors began swirling and only intensified when Woods replaced Cowan for a couple of tournaments with a friend on his bag. In March, the speculation ended when Woods announced they had parted ways.
Woods turned to another veteran caddie and hired Steve Williams. Mike "Fluff" Cowan wasn't out of a job long and teamed up with veteran golfer Jim Furyk. Four years later, Cowan was on the bag when Furyk captured the only major of his career, the 2003 U.S. Open. 
Cowan, who is now 72 years old, and Furyk have stayed together all these years. In addition to the U.S. Open title, other highlights include Furyk shooting two sub-60 rounds, the only PGA Tour player to accomplish this feat. 
Mike "Fluff" Cowan will always be remembered as the caddie with Tiger Woods when he first burst on the scene back in 1996. He proved it then, and he's proven it since that his knowledge of the game is second to none. His mustache is top class as well.