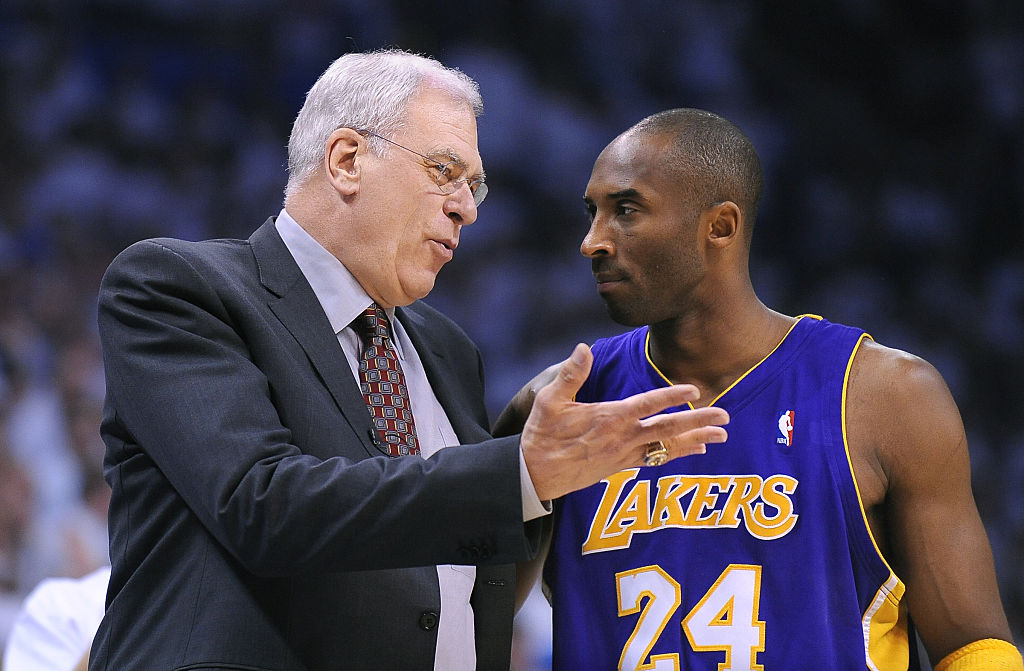 What Is Phil Jackson's Net Worth?
In Phil Jackson's 20-year coaching career he became the greatest coach in NBA history and built up considerable wealth. What is Phil Jackson's net worth?
When it comes to NBA coaches, Phil Jackson is undoubtedly the greatest of all time. In fact, it's easy to make the argument he's the greatest coach in U.S. professional sports history. With 11 NBA titles as a coach, Jackson is in a league of his own. He also won two more titles as a player. With so much sustained success through his years in the game, Jackson has amassed a large amount of wealth. What is Phil Jackson's net worth?
Phil Jackson leads Chicago to six titles
In his 12 years playing mainly as a substitute in the NBA, Phil Jackson won a pair of titles in 1970 and 1973. He retired in 1980 with an eye set on one day returning as a coach.
For years he sought opportunities, but nothing ever panned out. In 1987, Jerry Krause hired Jackson as an assistant coach for the Chicago Bulls under Doug Collins. Collins, however, didn't last long and was fired after two lackluster seasons. The Bulls named Jackson as his replacement.
As the man in charge, Jackson teamed up with assistant Tex Winter and installed the triangle offense. After a vastly improved team in 1989-90, which lost to the Detroit Pistons in the Eastern Conference Finals, Jackson and superstar Michael Jordan led the Bulls to their first NBA title in 1990-91 defeating the Los Angeles Lakers. It was the first of three consecutive NBA championships, a three-peat.
Jordan took time off from basketball for 18 months in the middle of the 1990s, and upon his return, the Bulls once again won three consecutive titles from 1995-98. Jackson left the Bulls after the 1998 season. In nine seasons as head coach, he won six titles.
Jackson leads Lakers to five titles
After a season off from coaching, the LA Lakers lured Phil Jackson out of retirement in 1999-00 and he produced immediate results guiding Kobe Bryant and Shaquille O'Neal to the pair's first NBA title together. The trio hoisted two more Larry O'Brien trophies in the 2001 and 2002 seasons. In the process, Jackson had earned his third three-peat and ninth NBA title as a head coach.
For five years, including one season where Jackson didn't coach the team, the Lakers earned a pair of Western Conference titles, but the NBA title eluded them. That changed in 2008-09. 
In that season, Kobe Bryant, Pau Gasol, and Andrew Bynum combined to lead the club offensively, and Jackson coached the Lakers to another title. It was his 10th NBA championship as a head coach, surpassing the record that was previously a tie between Jackson and Red Auerbach. Phil Jackson went on to collect his 11th NBA title the following season before retiring after the 2011 season.
What Is Phil Jackson's net worth?
During his 20-year coaching career, Jackson became the NBA's highest-paid coach. In his last season with Chicago, he earned $6 million per season, second only behind then-Boston Celtics head coach Rick Pitino.
When he arrived in LA, Jackson earned a similar salary at the start of his first stint with the Lakers. By the time he left the Lakers in 2011 as the most successful coach in NBA history, Jackson was earning $10 million per year.
After a few years in retirement away from the game, Phil Jackson returned in 2014 when the New York Knicks hired him as team president. Jackson signed a five-year $60-million contract. Unfortunately, his success on the floor never translated to the front office and after a couple of seasons, the Knicks and Jackson agreed to part ways.
Since leaving New York, Jackson, who owns homes in Los Angeles and Montana and has a net worth of approximately $70 million, spends most of his time at his Montana home where he enjoys the outdoors and gardening.
The Zenmaster is now growing food. If Jackson's past is any indication, it's probably one of the best gardens in the area and will be for years to come.