What's Happening With Kyle Larson Right Now Is Reminiscent of His Early Days in NASCAR
Kyle Larson has been about as close as a driver can be to having two wins through the first four NASCAR Cup Series races this season, which is, unfortunately, more similar to his pre-Hendrick Motorsports career than the driver he's developed into since joining the powerhouse organization two years ago.
Before NASCAR handed down 100-point penalties to all HMS teams Wednesday for improper modifications to the louvers, or hood vents, on their cars, Larson sat fifth in the points standings with two consecutive top-five finishes. The problem is both of them could have been, and one likely should have been, victories instead of merely good finishes.
Kyle Larson had a chance to win at both Las Vegas and Phoenix
Larson had led 38 consecutive laps and had a substantial lead over teammate William Byron with two laps left in the scheduled distance of the March 5 race at Las Vegas Motor Speedway when Aric Almirola spun to bring out a caution flag. Byron's pit crew got him out ahead of Larson on the ensuing pit stop, and Byron went on to win the race after an overtime restart.
Larson then dominated pre-qualifying practice a week later at Phoenix Raceway and won the pole award. He led a race-high 201 laps throughout the event and was out front twice late in the race before being passed. Kevin Harvick caught and passed Larson for the lead with 44 laps to go, and then Byron passed Larson for the win on the final overtime restart for the second straight week.
The season is still quite young, and Kyle Larson will most likely make the playoffs easily, even if HMS's appeal of the 100-point penalties is unsuccessful. But these types of losses are eerily similar to how most races played out for Larson early in his Cup Series career.
Close calls littered the beginning of his career in the Cup Series
Chip Ganassi Racing brought Larson to the Cup Series full-time in 2014 at age 21. He was considered a hot prospect that the organization did not want to lose so CGR promoted him to the sport's highest level despite only one full season in the Xfinity Series and only a handful of starts in the Truck Series.
Larson had an impressive eight top-five finishes and beat out Austin Dillon for Rookie of the Year honors in 2014, but he was unable to reach Victory Lane.
That would become the theme of Larson's first several seasons in the Cup Series. He had 14 top-fives, including four runner-up finishes, before he broke through and won his first race in August 2016 at Michigan International Speedway. He ironically beat Chase Elliott, another driver who struggled to convert good runs into wins early in his career.
Larson's first win did not solve his close-but-not-quite issues in the Cup Series. He finished second or third in four more races to end the 2016 season, and he had three second-place results in the first four races of 2017 before he won at Auto Club Speedway.
All told, Larson had 29 top-fives, including 13 second-place finishes, with only three victories to show for his success through the first three-and-a-half seasons of his Cup Series career.
Larson's fortunes changed considerably after moving to Hendrick Motorsports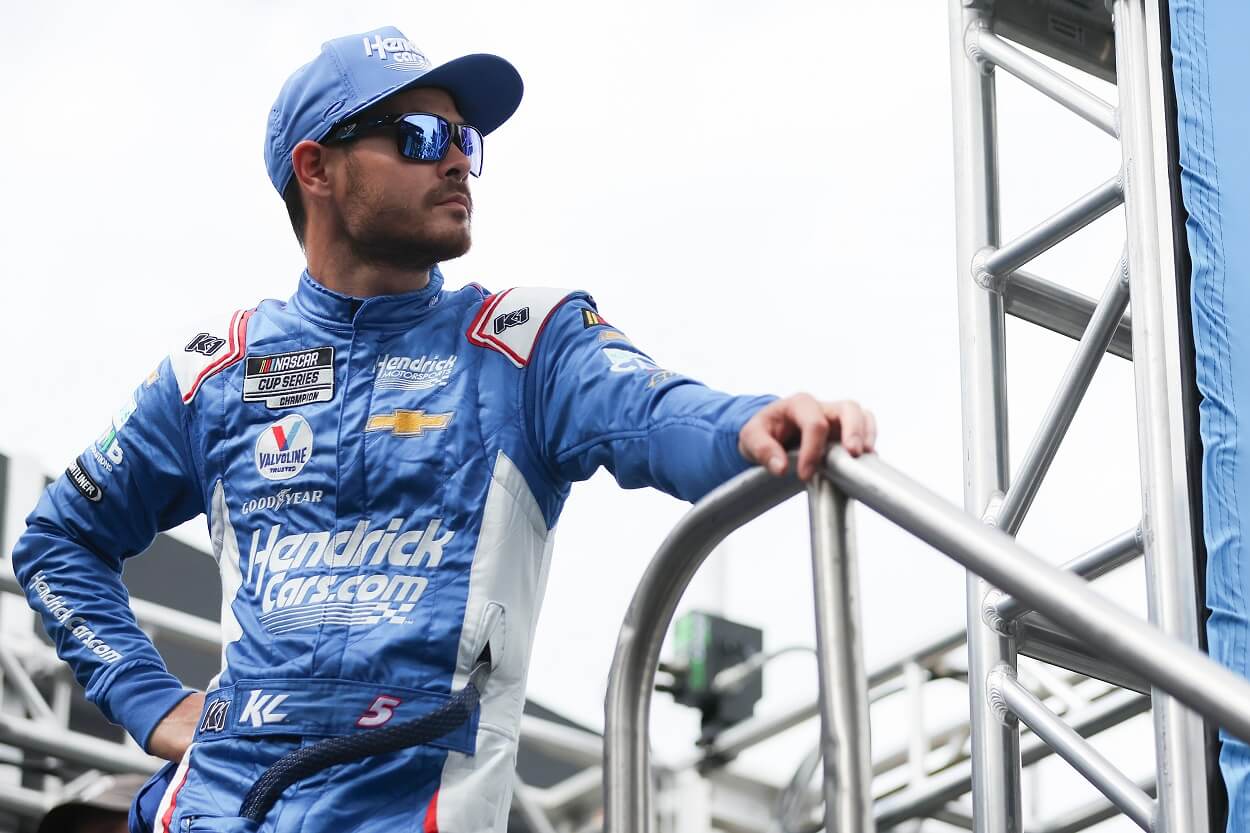 His inability to convert strong runs into victories led many to wonder if he would ever eventually develop into a top-tier driver who could consistently compete for championships. Larson put that thought to rest in 2021 when he won a series-best 10 races and set a modern-era record with 2,581 laps led on the way to his first Cup Series championship in his first season with HMS.
Larson stumbled into that opportunity after he said a racial slur during an online race in 2020 when actual racing was postponed because of the COVID-19 pandemic. The incident cost him his ride in the No. 42 car at CGR, and NASCAR suspended him indefinitely. Larson did not race in NASCAR during the remainder of that season, but his fortunes turned around greatly the following year.
Larson has had incredible success since he stepped inside the No. 5 car for HMS, however. He has 13 wins and has finished inside the top five in an astonishing 46% of the Cup Series races he has competed in while at HMS.
He has long since shed the questions about whether his potential would ever translate to great results in NASCAR. Something even more drastic than a 100-point penalty that also includes a loss of 10 playoff points would likely be necessary to keep him from being a strong title contender again this season.
The last two weeks, however, do leave a reminder that one of the biggest issues in Kyle Larson's Cup Series career has been a struggle to turn narrow losses into actual victories.