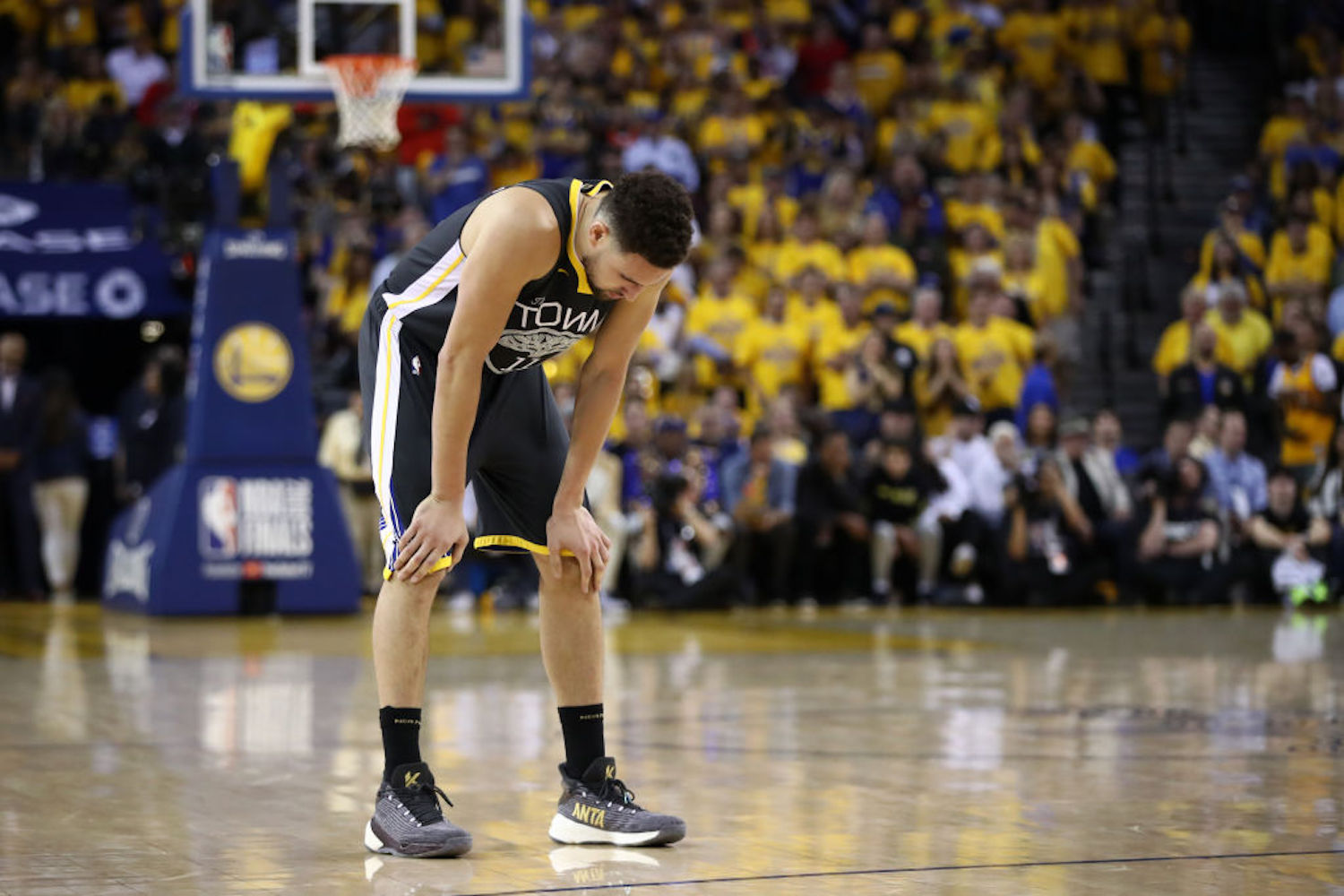 When Will Warriors Guard Klay Thompson Return From His Achilles Injury?
Klay Thompson will miss his second season in a row after tearing his Achilles last month. When will the sharpshooter return from his injury?
After missing the entire 2019-20 NBA season due to a torn ACL, Klay Thompson couldn't wait to get back on the court this December. But disaster struck again for Thompson a month ahead of the Golden State Warriors' season opener.
During a workout in Southern California last month, Thompson went down with a right foot injury. The MRI that followed confirmed a torn Achilles tendon, which ended Thompson's 2020-21 campaign before it even started. So, how much time will Thompson miss and will he be back for the start of next season?
Klay Thompson tore his Achilles in November
Injuries in professional sports can be ruthless. Just ask Bo Jackson, Andrew Luck, and Greg Oden. Klay Thompson escaped the injury bug for the first seven years of his NBA career, but it's come to bite him with a vengeance since then.
Thompson tore his ACL during the 2019 NBA Finals against the Toronto Raptors and missed the entire following season. He worked hard to get healthy enough to begin this year in the Warriors' starting lineup, but he couldn't have planned for what came next.
A month before the season opener, Thompson tore his right Achilles tendon during a workout in Southern California. He was immediately pronounced out for the year.
When will Klay Thompson return from his Achilles injury?
If Warriors fans are searching for a glimmer of hope in light of Thompson's injury, look no further than his former teammate, Kevin Durant. Durant ruptured his Achilles in the 2019 Finals and missed all of last season due to the injury. He returned last night to full health and looked like his old self, scoring 22 points in just 24 minutes.
Thompson won't be back at any point this season, but there's hope he will be back on the court when the Warriors start their 2021-22 campaign.
Thankfully for Thompson, he is expected to make a full recovery, according to Adrian Wojnarowski of ESPN. The timeline for athletes to return from an Achilles tear is normally 9-12 months, so with Thompson's work ethic, he can make it back in time for the season opener next year.
Klay Thompson breaks his silence for the first time since his injury
The NBA community hasn't heard much from Thompson since the news of his injury, but the five-time All-Star broke his silence Tuesday before his team's season debut against the Brooklyn Nets. Thompson posted an encouraging message to his Instagram page before the game.
I do not want to be writing this. My soul is in Brooklyn taking a pre game nap. Unfortunately, reality looks a bit different. Since June 13th, 2019 I have spent countless hours trying to regain the form I was in that you see pictured above, with a lot of heart ache along the way. It pains me everyday knowing I won't be able to chase a chip with my guys this year. I enjoy nothing more in life than the journey of the NBA season capped off with a title. I want DubNation to know I'm doing everything in my power to get back to who I was! I hate missing games – I prided myself on being out there every night for the fans and my teammates. Doesn't matter if its regular or postseason. There's a huge hole in my soul when I can't do what I love and compete against the best players in the world. But I plan on playing for a long time and will continue to work every day to get back on the court and help my team bring more championships to the Bay.

Klay Thompson
Thompson is remaining in good spirits despite the devastating plate of unlucky events life has served him since last summer, and he'll do whatever it takes to get back on the court for the Warriors' season opener in 2021.