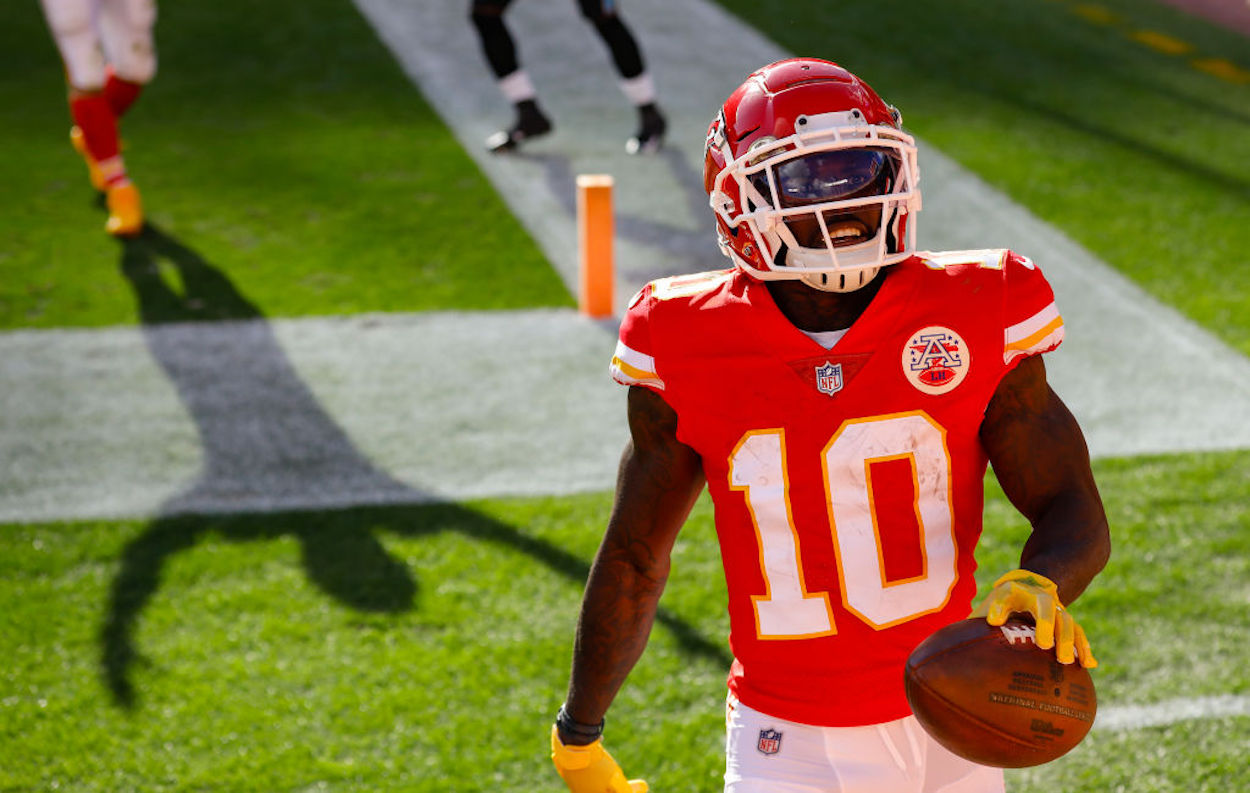 Where Did Tyreek Hill Go to College?
Tyreek Hill has become the most electric offensive weapon in the NFL today, and it took him three college stops to get there.
Tyreek Hill seemingly came out of nowhere to become one of the most electrifying offensive weapons in the NFL today. The Kansas City Chiefs star was a fifth-round flyer of a draft pick back in 2016, but he's gone on to make the Pro Bowl in each of the first five seasons of his NFL career.
Hill wasn't a household name coming out of college because he didn't attend Alabama, Clemson, or another regular championship contender. So, where did he go to college, and what did his stats look like?
Tyreek Hill started his college career at a JUCO
It's hard to believe a player as dangerous as Tyreek Hill with the football in his hands didn't end up with one of the top college programs in the country out of high school. He did field some interest from Georgia as a high school senior, but his grades weren't good enough to enroll right away.
Hill still wanted to continue his football career into college, though, so he signed with Garden City Community College in Garden City, Kan. As a sophomore, Hill recorded 659 rushing yards and five touchdowns for GCCC. He also hauled in 32 catches for 532 yards.
"He's as dominant of an athlete as I've been around," Garden City head coach Matt Miller told The O'Colly in 2014. "My dad was a front-office executive. I've been around some special athletes, and Tyreek Hill is as dominant an athlete or football player as I've ever been around."
Hill explodes on the scene at Oklahoma State
After a stellar two seasons with Garden City Community College, Hill started to field interest from some of the top programs in NCAA Division I. Alabama, USC, Oklahoma, Texas, and Florida State all reached out to Hill in the coming months, but he denied them all.
Instead, Hill decided to transfer to Oklahoma State University in 2014, where his parents and brother all went to school. Hill served as a Swiss Army Knife for Oklahoma State. He lined up all over the field on offense and even returned kickoffs and punts for the Cowboys.
In one season at OSU, Hill recorded 534 rushing yards, 281 receiving yards on 31 catches, and two offensive touchdowns. He also scored two kick-return touchdowns and a punt-return touchdown on special teams. Hill recorded a combined 966 return yards in 2014, which was the second-most in the country.
But Hill's career in Stillwater was short-lived. After just one season at Oklahoma State, Hill was arrested for a domestic violence incident and was dismissed from the team.
Tyreek Hill finished his college career at West Alabama
In 2015, Hill made the final stop of his collegiate career at the University of West Alabama in NCAA Division II. Hill again was used as a running back, wide receiver, and returner for the Tigers, and he dominated the Division II level in the open field.
Hill scored two touchdowns as an offensive weapon and four as a returner in his lone season at West Alabama. He entered the 2016 NFL draft as one of the most polarizing prospects in the class, and he lasted all the way into the fifth round before the Chiefs took a chance at the troubled speedster.
Hill's journey to the NFL was anything but normal, but he's already proven to be a worthy investment for the Chiefs.