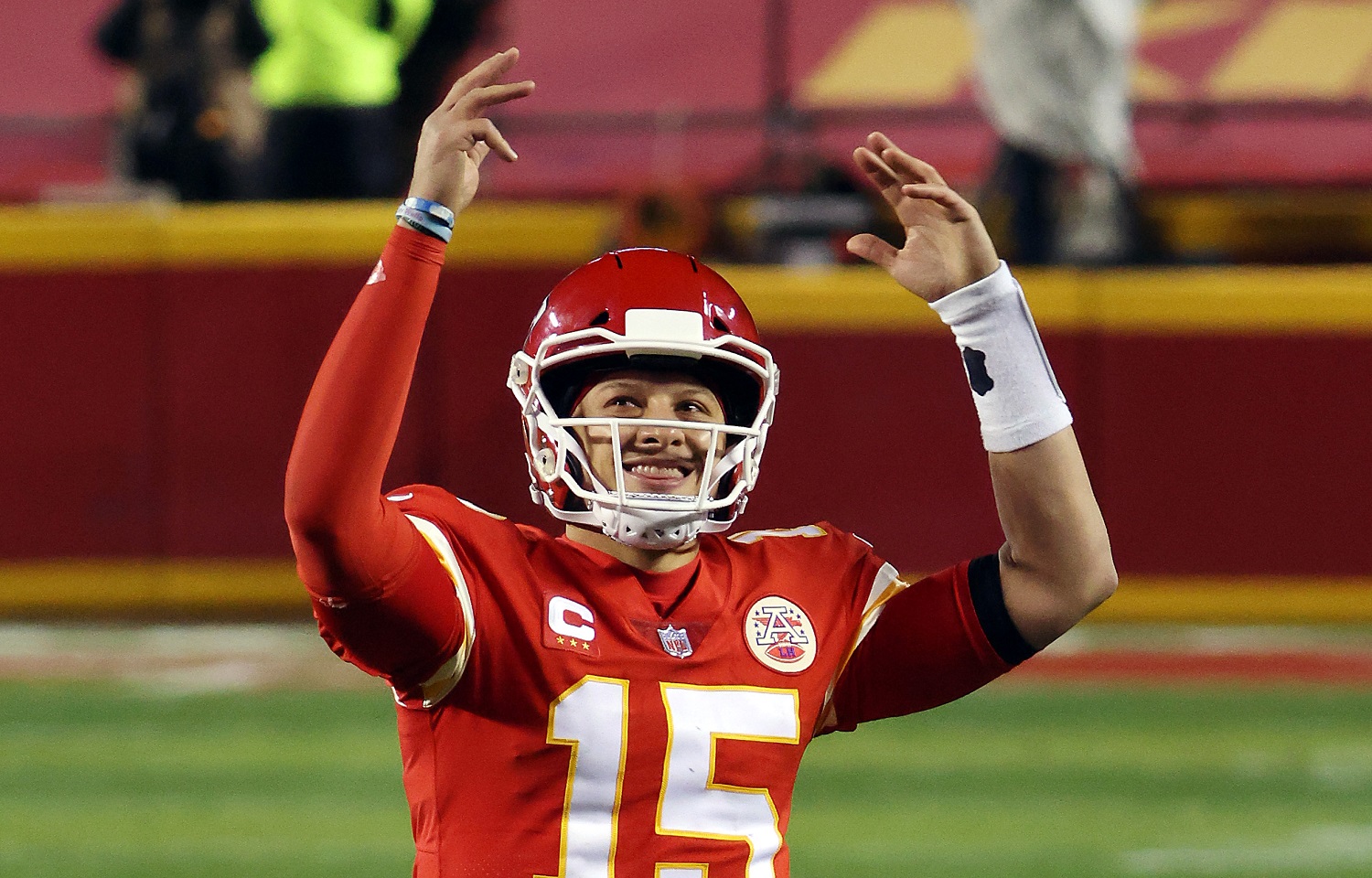 Patrick Mahomes Can Join Mark Sanchez and Jake Plummer — That's Not a Typo — in Elite Company
Seven NFL quarterbacks have beaten Tom Brady a total of 11 times in the playoffs. Patrick Mahomes is attempting to become the eighth.
Contrary to nearly every syllable that will be published leading up to Super Bowl 55, there are actual teams involved. Patrick Mahomes vs. Tom Brady is understandably the media's focus, but the Kansas City Chiefs are playing the Tampa Bay Buccaneers.
Still, the juiciest storyline is the one that has Mahomes potentially wresting the title of greatest quarterback ever from Brady a few years down the road. Beating the man with six Super Bowls rings would be another step toward the objective.
The list of quarterbacks having defeated Brady in the playoffs is short – and at times undistinguished, bringing us back to the point: It's about the teams and not the quarterbacks.
The Manning brothers did what Patrick Mahomes seeks to do
Patrick Mahomes has the Kansas City Chiefs back in the Super Bowl for the second consecutive season. He collected his first championship ring in Super Bowl 54 as the Chiefs beat the San Francisco 49ers.
Tom Brady spent his first 20 NFL seasons with the New England Patriots, where he won six Super Bowls. Eleven other trips to the playoffs ended in losses, including three in Super Bowls. Brothers Eli and Peyton Manning accounted for five of Brady's 11 postseason losses.
Peyton Manning beat Brady in the AFC playoffs three times – the conference title games after the 2006, '12, and '14 seasons. He went on to win one Super Bowl apiece with the Indianapolis Colts and Denver Broncos.
More famously, New York Giants quarterback Eli Manning beat Brady in a pair of Super Bowls. Manning's career numbers were built more on longevity than productivity – he was 117-117 as an NFL starter – but the two title-game victories may be his ticket to the Pro Football Hall of Fame. The Giants were 17-14 winners over New England in Super Bowl 42 and 21-17 victors in Super Bowl 46.
Nick Foles owns the other Super Bowl victory vs. Tom Brady
If there was a quarterback less likely than Eli Manning to foil Todd Brady in a Super Bowl, it may have been Nick Foles three seasons ago. Signed as a backup in March 2017, Foles became the Philadelphia Eagles' starter after Carson Wentz in Week 14. In three playoff games, Foles was 77 of 106 for 971 yards and six touchdowns.
Brady threw for 505 yards and three TDs in Super Bowl 52, but the New England Patriots could not get the Philadelphia offense off the field. Foles finished 28 of 43 for 373 yards. He threw for three touchdowns and caught a Trey Burton 1-yar pass just before halftime for a TD that made it a two-score lead.
Foles' 11-yard TD pass to Zach Ertz with 2:11 to go proved to be the difference in a 41-33 victory.
Foles was primarily backup equipment in Philadelphia the following season until shortly before the playoffs and opted for free agency afterward. Single seasons in Jacksonville and Chicago haven't panned out for him of the teams.
Four others have had the upper hand in the playoffs before Patrick Mahomes tries
It's not as though the four other quarterbacks to beat Tom Brady in playoff games were bad. Rather, it was more about the New England Patriots creating an air of invincibility by winning their first 10 playoff games with Brady at the helm.
The streak ended on Jan. 14, 2006, when the Denver Broncos scored a 27-13 victory behind some clutch defense and Jake Plummer, who threw for 197 yards and one TD.
Eli Manning's first Super Bowl win over New England actually started Brady on a three-game losing streak in the postseason.
On Jan. 10, 2009, Joe Flacco was 4-for-10 for 34 yards, but it didn't matter. Ray Rice and the Baltimore Ravens raced to a 24-0 lead in the first quarter of a 33-14 rout. Brady threw for just 154 yards and was intercepted three times and sacked three more in one of his worst postseason performances.
Flacco was much more of a factor four years later. He threw for 240 yards and three touchdowns – two early in the fourth quarter to Anquan Boldin – for a 28-13 win in the AFC championship game.
On Jan. 16, 2011, the New York Jets beat the Patriots, 28-21, as second-year pro Mark Sanchez threw for 194 yards and three TDs.
The Tom Brady era in New England ended on Jan. 4, 2020, when the Tennessee Titans edged the Patriots, 20-13. Ryan Tannehill only accounted for 72 yards, but Derrick Henry rushed for 182 in the wild-card round.
Since, Brady has engineered three playoff victories with the Tampa Bay Buccaneers, raising his record in the postseason to 33-11 ahead of the showdown with Patrick Mahomes.
All stats courtesy of Pro Football Reference.