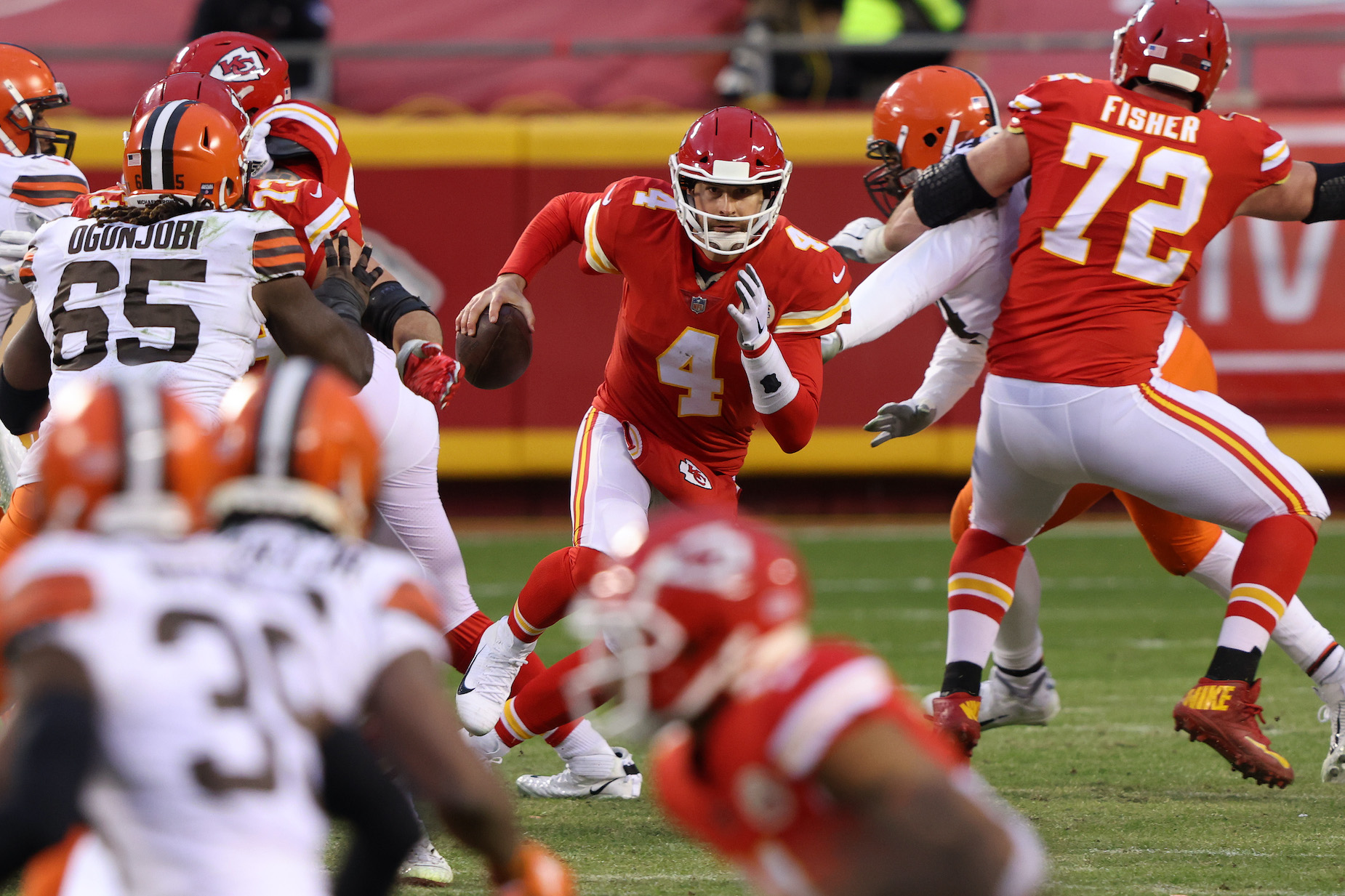 Patrick Mahomes Tweeted Exactly What Kansas City Chiefs Fans Were Thinking After Chad Henne's Late-Game Heroics
While Kansas City Chiefs quarterback Patrick Mahomes couldn't finish the game on Sunday, he did fire off an epic tweet about Chad Henne.
As Herb Brooks famously said before the Miracle on Ice, "Great moments are born from great opportunity." On Sunday Night, Chad Henne got the opportunity of a lifetime. With Patrick Mahomes sidelined by a concussion, the Kansas City Chiefs backup quarterback had to get his team over the finish line; thanks to two big plays and a gutsy Andy Reid play-call, he did just that.
While Patrick Mahomes wasn't in the game, he did react to the action on Twitter. In a post, he managed to perfectly sum up what every Chiefs fan around the globe was feeling after the win.
Chad Henne saved the day with Patrick Mahomes unable to play
When you have someone as talented as Patrick Mahomes on your roster, it's easy to sit back and wait for him to win the game for you. In their Divisional round game against the Cleveland Browns, however, the Kansas City Chiefs didn't have that luxury.
Although Mahomes and his offense looked great in the first half, everything changed in the third quarter. The quarterback suffered a concussion after being taken to the ground by Mack Wilson; he looked unsteady getting up and never returned to the action.
That left Chad Henne, the team's veteran backup, in charge of the offense. While he did throw one ugly interception, he also came through when the Chiefs needed him most.
In the game's final minutes, Henne scrambled for 13 yards, diving for the first-down marker. On the following fourth down, the quarterback completed a quick pass to Tyreek Hill, moving the chains and sealing the victory.
Chad Henne proved that #HennethingIsPossible
When Kansas City's Divisional Round began, you'd be excused if you forgot that Chad Henne was even on the roster. On Sunday, though, he earned himself a place in Chiefs' lore.
While last year's run to the Super Bowl may have healed some wounds, Kansas City doesn't have the best history in the postseason. As any Chiefs fan can tell you, the team went from 1994 to 2019 without winning a home playoff game; that drought included awful performances, blown leads, and virtually every imaginable way to lose a game.
It took Patrick Mahomes to change things; he is, quite simply, good enough to make even Chiefs fans believe that things will turn out alright. When he left the game, Henne took over, and the Browns scored a quick touchdown, it seemed like the bad old days were returning.
Thanks to Henne and Andy Reid, however, the Chiefs came out on top. Patrick Mahomes, who was presumably tweeting from the locker room, summed up the mixture of joy, relief, and disbelief that every Kansas City fan was feeling. He simply wrote "#HenneThingIsPossible" adding a GIF of Kevin Garnett's famous speech."
Even if Patrick Mahomes returns for the AFC Championship game, no one will forget this performance
As of now, it's not clear who will be under center for the Kansas City Chiefs when the AFC Championship starts. Everyone affiliated with the team, however, will be hoping that Patrick Mahomes is ready to play.
At this point, though, it's simply too early to know how the quarterback's week will go. While Andy Reid said that Mahomes was feeling good thus far, every concussion is different; no one, not even the quarterback himself, knows what will happen during each step of his recovery process. For all anyone knows, Chad Henne could get the start against the Buffalo Bills.
No matter who's under center, though, no one is going to forget Chad Henne's heroics. As Tyrann Mathieu explained, according to ESPN's Adam Teicher, "Those are the moments that lift teams."
In a game of fine margins, a bit of extra belief can sometimes be all it takes to put one team over the top. No matter who's under center in the AFC title game, though, Chad Henne has the Kansas City Chiefs believing that "Hennething is possible."