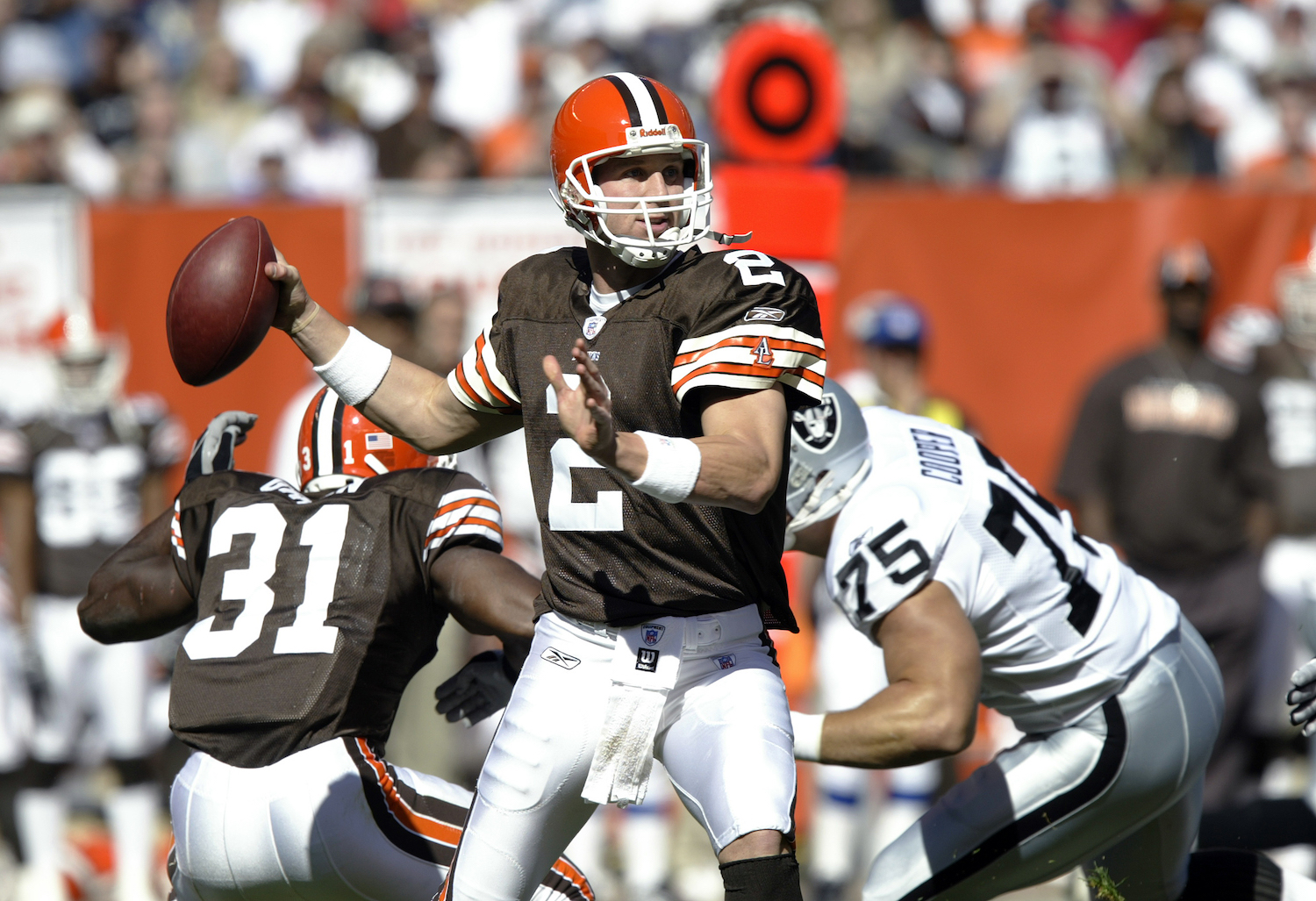 Where Is Former NFL No. 1 Overall Pick Tim Couch?
Tim Couch is the last quarterback to lead the Cleveland Browns to the NFL playoffs back in 2002. He played one more NFL season. Where is Tim Couch today?
Tim Couch was born and raised in Kentucky. He was a dual-sport star in high school. He opted to stay home and play in college for the Kentucky Wildcats. After forgoing his senior season, the Cleveland Browns selected him with the No. 1 overall pick in the 1999 NFL Draft. Couch played for five seasons with the Browns and is the last quarterback to lead the club to the playoffs. Where is Tim Couch today?
Tim Couch stars at Kentucky
In high school, Tim Couch was a star for both the football and basketball teams. After earning Kentucky's "Mr. Football" in 1995, Couch decided to focus on football in college. 
He didn't have to go far as he remained in-state and played at the University of Kentucky. During his freshman season, he saw limited action. That changed his sophomore year and Couch was impressive. He finished that season completing 363-of-547 passes for 3,884 yards, with 37 touchdowns and 19 interceptions. 
During Tim Couch's junior season, he put up even better numbers. That year he completed 400-of-553 passes for 4,275 yards, with 36 touchdowns and 15 interceptions. He led the nation in pass completions and ranked second in completion percentage, passing yardage and touchdown passes, and fourth in total offense. 
His performance earned him first-team All-American honors and consensus Southeastern Conference Player of the Year. He finished fourth in the Heisman Trophy race.
Cleveland Browns select him as No. 1 pick in 1999 NFL Draft
The Cleveland Browns, who were returning to the NFL as an expansion team, selected Tim Couch with the No. 1 overall pick in the 1999 NFL Draft. After backing up Ty Detmer in the first game of his rookie season, Couch took over the Cleveland offense. 
That first season he had more than his share of struggles behind an offensive line that gave up an NFL-leading 56 sacks. He finished the season throwing for 2,447 yards with 15 touchdowns and 13 interceptions. The Browns finished 2-12 under his leadership. 
After two more below .500 seasons in 2000 and 2001, Tim Couch and the Cleveland Browns found themselves in unfamiliar territory in 2002 making the playoffs. The Browns, which had a top-10 defense, finished with an 8-6 record with Couch under center. Unfortunately, he suffered a broken leg in the final regular-season game and didn't play in the Wild Card game, a 36-33 loss to the Pittsburgh Steelers.
Couch played his final NFL season with the Browns in 2003. Despite never playing another down in the NFL after that, he tried out with numerous teams through the 2007 season.  
Where is Tim Couch today?
A couple of years after playing with the Cleveland Browns, Tim Couch married Heather Kozar, a former Playboy Playmate of the Year. The couple have two sons. 
While Couch hasn't played in years, he followed the path of many former players and transitioned to the broadcast booth. In 2018, he called preseason games for the Browns. He currently works as an analyst for the SEC Network. 
Earlier this year, Tim Couch was named to the ballot of the 2021 College Football Hall of Fame induction class. The 2021 class is scheduled for induction during the 64th National Football Foundation annual awards dinner on Dec. 7, 2021, at the New York Hilton Midtown.