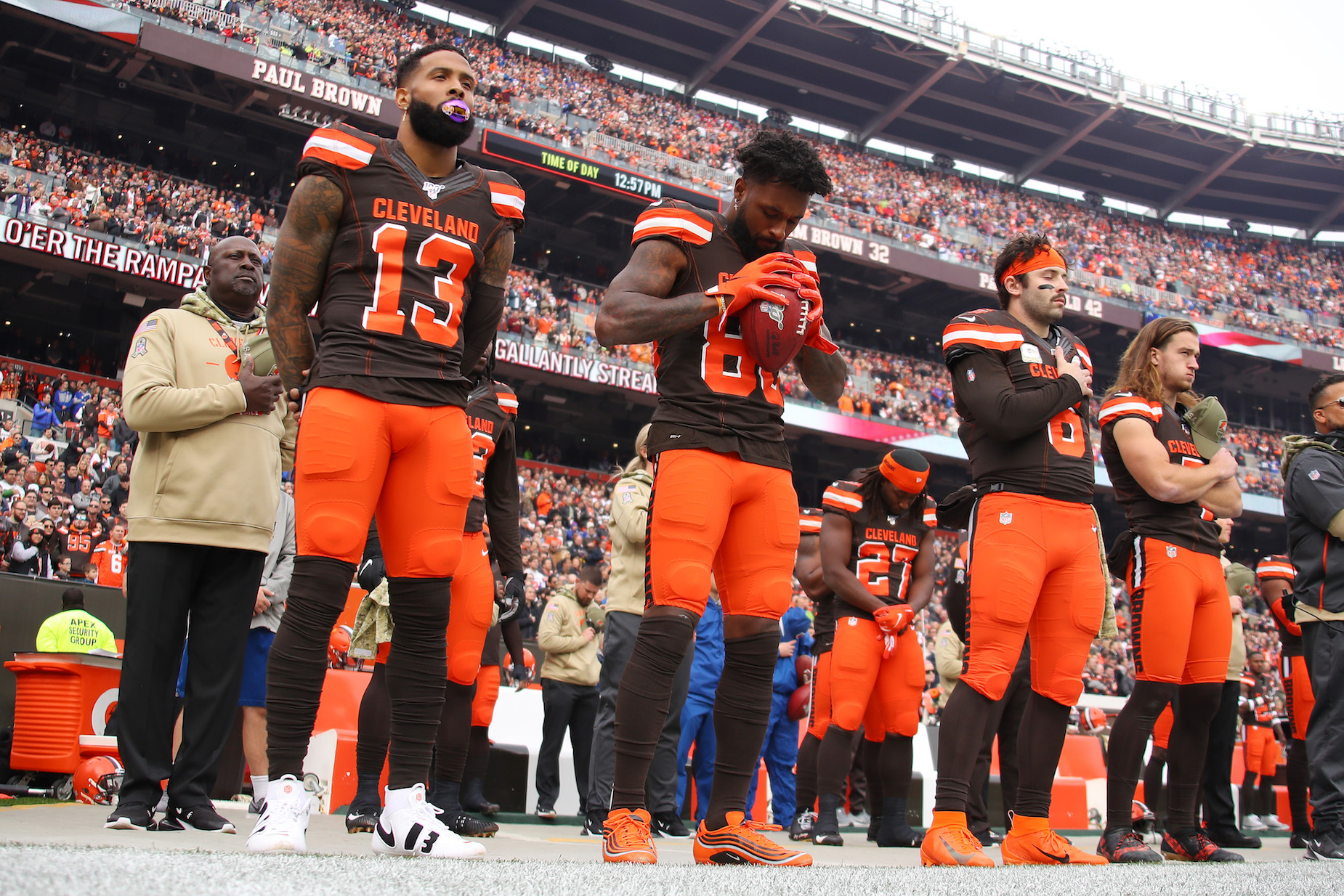 The Cleveland Browns Just Received a Massive $37 Million Boost Ahead of Their Date With the Pittsburgh Steelers
After getting off to a 4-1 start, the Cleveland Browns received $37 million worth of good news ahead of their date with the Pittsburgh Steelers.
Over the past several years, Cleveland Browns fans haven't had much to cheer about. While every franchise is bound to have some lean years, the Browns have taken that reality to the next level; they've struggled to find a quarterback, have changed coaches with troubling frequency, and haven't made the postseason since 2002. During 2020, however, things seem to be a bit different.
Against all odds, the Cleveland Browns have gotten off to a hot start, jumping out to a 4-1 record. While Week 6's date with the Pittsburgh Steelers will be a tough test, the franchise received more than $37 million worth of good news ahead of kickoff.
After decades of failure, the Cleveland Browns are looking good
As any veteran sports fan can tell you, it's risky to put too much stock in a few good performances. After a seeming eternity of struggles, however, it's understandable that the Cleveland Browns are feeling pretty good right now.
At the risk of sounding hyperbolic, the Browns have been one of the worst franchises in recent history. The franchise famously struggled to find a franchise quarterback, trotting out 30 different signal-callers since 1999; as you might expect from that stat, the on-field product hasn't been great. Cleveland last made the playoffs in 2002, when they lost in the wild card round; their last playoff victory came in 1994 with Bill Belichick running the show on the sidelines.
Last year, it seemed like the Browns finally had the talent to succeed; everything fell apart, however, and Freddie Kitchens lost his job after a single season. In 2020, however, it seems like a different story.
With Kevin Stefanski calling the shots, the Browns have gotten off to a 4-1 start. After losing to the Baltimore Ravens in Week 1, the Browns have gone on a tear; their offense looks good, and their defense has stepped up in big spots. While winning four games doesn't warrant a parade, it's still pretty good by recent standards.
Receiving $37 million of good news ahead of Week 6
To some extent, sports success is based on luck; the best-laid plans can go out the window if a crucial player gets hurt at an inopportune moment. Thankfully for the Cleveland Browns, it seems like injuries won't play a major role in their Week 6 meeting with the Pittsburgh Steelers.
On the Browns' final injury report for the week, Baker Mayfield, Jarvis Landry, and Odell Beckham, Jr. were all listed as questionable for Sunday's game. The quarterback has been dealing with sore ribs, while the receivers had hip and rib issues and an illness, respectively. Come Sunday, however, ESPN's Adam Schefter reports that they're all expected to play.
With those three men accounting for $37 million of this season's salary cap—Mayfield accounts for just over $9 million, with OBJ and Landry carrying a $14 million-plus cap hit—their collective presence will give Cleveland a massive boost. With all due respect to the rest of the Browns' roster, Case Keenum, Rashard Higgins, and Donovan Peoples-Jones won't exactly intimidate the Pittsburgh Steelers' defense.
Can the Cleveland Browns keep their winning streak alive against the Pittsburgh Steelers?
While the Cleveland Browns have gotten off to a good start, their four wins haven't exactly come against the NFL's toughest opponents. A Week 6 matchup with the Pittsburgh Steelers, however, should represent a sterner test.
From the 1,000-foot view, the game seems like a classic 'something's got to give' situation. While Ben Roethlisberger hasn't been throwing too many deep balls, Pittsburgh has broken off plenty of big plays, primarily on the ground; Cleveland's run defense, however, has stood strong and avoided giving up large chunks of yardage this season.
Similarly, the Steelers have given up virtually nothing on the ground all year, which should put the spotlight squarely on Baker Mayfield. Pittsburgh, however, also can blitz with the best of them; it will be interesting to see how the quarterback can cope with that onslaught, especially if his ribs aren't feeling 100%.
Mayfield, Odell Beckham, Jr., and Jarvis Landry taking the field, however, will surely give the Cleveland Browns plenty of optimism. With $37 million worth of offensive weapons in the lineup and a 4-1 record under their belt, the team will be feeling pretty good heading into Week 6. Are they contenders or pretenders, though? The Pittsburgh Steelers will help us determine that.
Stats courtesy of Pro-Football-Reference. Salary cap data courtesy of Spotrac