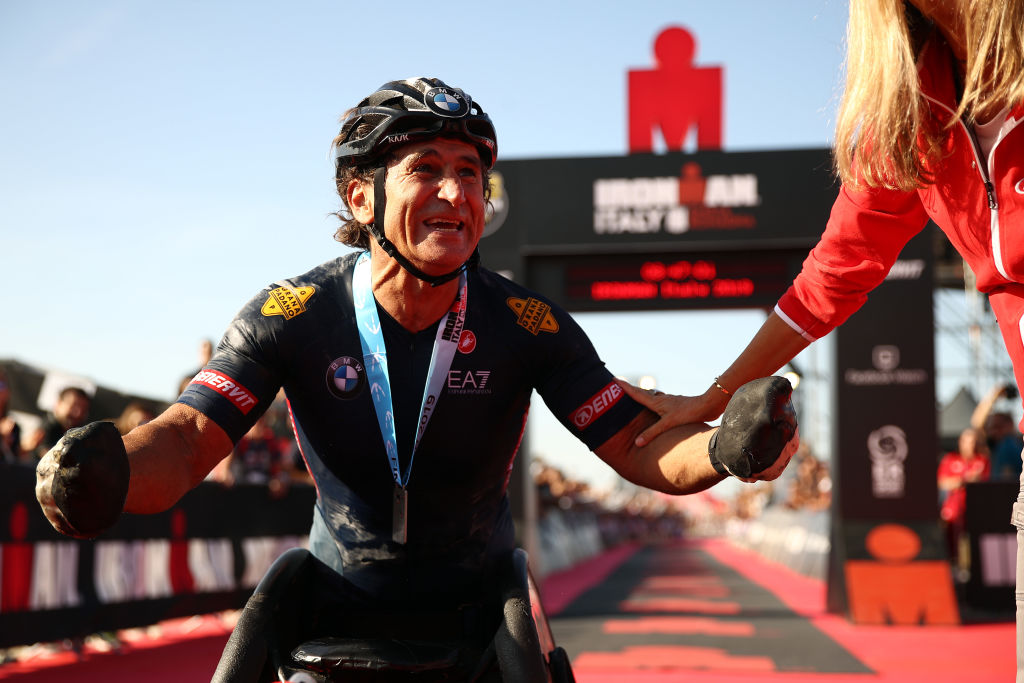 Who Is Alex Zanardi?
Alex Zanardi, a former Formula One racer and Paralympic athlete, recently suffered a devastating crash that's left him in a coma.
If you're a fan of comeback stories, then Alex Zanardi deserves your attention. He gained fame as one of the top Formula One drivers in the world. Tragically, a devastating crash in 2001 caused him to lose both his legs.
That gave way to a successful career as a Paralympic athlete. As one of the top hand cyclists in the world, Zanardi has continued to inspire others with his incredible pursuit of greatness. Sadly, though, the 53-year-old is now in an artificial coma after suffering a severe crash in his native country.
Alex Zanardi's racing career
Born in Bologna, Italy, Alex Zanardi got the itch for racing during his teenage years. That passion put him on a path for athletic greatness. By the age of 22, he joined the Italian Formula 3 series. As he continued to rise, he eventually ascended to the Formula One competition.
Zanardi scored just one point in his brief career, but he did draw 41 starts. Most of that occurred from 1991-94, though he did compete in 1999, too.
Later, he took his talents to the United States for the CART Championship Series. Zanardi found much more success in this competition. He even paved the way for driver's celebrations by spinning his car around to leave circular patterns on the track.
Driving cars made Alex Zanardi a popular global icon. But his athletic career took an unexpected turn on September 15, 2001.
Becoming a Paralympic champion
Racing at the 2001 American Memorial in Klettwitz, Germany, Zanardi could never have predicted that that race would change his life forever. As he looked to close out the race from the front, Zanardi accelerated quickly following a pit stop. His car lost control and spun into the path of oncoming driver Patrick Carpentier.
Carpentier avoided hitting Zanardi, but Alex Tagliani couldn't. In one swift swoop, Zanardi's car and his body got destroyed. He ended up having both his legs amputated but was lucky to escape with his life.
While the accident may have ended many athletes' careers, that wouldn't be the case for Zanardi. Instead, he embarked on a career in hand cycling. He has had tremendous success as a Paralympic athlete.
After working tirelessly to make his mark in a new sport, his hard work paid off. Zanardi took home two gold medals at the 2012 Summer Paralympics held in London. Four years later, he won two more gold medals at the 2016 Summer Paralympics in Rio de Janeiro.
Zanardi is in an artificial coma after suffering a devastating crash
As a role model for athletes across the world, Alex Zanardi turned a bad situation into an inspiring one. Sadly, he may never resume his racing career after suffering severe head injuries in a crash. On Saturday, CNN reported that the former Formula One driver is in an artificial coma after getting hit by an oncoming truck during a relay race in Tuscany.
According to a statement released by Santa Maria alle Scotte Hospital in Siena, "He is incubated and supported by artificial ventilation while the neurological picture remains serious."
Zanardi had been training for the 2020 Tokyo Paralympics. Of course, the COVID-19 pandemic put the competition on hold. His recent accident sent shockwaves through the racing community. Friends and fans from across the world took to social media to show their support for the inspiring gold medalist.
Former Formula One world champion Mario Andretti wrote, "I am so anxious and frightened about Alex Zanardi that I'm holding my breath. I am his fan. I am his friend.