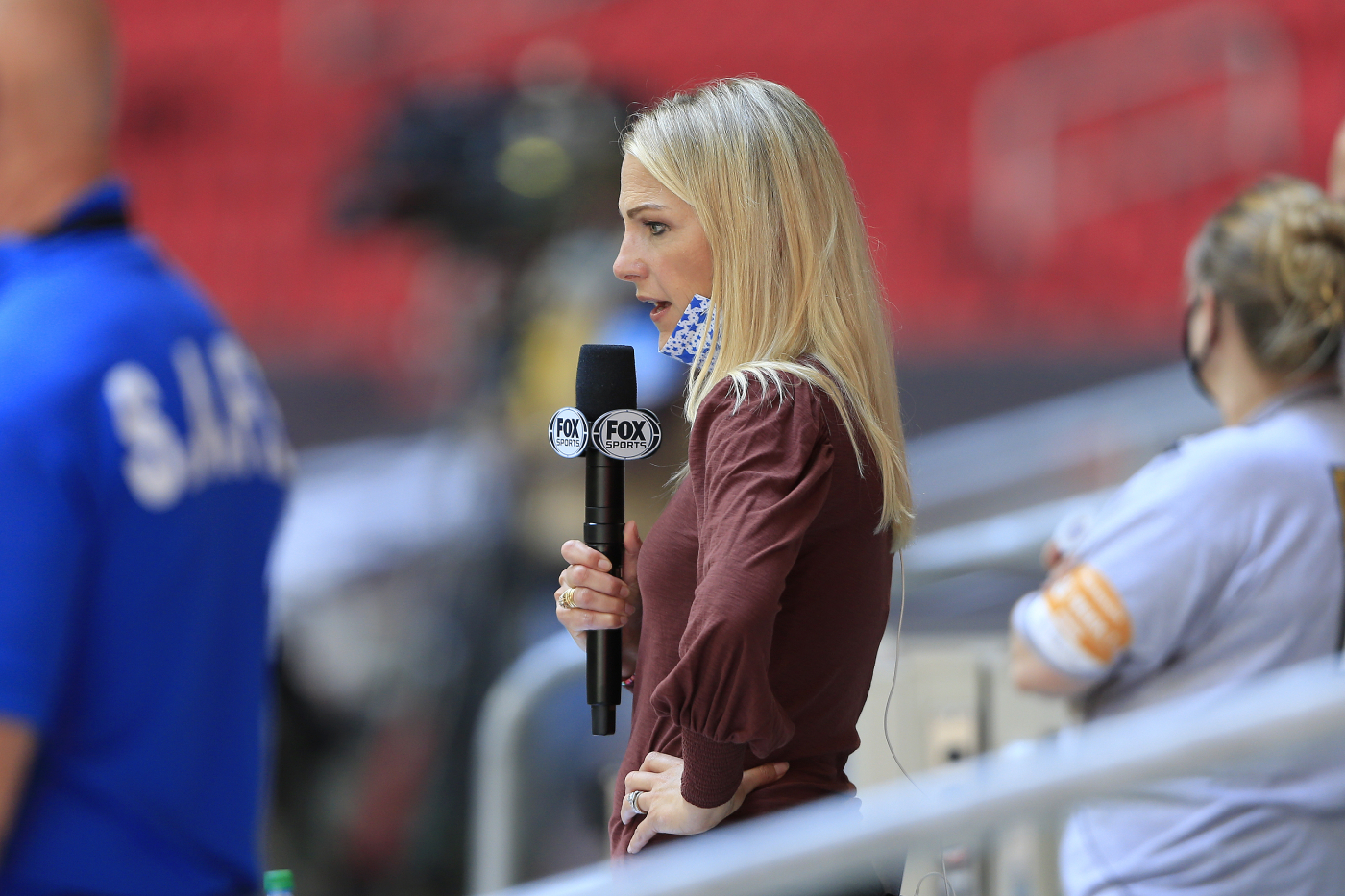 Who Is Lindsay Czarniak?
Lindsay Czarniak will be doing the sideline reporting for the Buffalo Bills at Denver Broncos game on Saturday afternoon.
Whether it's NASCAR, the NFL, or the Olympic Games, Lindsay Czarniak has been there. More than just a fan of the sports, Czarniak has reported on them all. Czarniak will be the sideline reporter for Saturday's NFL game between the Buffalo Bills and the Denver Broncos. She began her professional career in sports media in 2006 and has gradually made her way to where she is now.
Lindsay Czarniak's early career
Lindsay Czarniak likely got her love for sports reporting from her father. Chet Czarniak spent 17 years of his professional career working in the sports department of a local newspaper. She was a 2000 graduate of James Madison University with a degree in online journalism.
Czarniak's broadcasting career, however, didn't begin in the world of sports. She was a production assistant for CNN. Her first role and an on-air reporter began in Jacksonville, Florida, when she worked at WAWS as a news reporter.
In 2005, Czarniak headed to Washington D.C. to work for WRC-TV as a sports anchor and reporter. She was the co-host of "The George Michael Sports Machine," a syndicated sports-themed TV program that had been running since 1984. She covered all the local pro sports teams and also covered the Olympics and NASCAR. Michael, who died in 2009, called Czarniak "the best hire I've ever made," according to The Washington Post.
Czarniak hooks on with ESPN in 2011
Lindsay Czarniak left WRC-TV to begin work at ESPN in June of 2011. In her last on-air appearance at WRC-TV, players such as former Washington Redskins quarterback Jason Campbell and Washington Nationals first baseman Ryan Zimmerman wished her good luck on her new position.
Czarniak was excited about her new opportunity but had a tough time leaving WRC-TV. "I'm going up to do SportsCenter, and I'm really looking forward to it," she said, according to The Washington Post. "It's gonna be a huge challenge, and one of the cool things about it is that they've got so many different opportunities for stuff that you can do, so we'll see where stuff falls. Yes, hopefully, NASCAR, in some capacity, will be a part of it, but for now, my main focus is going to be doing SportsCenter, which is certainly going to be a lot on my plate. It's gonna be really cool. The tough thing obviously is that I love it here, I love all my friends and family that are here, I love Channel 4. The people that I work with there are amazing; they're like brothers, it's like a family. So it's hard."
On Aug. 19, Czarniak made her debut on "SportsCenter." In 2013, she replaced Brent Musburger as the host of ABC's coverage of the Indianapolis 500. Her contract with ESPN expired in 2017. In 2018, she went to work for Joe Gibbs Racing.
Czarniak joins Fox in 2019
Nearly two years after leaving ESPN and working for Joe Gibbs Racing and some other freelance jobs, Lindsay Czarniak signed with Fox Sports 1. She was named the host of "NASCAR Race Hub." "This is the first time that I let myself take a breath and say, 'Okay, I miss it,'" Czarniak told The Washington Post in 2019. "This is what I want to be a big part of, the first thing that I'm doing as I build back to whatever the it is going to become. I've grown a hell of a lot in the last year and a half."
While Czarniak was brought to Fox because of her wealth of NASCAR knowledge, her versatility with other sports has certainly helped. Czarniak hasn't been tied down to NASCAR. She's still working the rounds in the NFL.
Czarniak will be in the spotlight during the first of two Saturday NFL games this weekend. At 4:30 p.m. Eastern, she will be the sideline reporter when the Buffalo Bills play at the Denver Broncos. Adam Amin will be doing the play-by-play, while Mark Schlereth will provide the color.