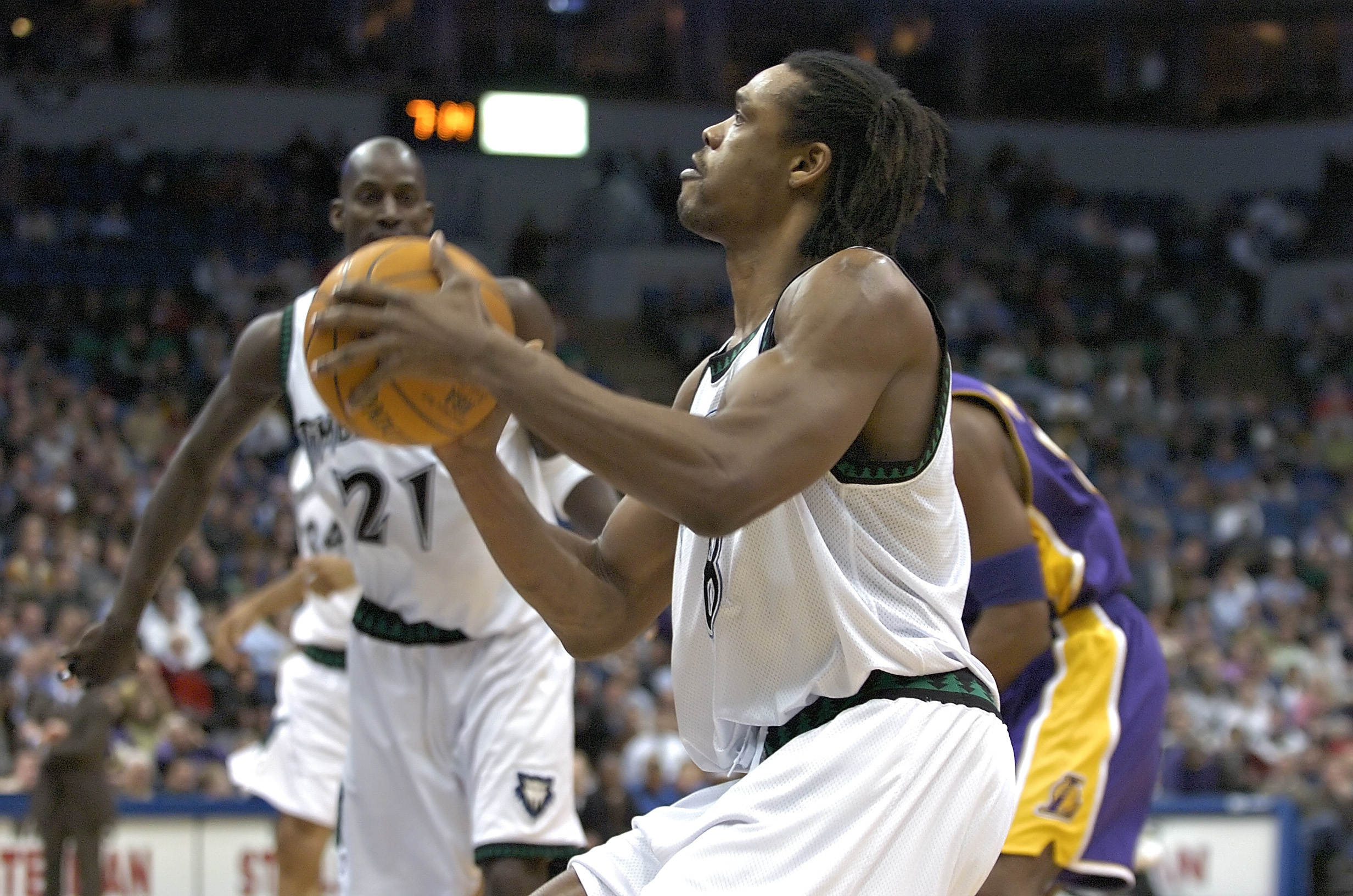 Why Did Ex-NBA Star Latrell Sprewell Start a $35,000 GoFundMe Page?
Latrell Sprewell was a four-time NBA All-Star for the Golden State Warriors and New York Knicks. A GoFundMe page that he set up appears to be unrelated to his financial problems, but it was quickly taken down.
Latrell Sprewell may have been a four-time NBA All-Star with the Golden State Warriors and New York Knicks, but hardly anyone remembers him for his 18.3 points a game in a 13-year pro career. He's forever the guy who tried to choke his coach to death and had arguably the lamest dismissal ever of a contract offer.
Money is at the center of the latest news about Sprewell, 50 years old and out of the sport since 2005. And if it is to be believed, the news about a family member is truly sad.
A bad incident defined Latrell Sprewell's career
The reputation for quality play that Latrell Sprewell earned with three NBA All-Star Game appearances for the Golden State Warriors in five years out of the University of Alabama went by the wayside on Dec. 1, 1997. That was the day that Sprewell accosted coach P.J. Carlesimo. Reacting to criticism by the coach at practice, Sprewell choked Carlesimo for several seconds before teammates and staff intervened. Sprewell went back for seconds about 20 minutes later, this time punching Carlesimo before being subdued by assistant coaches.
After initially announcing that they were suspending Sprewell without pay for 10 games, the Warriors came back the next day to announce that the 6-foot-5 swingman had been kicked off the team. Further, they voided the three years and $23.7 million remaining on his contract. Sprewell was successful in getting the contract reinstated, but the NBA's one-year suspension remained intact.
With the suspension winding down, the Warriors made a January 1999 trade sending Sprewell to the New York Knicks, where he logged four productive seasons before a trade to the Minnesota Timberwolves with two seasons and $28.125 million left on his contract. After his first season, the Timberwolves offered a three-year extension valued at only $21 million.
Insulted by the offer, Sprewell turned it down, famously declaring, "I got my family to feed."
Latrell Sprewell was soon out of basketball
A handful of NBA teams expressed interest in Latrell Sprewell after his contract with the Minnesota Timberwolves expired, but their opinions of his value weren't much different than that of the T'wolves. With Sprewell still unsigned in early 2006, he reportedly never responded to offers and went into de facto permanent retirement.
It wasn't long afterward that Sprewell faced multiple financial messes. Much has been made of the approximately $90 million that Sprewell earned in his NBA career, but that doesn't account for taxes, agent commissions, and accountants. On the other hand, there were shoe contracts and other endorsements that brought in money.
In any case, Sprewell was sued by his longtime girlfriend, defaulted on the mortgage on his home, and had his yacht repossessed – all within months of officially retiring.
A GoFundMe campaign launches and quickly disappears
Social media users are questions about a GoFundMe campaign that Latrell Sprewell appeared to post this week. The link to it disappeared shortly after a handful of people noticed it and posted their own links to it.
In it, the former NBA star wrote that his year-old granddaughter Tessa, whom he referred to as "a gift of joy," had been diagnosed with leukemia. He added that he was seeking to raise $35,000 to cover her medical bills and the travel required for treatment. The now-deleted message, reposted by BroBible.com, concluded with a promise that all the money would go to his granddaughter.
That seems to be Sprewell's concession that his financial difficulties have been public knowledge – Celebrity Net Worth figures his assets at about $150,000 – and there may be suspicion about where the money will go.
Whether that plays into why the GoFundMe page disappeared almost as quickly as it was posted remains unknown.
Like Sportscasting on Facebook. Follow us on Twitter @sportscasting19.