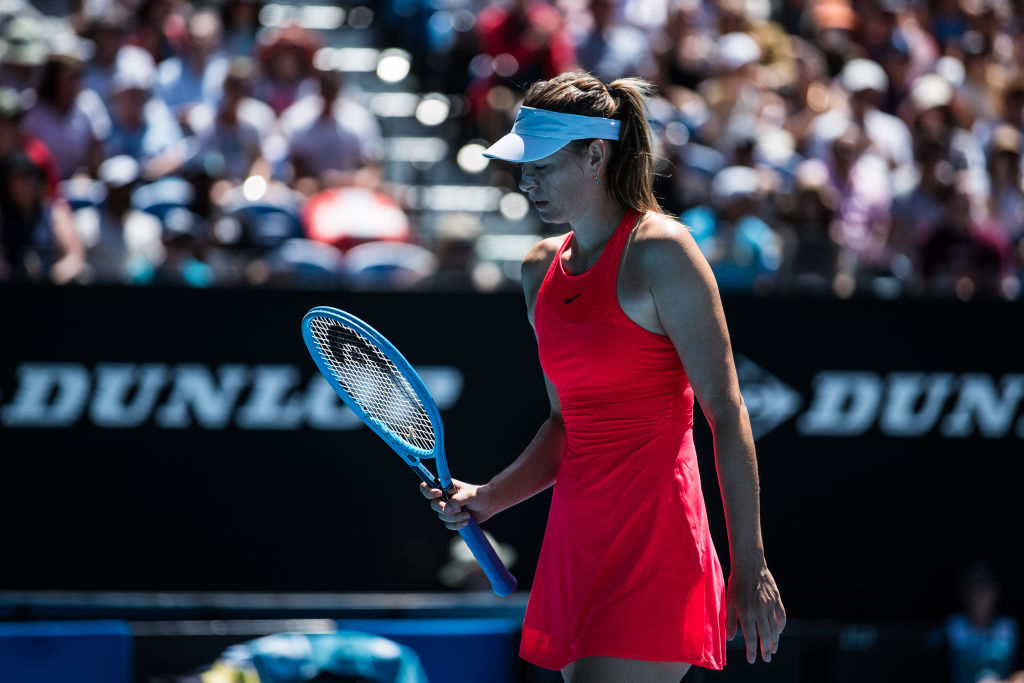 Why Did Maria Sharapova Suddenly Retire From Professional Tennis?
After 18 seasons on the professional tour, Maria Sharapova has called it a career. Why did the Russian star decided to retire from tennis?
During their careers, professional athletes can seem superhuman. While they might battle through aches and pains and perform incredible feats of strength, however, underneath it all, they're still ordinary people. Maria Sharapova reminded us of that reality on Wednesday morning, as she announced her retirement from professional tennis.
While it might seem like yesterday when the Russian star burst onto the scene, Sharapova will never take the court in a competitive match again. What motivated her to hang up her racket once and for all?
Maria Sharapova's tennis career
Maria Sharapova started playing tennis at age four in her native Russia. After attending a clinic run by Martina Navratilova, however, she moved to the United States to nurture her talent; while the road wasn't easy, she eventually enrolled at the IMG Academy.
After some strong showings on the junior circuit, Sharapova went pro in 2003; she won the Japan Open and earned the WTA Newcomer of the Year title during her first year on tour. She then burst onto the world stage at Wimbledon, upsetting top-ranked Serena Williams to win her first Grand Slam singles title. From there, "Maria Mania" took off.
For the next decade, Sharapova was a force both on and off the court, piling up wins and endorsement deals with equal measure. While there were some bumps along the way—she failed a drug test at the 2016 Australian Open and struggled through multiple shoulder injuries—she won five Grand Slam titles, an Olympic silver medal, and earned almost $40 million in prize money.
Why did Maria Sharapova retire from professional tennis?
As any fan can tell you, injuries are an unfortunate reality of any professional sport. Unfortunately for Maria Sharapova, they eventually proved to be too much.
"One of the keys to my success was that I never looked back and I never looked forward," she wrote in a Vouge essay announcing her retirement. "I believed that if I kept grinding and grinding, I could push myself to an incredible place. But there is no mastering tennis—you must simply keep heeding the demands of the court while trying to quiet those incessant thoughts in the back of your mind."
Sharapova did manage to quiet those thoughts; her success on the court proves it. The grind, however, took a toll on her body.
"I've had multiple surgeries—once in 2008; another procedure last year—and spent countless months in physical therapy," Sharapova continued. "Just stepping onto the court that day felt like a final victory, when of course it should have been merely the first step ​toward​ victory. I share this not to garner pity, but to paint my new reality: My body had become a distraction."
What will retirement hold?
While life without the grind of professional tennis will surely be different, Maria Sharapova sounds ready. In her essay, she stated that she'll be looking forward to enjoying some ordinary pleasures.
"In the meantime, there are a few simple things I'm really looking forward to: A sense of stillness with my family. Lingering over a morning cup of coffee," she explained. "Unexpected weekend getaways. Workouts of my choice (hello, dance class!)."
In a professional sense, though, it's unlikely that she'll be spending too much time simply relaxing. The Russian is a fully-fledged entrepreneur; beyond her own candy brand, she also invests in everything from sunscreen to UFC.
No matter where the rest of her life takes, her, though, Maria Sharapova will attack everything with the same conviction she showed on the court.
"Tennis showed me the world—and it showed me what I was made of. It's how I tested myself and how I measured my growth," she concluded. "And so in whatever I might choose for my next chapter, my next mountain, I'll still be pushing. I'll still be climbing. I'll still be growing."