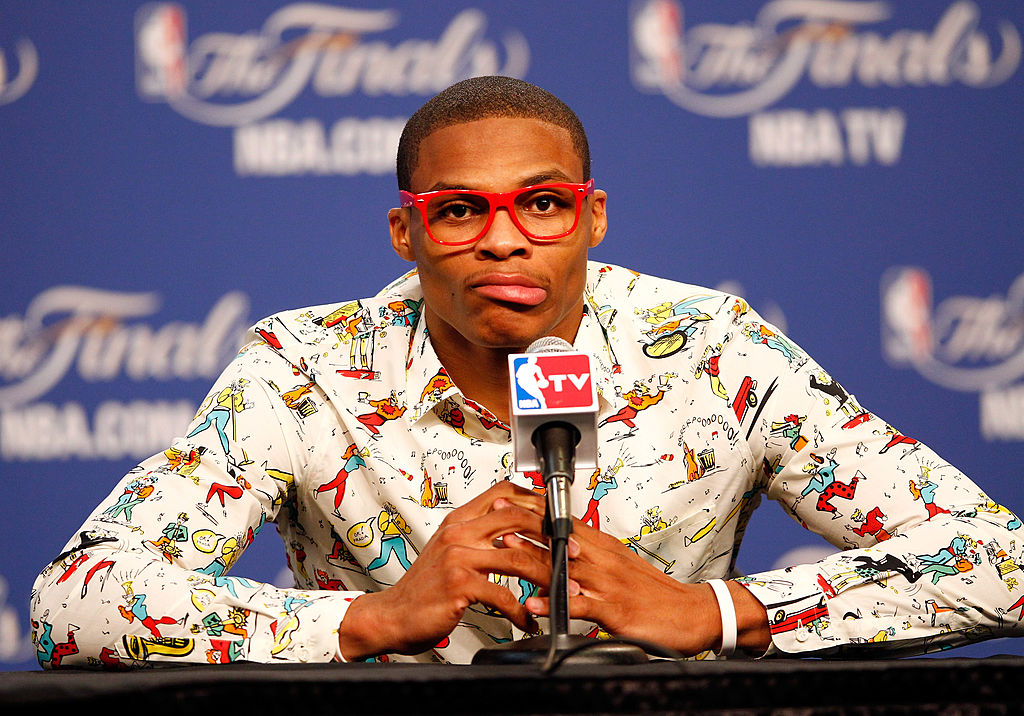 Why Do NBA Players Dress up Before Games?
In the modern NBA players love to dress up before and after games. What is the history behind this tradition and is it good for the league?
The NBA leads the athletic world in fashion choices. Whenever a player is photographed off the court, they're guaranteed to be wearing stylish threads. But it wasn't always like this. There was a time when NBA players never dressed up and wore t-shirts and sweatpants on a regular basis.
So, why the change? Here's the story of how the NBA became style-conscious and how it has benefited the league.
How fashion became a part of the NBA
Towards the end of 2004, the NBA's public image had taken some major hits. One of the most notable was the infamous Malice at the Palace event, in which players from both the Detroit Pistons and the Indiana Pacers engaged in a brawl with each other and fans on national television.
Causal fashion choices, like baggy clothes and du-rags, also contributed to the negative image that many Americans had begun to hold against NBA players. 
In an effort to repair the NBA's image at the beginning of the 2005-2006 season, the league's commissioner, David Stern announced the implementation of a mandatory dress code for all players.
The new rule stated that all NBA players must dress up in business or conservative attire while arriving and departing a game, on the bench while injured, and when conducting official NBA business, such as press interviews or charity events. It also banned chains, pendants, or medallions, sleeveless shirts, du-rags, and "headgear of any kind."
Because many of the banned items represented hip hop culture, many players and fans were openly critical about the dress code, deeming it "racist."
Leading the fight against the new rules was Allen Iverson. "They're targeting my generation – the hip hop generation," Iverson said during a televised interview, as reported by Rolling Stone. 
How fashion has benefited the NBA
However, over time, the benefits of the new dress code became apparent. Before, players would sometimes endorse athletic brands like Nike and Adidas, but with the new dress code, they were able to widen their influence into fashion and accessories. For example, when LeBron James was photographed wearing Beats headphones, sales went crazy.
But even outside of sponsorships, encouraging players to focus on their fashion choices, allowed them to develop a brand for themselves outside of basketball.
"They're developing themselves as people, which is hard when they've spent most of their lives on the court," Luke Wood, president of Beats Electronics told Esquire. "Fashion gives them the chance to actually stop and think about who they are and who they want to be."
NBA players use fashion to build their personal brand
With the help of social media to share their fashion choices, players are now able to build themselves as an influencer and a brand. And this is extremely beneficial to players when their basketball career eventually comes to an end. 
"The NBA encourages players to have businesses outside of basketball," NBA's Lisa Piken Koper told Esquire.
"It's the reality of life; sometimes these careers don't last that long and we want them to be prepared. We absolutely want them to have life after basketball and seek those interests while they're in it. The more exposure we can get for our athletes is great."
When a player is able to build their brand outside of basketball, they have much more success when they retire from the court. And fashion can be a huge help with that. Although the rules have relaxed somewhat since the dress code was introduced, the NBA has embraced its new role as fashion trendsetters. 
Today, when players are walking off a plane, or to and from games, it's often referred to as the "concrete runway," because it's a chance to show off their unique threads and style. Players can use that exposure to build their personal brand, and fashion brands benefit from the exposure as well. It's a win-win for everyone involved. 
"We all in the NBA feel like we're fashion gurus," Nick Young told the New York Times. "Fashion kings."