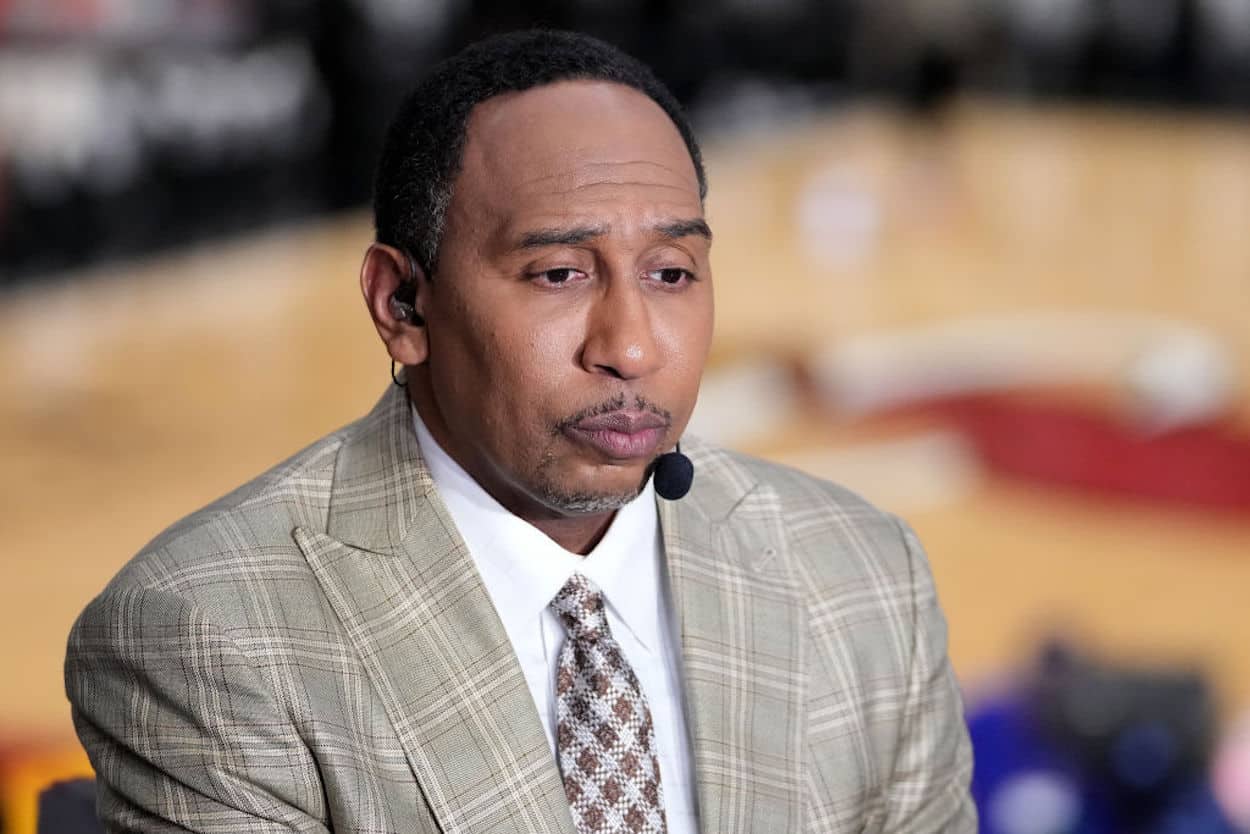 Why Isn't Stephen A. Smith on ESPN's 'First Take'?
Stephen A. Smith is usually a fixture on ESPN's 'First Take,' but he's been absent as of late. What's going on with the network's signature talking head?
Whether you love him or hate him, Stephen A. Smith is an inescapable reality of the sports media landscape. If you're consuming any ESPN content, you'll probably hear his distinctive voice making an impassioned argument. Recently, the airwaves have been a bit quieter, and Stephen A.'s Twitter account has been largely quiet.
For better or worse, that absence was a bit conspicuous. Where was ESPN's signature talking head? Thanks to a recent tweet, we now have the answer.
Stephen A. Smith has been sidelined after shoulder surgery
Under normal circumstances, Stephen A. Smith is on the ESPN airwaves discussing injuries and how they'll impact players and teams. Now, he's the one on injured reserve.
As noted above, Smith hasn't appeared on recent episodes of First Take; on June 30, he tweeted about Chris "Mad Dog" Russo taking his seat and trying to fill his shoes. His Twitter activity has also trailed off since then. He fired off two posts on the first, one on the second, one on the sixth, two on the seventh, and then one on the 11th.
On July 14, however, we received some clarity from Stephen A. about his whereabouts.
"Appreciate the love I've been receiving from everyone who's missed me on @FirstTake," he wrote. "I'm out because I'm rehabbing from shoulder surgery. Partial tear — rotator cuff AND Bicep, along with frayed Labrum, plus a Bone Spur. Aging sucks, but it is what it is. Back next month.#AllLove"
While it's not clear how he sustained those injuries — they seem to go beyond normal aging — we now know where Smith has been and when he'll theoretically return to the airwaves.
Depending on your perspective, August will either be a time to tune into ESPN or reach for the mute button.
Like Sportscasting on Facebook. Follow us on Twitter @sportscasting19 and subscribe to our YouTube channel.