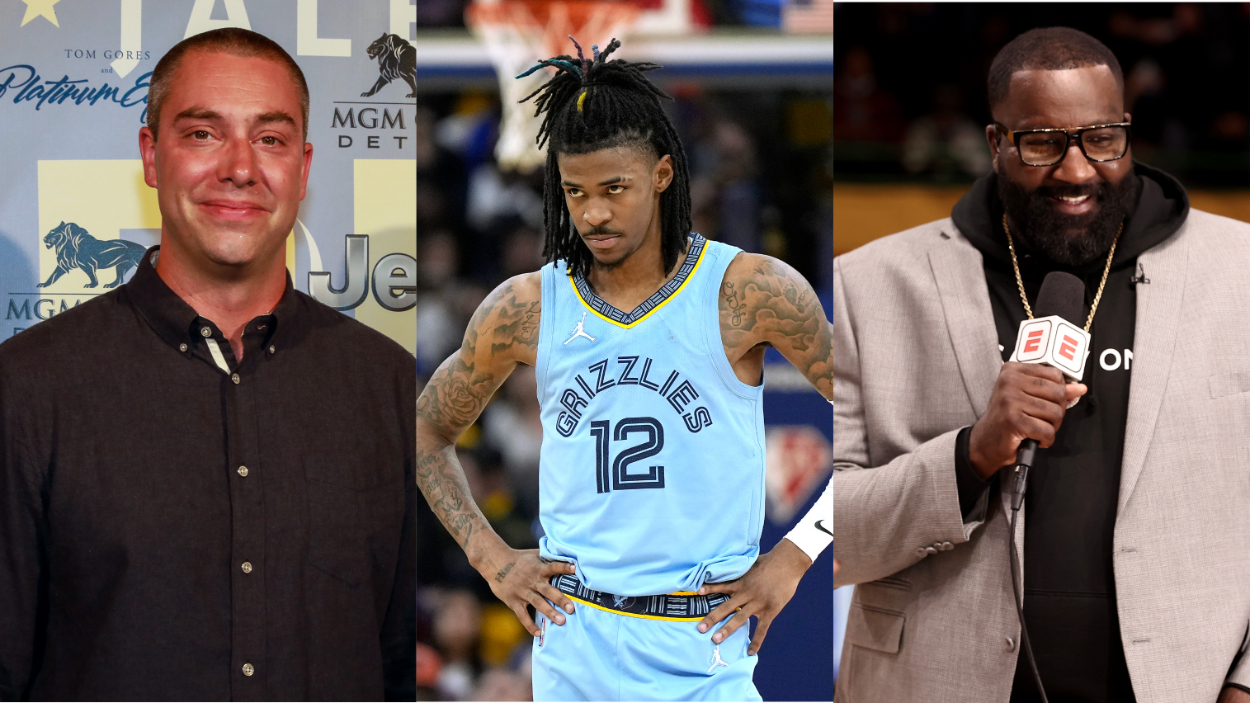 ESPN Hosts Get Duped by Fake Ja Morant Quote About Michael Jordan
NBA star Ja Morant did say he would cook Michael Jordan in his prime but didn't say what ESPN ran with on an afternoon talk show, 'This Just In'.
The Memphis Grizzlies' Ja Morant recently said, "I would have cooked him," while talking about playing Michael Jordan in his prime. That's true. After that, the internet did its thing and came up with a bunch of fake quotes from both players about the situation. What makes one fake quote different than the others, though, is that it made its way onto the ESPN show This Just In, and two analysts discussed it as if it were true.   
ESPN hosts fall for fake Ja Morant quote about MJ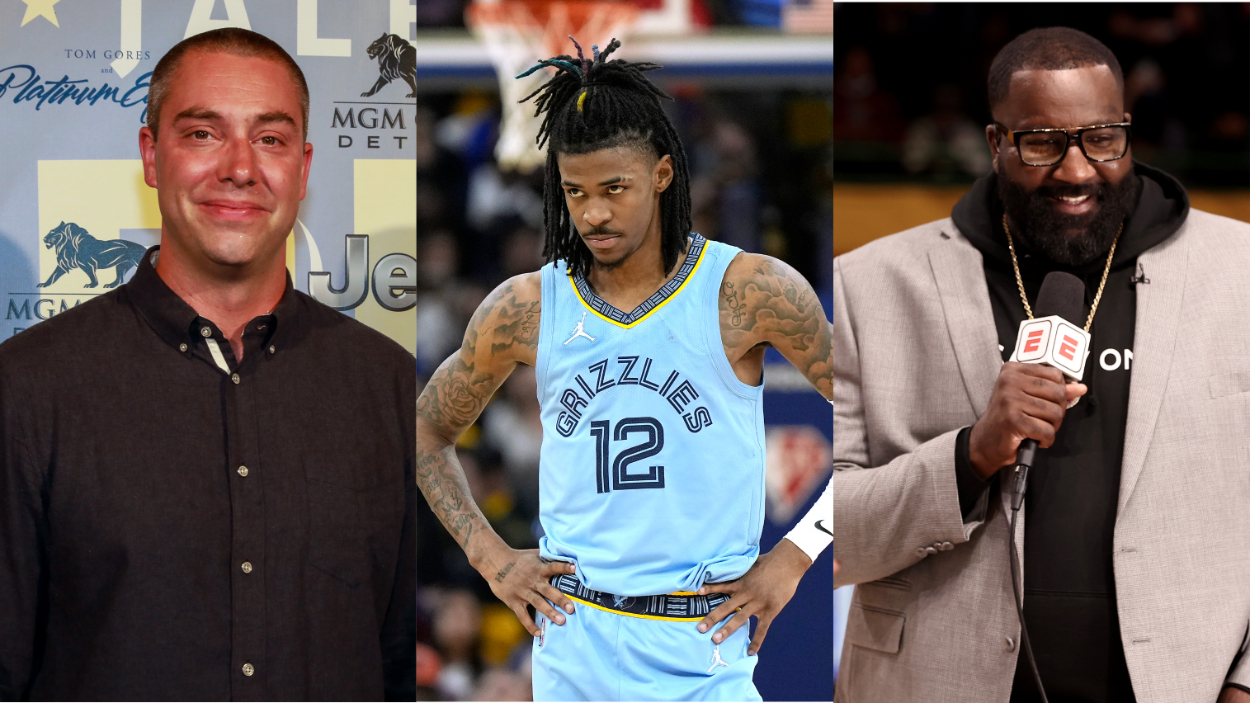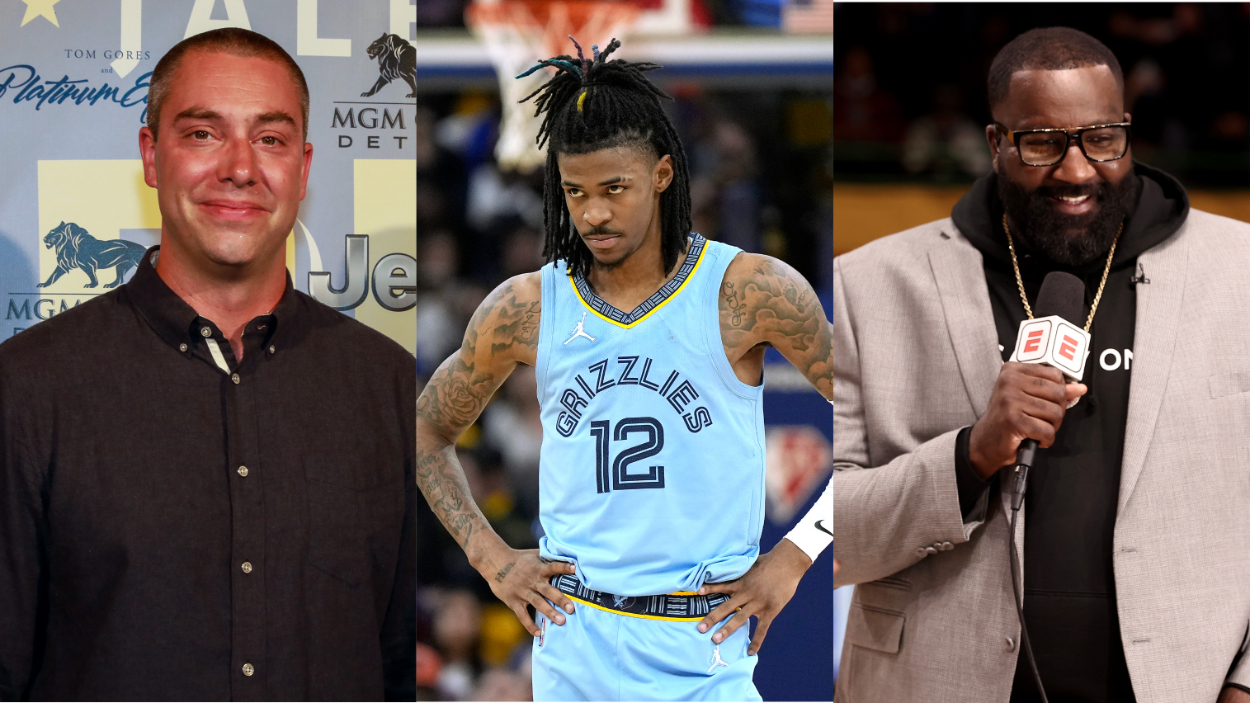 Ballsack Sports, a "Parody/Satire" sports account, put out a fake Ja Morant quote following the Memphis Grizzlies star's genuine quote that sounded even more dismissive of Michael Jordan's greatness than the original comment.
The original tweet was:
On Monday's This Just In on ESPN, hosts Dave Jacoby and Kendrick Perkins — filling in for Max Kellerman — ran with a slightly different version of the quote. On-screen, it was attributed to Bleacher Report, where Morant did the actual interview where he said he'd "cook" Jordan. It read:
If you put Michael Jordan in today's game, he's just another superstar. You have me, Stephen Curry, Luka Doncic, Damian Lillard, Trae Young, and then guys like LeBron James, Kevin Durant, Giannis Antetokounpo, Kawhi Leonard. It's not just about one superstar and a bunch of average guys.

Fake Ja Morant quote on ESPN about Michael Jordan
Jacoby and Perkins gave the ESPN hot take treatment to the fake Morant quote. Perkins called the Grizzlies star "confident and crazy at the same time" and said it's another instance of the younger generation being "a tad bit disrespectful" to the NBA players before them.
Jacoby chastised Morant for calling Jordan "just another superstar" and called for him to "show a little humility."
The fallout from the fake quote
After the fake Ja Morant/Michael Jordan quote went out on ESPN's airwaves, the fallout was swift.
One of the first to notice was Memphis Grizzlies aficionado Molly Morrison who tweeted, "i know ESPN did not just do an entire segment based on a ja morant 'quote' from ballsack sports."
Shortly after, Bleacher Report's Taylor Rooks, who did the initial Morant "cooked" interview, tweeted, "he absolutely did not say this in the interview. and I can't believe it was broadcast that he did. there should be a correction issued for that. @espn."
After the show ended, Dave Jacoby did immediately take to social media to apologize. He offered a mea culpa in general and to Rooks and Morant.
As of Tuesday afternoon, ESPN has not issued an official apology or correction on any of its social media channels.
Like Sportscasting on Facebook. Follow us on Twitter @sportscasting19 and subscribe to our YouTube channel.