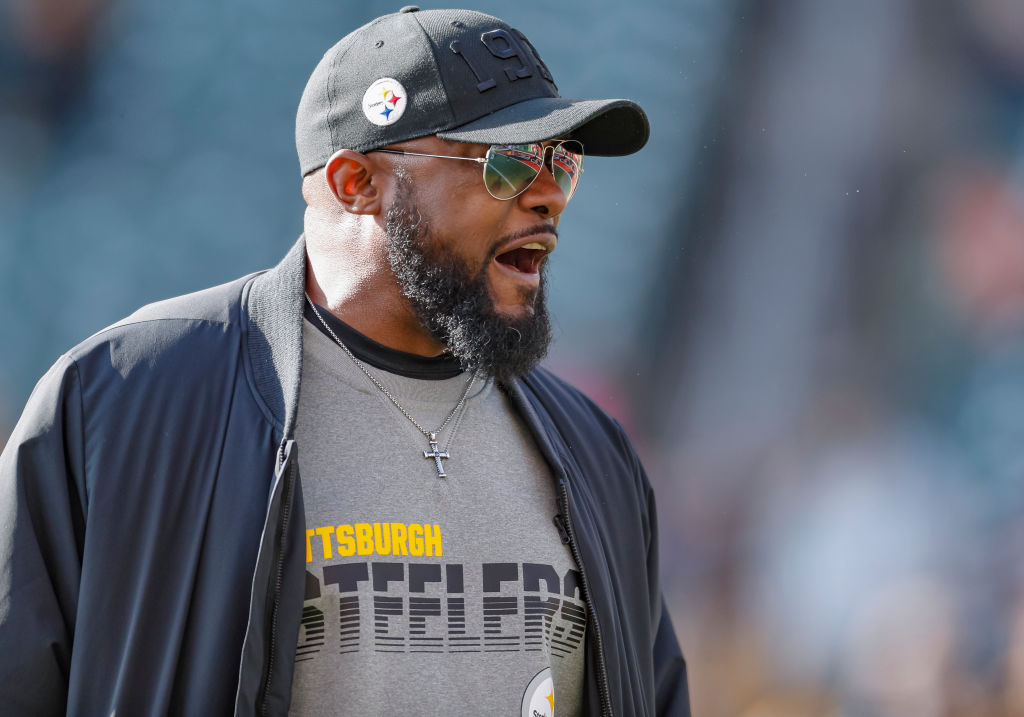 Why Mike Tomlin Won't Be Giving Devlin Hodges Any Extra Help Under Center
Rookie Devlin Hodges has taken over as the Pittsburgh Steelers starting quarterback, but head coach Mike Tomlin isn't giving him any extra help.
NFL coaches have to prepare for every possible situation. Mike Tomlin has experienced that reality this season with the Pittsburgh Steelers; his team has battled through all sorts of issues this season, including a revolving door at quarterback. Pittsburgh is currently starting their third-string quarterback, Devlin Hodges, but Tomlin doesn't seem too concerned.
Despite Hodges' inexperience, Tomlin recently revealed that he hasn't done anything extra to prepare the young quarterback for NFL action. But what's the logic behind the head coach's thinking?
Devlin Hodges' road to the Steelers' starting job
On paper, the Pittsburgh Steelers have one of the NFL's better starting quarterbacks in Ben Roethlisberger. Unfortunately, Big Ben has spent most of the year standing on the sidelines, rather than lining up under center.
In Week 2, Roethlisberger departed with elbow discomfort; while the quarterback avoided Tommy John surgery, he still went under the knife, ending his season. Mason Rudolph stepped into the starting role and played capably in relief, but soon suffered a scary injury against the Baltimore Ravens. With their back-up dealing with a concussion, Devlin Hodges was forced into action for a game and a half. Rudolph would retake the starting job once he exited concussion protocol, but didn't fill anyone with confidence. After a string of poor performances, he was benched in favor of Hodges.
While Hodges didn't perform any miracles against the Cleveland Browns, he managed to lead the Steelers to a comeback victory. That was enough to keep him in the starting role but isn't earning him any special treatment from Mike Tomlin.
Why Mike Tomlin is keeping everything consistent
When Hodges retook the starting position, it would have been understandable if the coaching staff wanted to ensure he was ready. Mike Tomlin, however, doesn't give anyone special treatment; he wants his player to believe that they can handle any situation without extra help.
"I told Duck I had a lot of confidence in his abilities and his preparation and his talent, so I wanted to display that confidence by not talking him to death, not having a bunch of additional meetings and things of that nature," Tomlin explained. "I wanted to display that confidence by going about our routine. Not only confidence in him, but confidence in our preparation process, how we go about our business of game prep."
"He's the starting quarterback," the head coach continued. "We're interacting with him in the ways that we interact with a starting quarterback in preparation for a game." That trend will continue this week; Hodges is simply the team's starter, not someone who needs special treatment.
Could Mike Tomlin win Coach of the Year?
When you think of the best coaches in the NFL, guys like Bill Belichick or Pete Carroll probably spring to mind. This year, however, Mike Tomlin is proving that he deserves to be in the conversation.
This season has been far from ideal for the Steelers. After getting off to a poor start to the season, they've battled through injury and quarterback questions to put themselves in a playoff spot; they still have a long way to go, but the fact that they're even in the conversation is due to Mike Tomlin. Making lemonade out of lemons is what Coach of the Year candidates do. If the Steelers secure a postseason berth, Tomlin has to get serious consideration.
On the surface, it might seem naive to avoid giving your rookie quarterback some extra help. Mike Tomlin, however, seems to know what he's doing.