Wilt Chamberlain and Bill Russell Dominated on the Court, but What's With the Cheating in Cards and Board Games?
Wilt Chamberlain and Bill Russell certainly had a lot in common. Both were dominant centers whose rebounding numbers were well off the charts. They were two of the best players in their era and certainly own a place at least in the top 10 of all time. Their on-court basketball rivalry always linked the two Hall of Famers.
Off the court, they also had something in common, and it had to do with being a little sneaky when it came to playing cards and board games.
Wilt Chamberlain or Bill Russell: Who was better?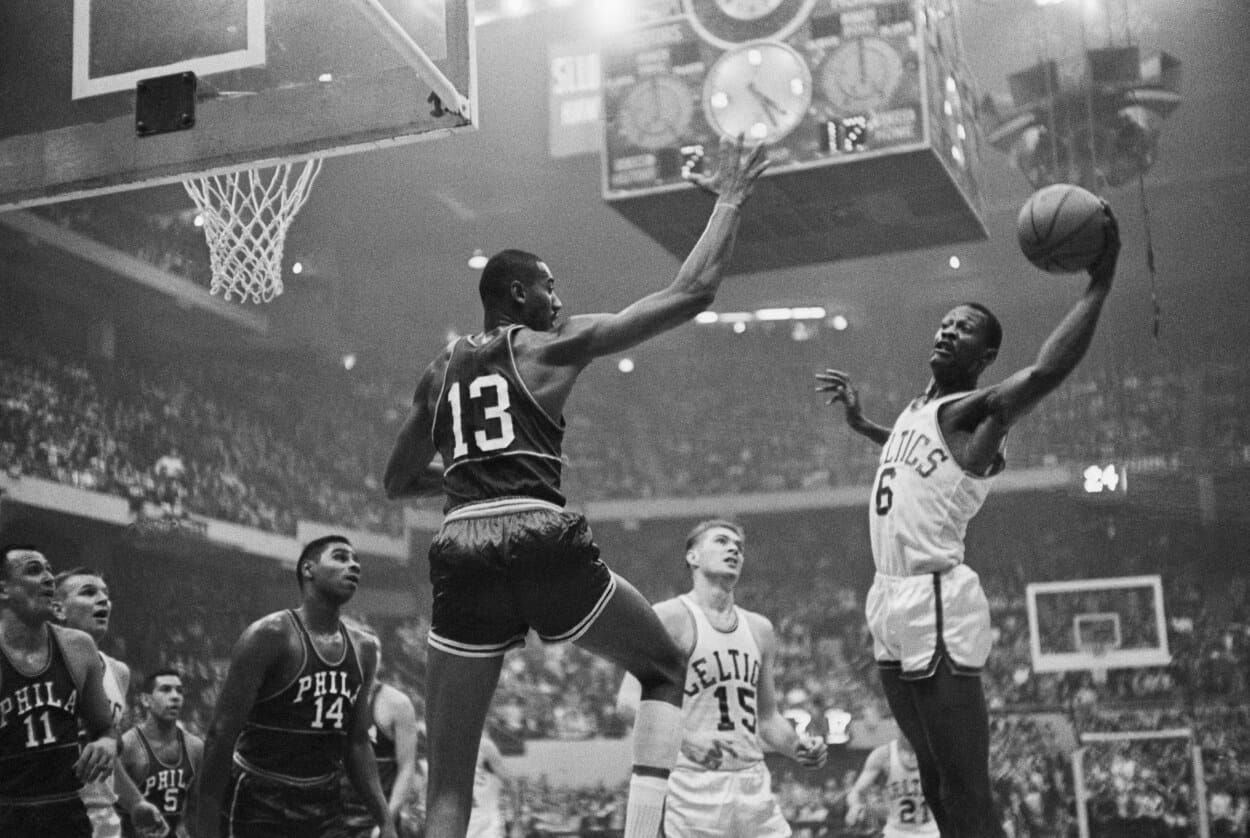 Wilt Chamberlain and Bill Russell rank right up there with the best NBA centers in history. Russell had a defense-first mentality, while Chamberlain's numbers were mind-blowing.
Comparing the two centers is a tough chore. Russell is far and away the biggest winner, capturing 11 NBA championships to Chamberlain's two. Chamberlain can hardly be faulted for that as Russell played on far better teams in his career. No knock on Russell, but if you swapped him with Chamberlain, Chamberlain probably walks away with 11 titles as well.
Chamberlain's statistics were like that of a video game. Not only did he score 100 points against the New York Knicks in 1962, but he also averaged 50.4 points and 25.7 rebounds for the season. Even more impressive than those numbers that season was the fact that Chamberlain averaged 48.5 minutes per game, even though NBA games are only 48 minutes long.
Chamberlain played in all but 8:33 of the 1961-62 season. During one game that season, he picked up a pair of technical fouls and earned an automatic disqualification. He missed the final 8:33 of the game. Those are the only minutes of the season he didn't play.
Russell won five MVPs, and Chamberlain collected four. Chamberlain didn't even win the award during that 1961-62 season. Russell did.
There will be Russell supporters, and there will be those backing Chamberlain. Personally, I'd give a slight edge to Chamberlain.
Chamberlain and Russell have been accused of cheating while playing cards and board games
On the court, Chamberlain and Russell were clean. Off the court, however, it might be a different story.
Glenn McDonald is a former Celtics player who was the unsung hero in what many have called the "greatest game ever played." That happened in Game 5 of the 1976 NBA Finals against the Phoenix Suns. The game went triple overtime, and McDonald, a reserve guard, scored six points in the final 1:35 to help the Celtics pull out the victory.
McDonald later became close friends with Russell. He said they met up at an event for retired Celtics players.
"I went up to him and told him I used to play for the Celtics," McDonald told Sportscasting last April. "He was like, 'you didn't play for the Celtics.' I showed him my ring, and he said, 'Oh, you're that seldom-used guy from 1976.'
"We got to talking. His wife and my wife started talking. Next thing you know he's coming to my house."
McDonald said you had to watch out for Russell whenever he played UNO.
"He was cheating at UNO," McDonald laughed. "Yes, he cheats."
According to Robert Cherry's biography of Chamberlain Wilt: Larger than Life, Chamberlain did the same.
Bill Mayer, then the managing editor of the Lawrence Journal-World, covered Chamberlain and once wrote the following:
"He loved to cheat at cards. Wilt sat at a bridge table and loomed clear up in the air. He always knew what everybody else had. And if it was checkers, he'd figure out a way to sneak a couple of checkers on the board."
While Chamberlain and Russell held their own on the basketball court, it seemed they needed a little assistance off it.