Wilt Chamberlain Savagely Welcomed Walt Bellamy to the NBA by Blocking His First 9 Shots: 'Hello, Walter. You Won't Get a Shot Off in the First Half'
No one dominated the NBA in their prime quite like Wilt Chamberlain. The Big Dipper incredibly averaged at least 33 points and 22 rebounds per game in each of the first seven seasons of his professional career, and he's famously the only player in league history to score 100 points in a single game.
So when Walt Bellamy entered the league in 1961 and started to challenge Chamberlain as the most dominant big man in the NBA, Wilt the Stilt shut down that narrative by blocking his first nine shot attempts in their first meeting.
Walt Bellamy was an instant star in the NBA
In the 1961-62 season, Chamberlain led the NBA in points per game (50.4) and rebounds per game (25.7). And before you start looking it up yourself, I can assure you those were his actual statistics over an entire season. It was the greatest statistical season for a center in league history, and there really isn't a close second.
Chamberlain's jaw-dropping season overshadowed everyone else in the league at the time, but Bellamy had a brilliant year himself. As a rookie for the Chicago Packers, Bellamy averaged 31.6 points and 19.0 rebounds, and he led the NBA in field-goal percentage at 51.6%. He was second in the league in scoring and third in rebounding behind only Chamberlain and Bill Russell.
Over the first 13 games of his career, Bellamy had games of 35 (twice), 37, and 45 points. But in Game 14 — his first against Chamberlain's Philadelphia Warriors — he received a rude awakening.
Wilt Chamberlain welcomed Bellamy to the NBA by blocking his first nine shots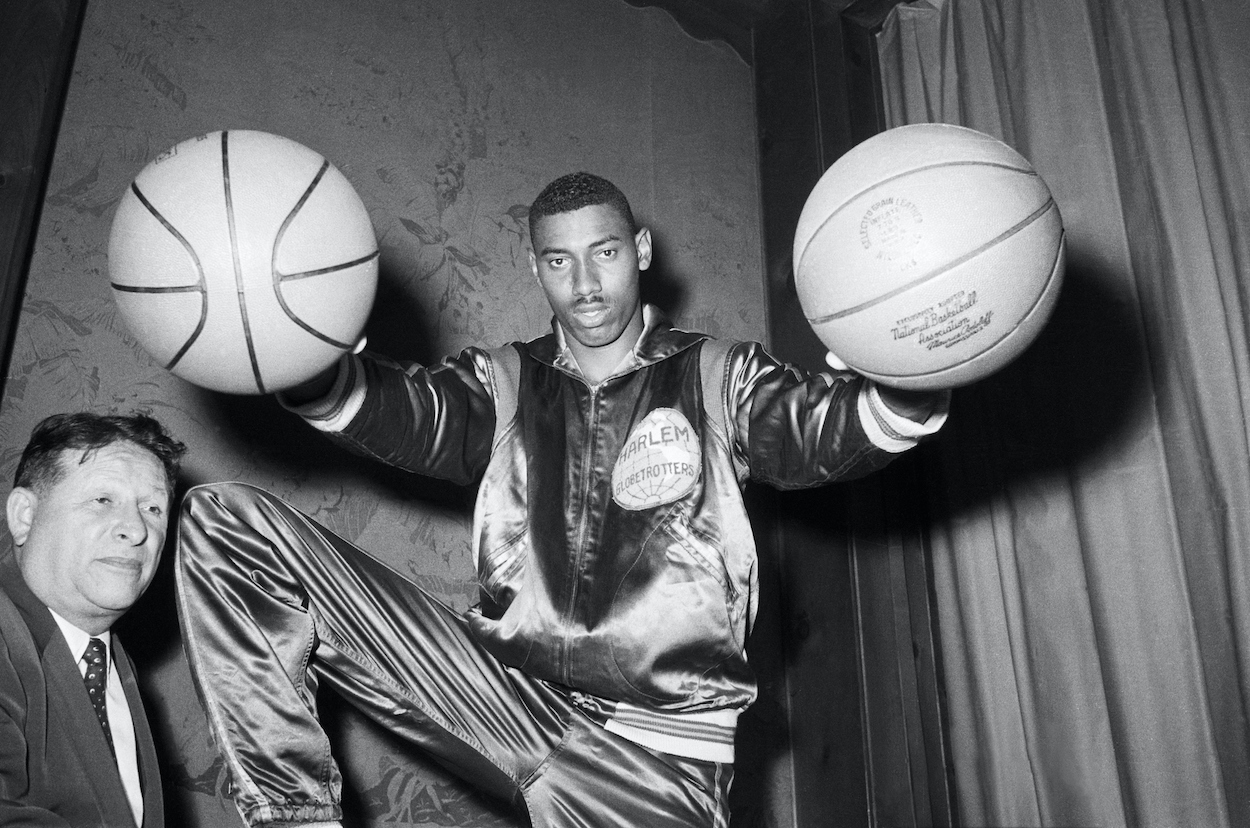 On Nov. 19, 1961, Bellamy and Chamberlain faced off for the first time. Bellamy, being the personable young man he was, decided to introduce himself to the most dominant center in the game prior to the tip.
But Chamberlain had no interest in taking it easy on the rookie. Here's how the story goes, according to Bleacher Report:
The first time they played against each other, Bellamy is said to have approached Wilt saying, "Hello, Mr. Chamberlain. I'm Walter Bellamy." Wilt returned his greeting, shaking his hand and saying, "Hello, Walter. You won't get a shot off in the first half."

And Wilt was true to his word, going out and blocking Bellamy's first nine shots.

When the second half started, Wilt is said to have told Bellamy, "Okay, Walter, now you can play."

Bleacher Report
Bellamy ended up with only 14 points in the game, while Chamberlain torched him for 51 in a Warriors win.
Welcome to the NBA, rook.
Bellamy held his own against Chamberlain the rest of the season
Bellamy struggled mightily in his first matchup against the NBA legend, but he figured him out a bit as the season wore on. In the nine other games he played against the Warriors in 1961-62, Bellamy scored 37 points per contest.
The rookie still had a tough time guarding Chamberlain in those games as the Philadelphia center averaged 52.8 points and scored 73 in one of them.
But not even the Monstars could've slowed down Chamberlain that year.
All stats courtesy of Basketball Reference.
Like Sportscasting on Facebook. Follow us on Twitter @sportscasting19.