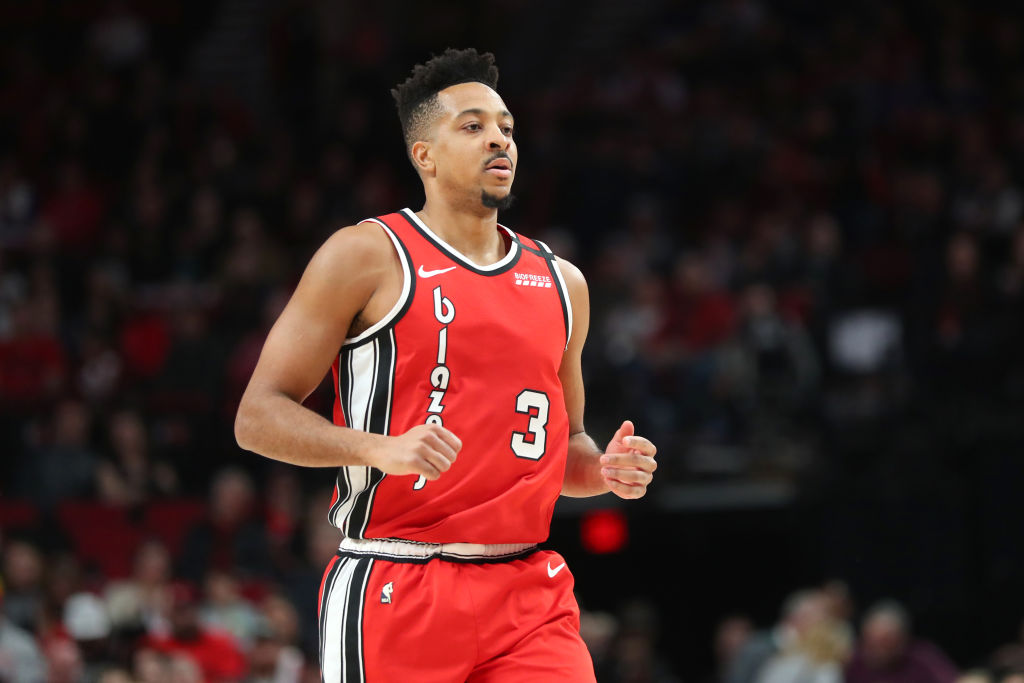 With the NBA Season Suspended, CJ McCollum Wants Players to Be Prepared For Their Future Beyond Basketball
With the NBA season suspended until further notice, Portland Trail Blazers guard CJ McCollum wants players to prepare for life beyond basketball.
NBA players, like most other professional athletes, are creatures of habit. During the season, every minute of the day is regimented; the offseason may be a bit less structured, but it's still far from a vacation. That schedule is going to be thrown out of wack, however, as the NBA has suspended all games until further notice due to the coronavirus. Portland Trail Blazers guard CJ McCollum wants players to be prepared for the future.
Shortly after the NBA put the season on hiatus, McCollum fired off a string of tweets, advising his fellow basketball players to ensure they're ready for a life beyond basketball.
The NBA suspends the 2019-20 season
On Wednesday night in Oklahoma City, the Thunder and the Utah Jazz seemed ready to tip-off when the players were sent to their respective locker rooms. Roughly half an hour later, fans were told the game had been canceled. The NBA had suspended its season.
"The NBA announced that a player on the Utah Jazz has preliminarily tested positive for COVID-19," the league wrote on its official website. "The test result was reported shortly prior to the tip-off of tonight's game between the Jazz and Oklahoma City Thunder at Chesapeake Energy Arena. At that time, tonight's game was canceled. The affected player was not in the arena."
"The NBA is suspending game play following the conclusion of tonight's schedule of games until further notice. The NBA will use this hiatus to determine next steps for moving forward in regard to the coronavirus pandemic."
CJ McCollum wants players to be prepared for life after basketball
With NBA games canceled until further notice, the league's players suddenly have a great deal of free time on their hands. Portland Trail Blazers guard CJ McCollum, however, wants this moment to serve as a catalyst.
"I hope all the players take some time to really work on life outside of basketball," he tweeted. "Using your resources and celebrity to your advantage. Take the meetings. Diversify and learn to explore other avenues of income while you're still in the league. Bc when it's over it's over!"
McCollum isn't just talking a big game, though. Beyond his basketball talents, the guard majored in journalism during his time at Lehigh and has his own podcast; he's also philanthropically involved through his journalism mentoring program, CJ's Press Pass.
While his advice might sound jarring, CJ McCollum has a point
Upon first glance, a global pandemic might not seem like the best time for professional advice. CJ McCollum, however, does have a point.
While the exact timeframe isn't clear, the NBA will return to action at some point. This suspension, though, could give players a glimpse at life beyond professional sports. While it might seem like a relief to have nothing on the schedule, that leisure time can quickly turn into its own burden; things can get even worse when the paychecks stop rolling in.
Although we've seen plenty of professional athletes struggle financially after their playing days wrap up, we've also seen others invest wisely and increase their net worth. If sports will be suspended for the foreseeable future—which is the right decision—then the players will have plenty of time to get in touch with their non-athletic passions, whether that's podcasting, investing, or anything in between.