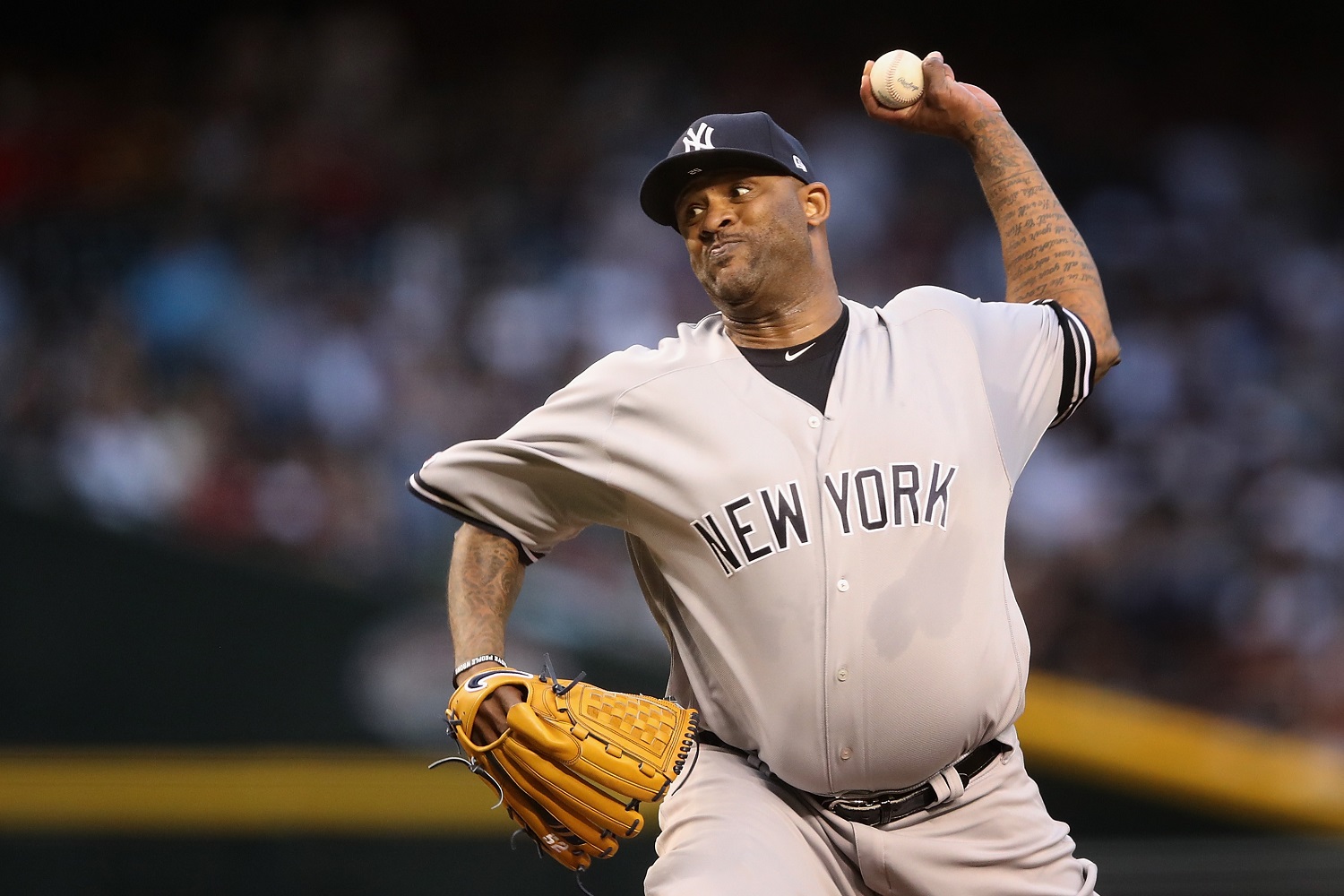 Yankees Great CC Sabathia Has Returned to the Diamond to Live Out His Dream
New York Yankees pitcher CC Sabathia has joined a Central Park softball league in his retirement.
CC Sabathia surrendered 232 home runs in 11 seasons pitching for the New York Yankees. Following a year off because of the pandemic, Sabathia has returned to the diamond. However, he has no concerns about being taken out of a New York park ever again.
Sabathia has sworn off pitching after switching to recreational softball. The games are in Central Park, a tad bit more spacious than Yankee Stadium.
CC Sabathia was a New York Yankees hero
It didn't take long for Sabathia to endear himself to Yankees fans. Arriving from the Milwaukee Brewers in 2009 as a free agent, he won 19 games in his first season to help New York to its 27th World Series title. He followed with 40 more victories over the next two seasons, and he was 88-42 over his first five years.
Sabathia wasn't able to help the Yankees to another title — they lost three American League Championship Series — but he cemented his place in Yankees lore late in the 2018 season.
The Yankees had already clinched a playoff berth when they faced the Toronto Blue Jays on Sept. 27 in Sabathia's final scheduled start. In the bottom of the fifth inning, Sabathia nicked Jake Bauers on the right hand with a pitch not far off the plate.
In the top of the sixth, Jays pitcher Andrew Kittredge threw behind Austin Romine, at which time the plate umpire warned both benches. Sabathia wasted no time in the bottom half of the inning, plunking Toronto catcher Jesus Sucre.
The pitch triggered an ejection and cost him $500,000. That's because Sabathia left two innings short of throwing 155 for the season and triggering the bonus.
However, the Yankees payroll at the end of the season showed that the team wrote Sabathia the half-million-dollar check anyway.
Sabathia is playing softball in Central Park now
One of the nice things about being retired at the age of 40 after having earned $260 million in salary is that you can pretty much do what you wish. In Sabathia's case, the career 251-game-winner has turned to modified fast-pitch softball.
According to Curbed.com, Sabathia is playing softball this spring for the Warriors, his friends' rec-league team in Central Park.
Matt Siegel, who previously worked at the Yankees' cable television network, brought a few friends to a team started in 2012 by Mike Lunetta. The crew includes Ryan Ruocco, an on-air personality at the network who hosts a podcast with Sabathia. The men all had business ties to Sabathia, and group texts would frequently reference the softball team.
"It was a running joke that, once he retires, he was gonna come join the squad, and then this year, he was like, 'I'm ready, let's go,'" Siegel told the website.
Sabathia retired after the 2019 MLB season, and the COVID-19 pandemic wiped out the 2020 softball season. The six-time All-Star showed up as promised this spring.
"This is something I've been talking about doing for years," he said. "Playing softball in Central Park was like a bucket-list thing, and getting to do it with my buddies is even more fun."
Sabathia plays first base with a Ken Griffey Jr. model glove and has batted cleanup from the left side of the plate. His teammates see a man who's clearly having fun.
"He posts on his Instagram after every game," Siegel said. "He's super into it. It's hysterical."
Will the pitcher make it into the Hall of Fame?
It's become difficult to gauge Hall of Fame credentials for starting pitchers because complete games gave way to a "seven strong innings" mentality that has been eviscerated by pitch counts that often see starters leave short of five full innings.
Winning 300 games used to all but guarantee reaching Cooperstown. Only Randy Johnson (303), Tom Glavine (305), and Greg Maddux (355) have met the threshold and been inducted this century. Roy Halladay is in with 203. Meanwhile, Tommy John, who retired in 1989, is on the outside looking in with 288.
Sabathia posted a 251-161 record in 560 starts over 19 years. His 205 victories over the first 13 seasons certainly had him on a Hall of Fame path, though he never led the league in ERA or strikeouts. He did win the AL Cy Young award in 2007, his last full season with the Cleveland Indians.
His 3.74 ERA skews uncomfortably high for a HOF candidate, but Sabathia struck out 3,093 batters. He was 10-7 with a 4.28 ERA in the postseason, never having won a World Series game.
Jack Morris (254-186, 3.90 ERA) and Mike Mussina (270-153, 3.68) are in. The odds are Sabathia will one day be standing alongside his own plaque in Cooperstown, perhaps in his fifth year of eligibility.
All stats courtesy of Baseball Reference.