Yes, Bill Belichick Texts, and Here's What 1 Exchange Looks Like
Bill Belichick is known for his short and usually not-so-sweet postgame press conferences. Belichick typically doesn't say a lot and gets to the point in a word or two. In fact, his text messages may be longer than some of his postgame answers. Is it more surprising that the longtime New England Patriots coach will type more words than he will speak, or that he actually texts people?
Bill Belichick is the master of boring press conferences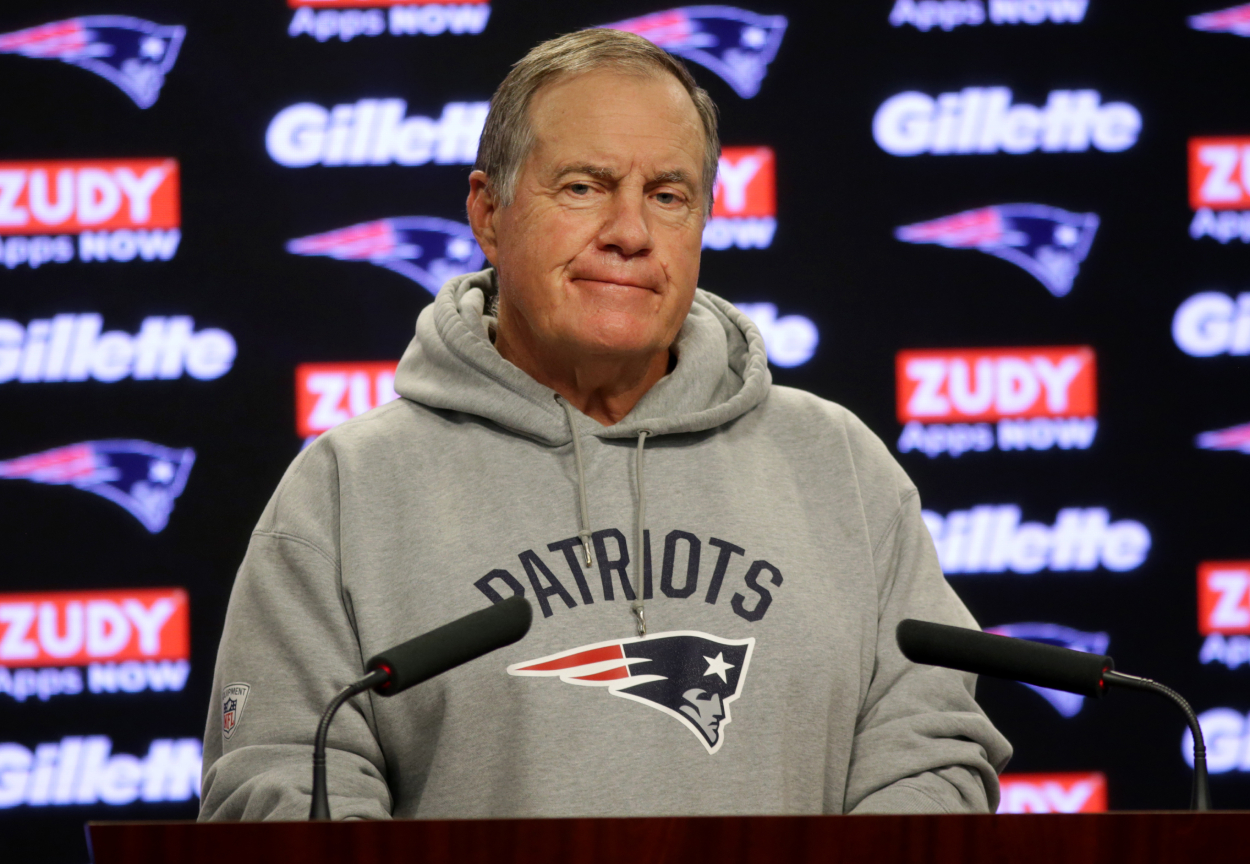 Belichick issued a surprising apology last month after his Patriots lost to the Indanapolis Colts after New England was shut out for the first three quarters during the 27-17 loss. Belichick doesn't take losses too well and was quick with his answers that Saturday night when speaking to the media. He said his team didn't play well and added he needed to watch the film. That was the extent of his game summary.
Two days later, Belichick shocked the media world with his apology about being so short with the media after that loss.
"I'll just start off here," he said, per CBS Sports. "Look fellas, I apologize if it seemed like I was a little short with you after the game. Obviously a frustrating game. Down 20-0. Didn't do anything well enough. I mean, there isn't really much to say at that point without watching the film. 
"Clearly we had problems in every area, so there's no simple answer. Every play could have been better. Every area of coaching could have been better. Every area of playing could have been better. Any of that would have helped. (I'm) not really trying to be short, but honestly there wasn't too much to say."
Belichick's famous "We're on to Cincinnati" line is probably king of his short and snappy press conferences. There are surely more in the works.
Former Patriots player Brandon Spikes recently shared a text exchange with Bill Belichick
Belichick appears to be a simple guy. He's all business when it comes to football. Belichick is also a human being, and that personal side of him rarely gets seen publicly. Former Patriots linebacker Brandon Spikes shared a private text exchange with Belichick. Yes, Coach Belichick knows how to text. He may not always keep up, but he does it.
The exchange shows Spikes wishing his coach a happy birthday back in April. A month later, Belichick responded.
"Thanks for the b-day wishes," he wrote. "Sorry to be so far behind on my texts. Best, BB."
Last month, Spikes reached out to his former coach again. This time, he complimented on his coaching approach after the Patriots defeated the Buffalo Bills 14-10 in Buffalo on a Monday night in a game that featured heavy winds and rain. Patriots rookie quarterback Mac Jones threw three passes that night, yet New England pulled out the victory.
"U went old school on them boys last night coach!!!," Spikes texted. "Straight December football. I love it!! Great win."
Two days later, Belichick responded. He also gave more info in a text than he likely would give a reporter at a press conference.
"Thanks B — tough game — good to win in Buffalo!!," Belichick typed. "We are learning the lessons of physical & mental toughness.
Last night reminded me of many games I coached at Giants Stadium with tough defense, running game, and a lot of wind! Hope things are going well on your end. Best, BB."
Belichick and the Patriots have had quite a turnaround from a year ago
Who would have thought the Patriots would be in the position they are in after last season? A year ago, New England had its first losing season since 2000, going 7-9 after Tom Brady bolted town and headed to the Tampa Bay Buccaneers.
Veteran quarterback Cam Newton was brought in to run the show, and New England's offense struggled mightily. The Patriots released Newton and drafted Mac Jones with their first pick in the 2021 NFL Draft.
Jones has put up some strong numbers in his rookie season, throwing for 3,540 yards and 21 touchdown passes. He's been intercepted 12 times. Jones has the Patriots in the playoffs at 10-6 and can get the Patriots a division title if New England wins in Miami on Week 18, and the Bills lose at home to the New York Jets.
A division title would likely generate a longer press conference from Belichick. It might even be better if the reporters just have BB text them his thoughts on the game.