For a Young Serena Williams, a Pepsi and Snickers Turned Her Into 'Spider-Man' on the Tennis Court
Serena Williams has always had that competitive spirit. One of the best female tennis players of all time, Williams sometimes needed that extra push or extra boost as a child to get her going on the tennis court. A former coach said sometimes all it took was a Pepsi and a Snickers to help her turn into "Spider-Man" on the tennis court.
Is Serena Williams the GOAT of women's tennis?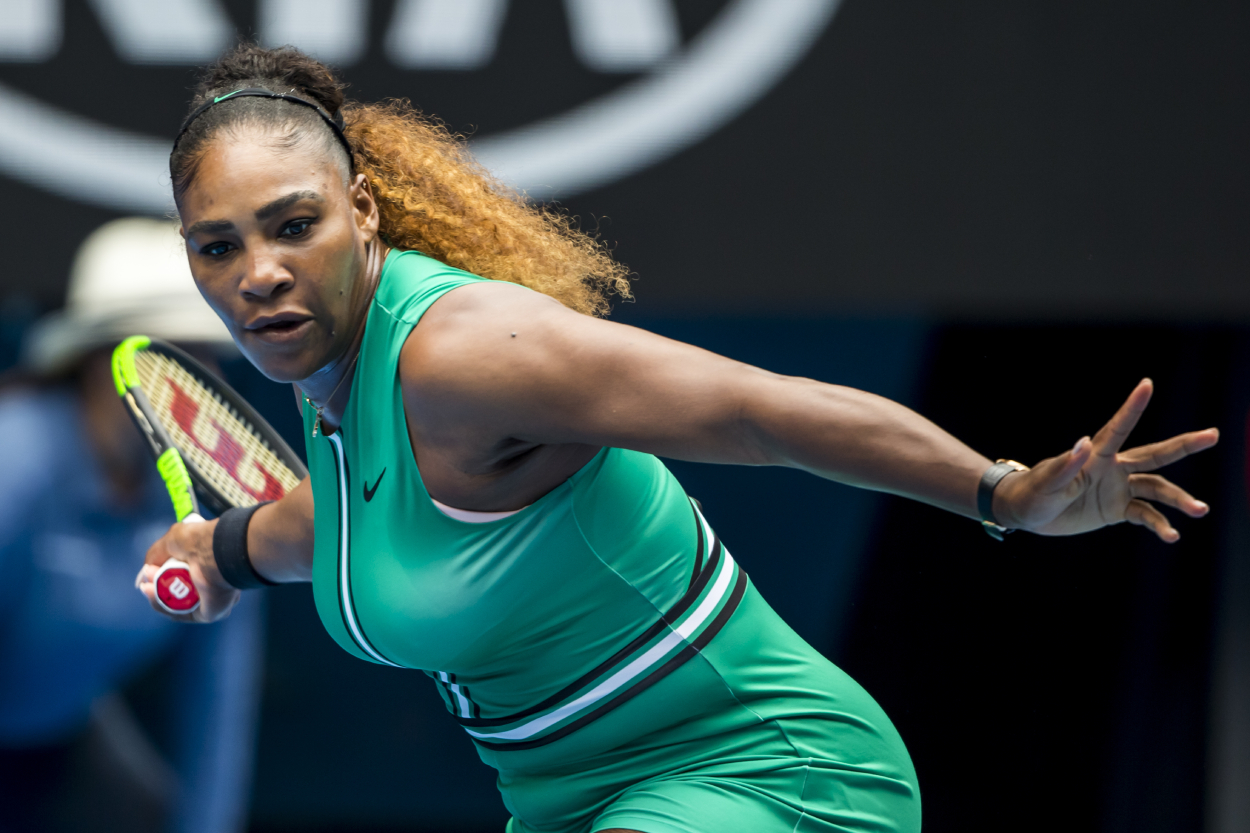 Serena Williams has all the numbers to show she's the best women's tennis player of all time. She's mentioned in the same breath at Steffi Graf and Martina Navratilova, and a 2018 panel on Tennis.com voted Williams as the top female tennis player of all time. That one is hard to argue.
Nobody in the Open Era has won more Grand Slam singles titles (23) than Williams. She boasts a career singles record of 851-148 and owns 73 career titles. On July 8, 2008, Williams reached the top of the Women's Tennis Association's ranking list for the first time. She would go on to live there quite often.
From 2002-2017, Williams was ranked No. 1 on eight different occasions. On one occasion, Williams held that top spot for 186 consecutive weeks. She has won Wimbledon and the Australian Open seven times each. Williams also boasts 14 Grand Slam doubles titles.
Serena Williams began working with her father at a young age
Serena Williams' father, Richard, was heavily involved in teaching his daughters Serena and Venus how to play tennis when they were 3 and 4 years old. Richard didn't have a tennis background, but when he learned that top female tennis players can earn thousands of dollars per tournament, he studied the game and taught his girls, according to ESPN.
Richard eventually left his full-time job to coach his daughters. Serena entered her first big tournament at age 9 and made the championship. She faced Venus in the finals. Serena always wanted to be like her big sister and that helped light her competitive fire.
"Venus was older and playing tournaments, and Serena wasn't playing tournaments yet," said Isha Price, Serena's sister. "Venus was enrolled in this particular tournament, and Serena wasn't. Unbeknownst to my dad and mom, Serena sent in the application and signed herself up for the tournament. Who does that? You had to pay to sign up, and the tournament directors had to get the money from my parents. She always wanted to be just like Venus; it was that little sister hero-worship thing. Even then, she wanted to compete."
Serena sometimes needed a little boost
In 1991, Serena Williams was introduced to her first high-profile tennis coach, Rick Macci. Macci recalled a day when he was working with both Venus and Serena. Venus was working hard and Serena was dogging it a bit.
"Serena wasn't working hard or moving her feet," Macci told ESPN. "I said, 'Jameka (Serena's middle name), you have to start moving.' 'What are you going to give me?' she asked. 'I'm tired. I'm thirsty. If you get me a Pepsi and some curly fries and a Snickers bar … and on the corner, they're selling Green Day T-shirts. If you get me that, I will work 100 percent for the next hour.'
"This was her maturity. I had an assistant get it all but the shirt, and this girl moved her feet on the court like Spider-Man. For one hour, this girl was on fire. When that hour was up, she said, 'I'm done and I expect that Green Day shirt here at 8 a.m.'"