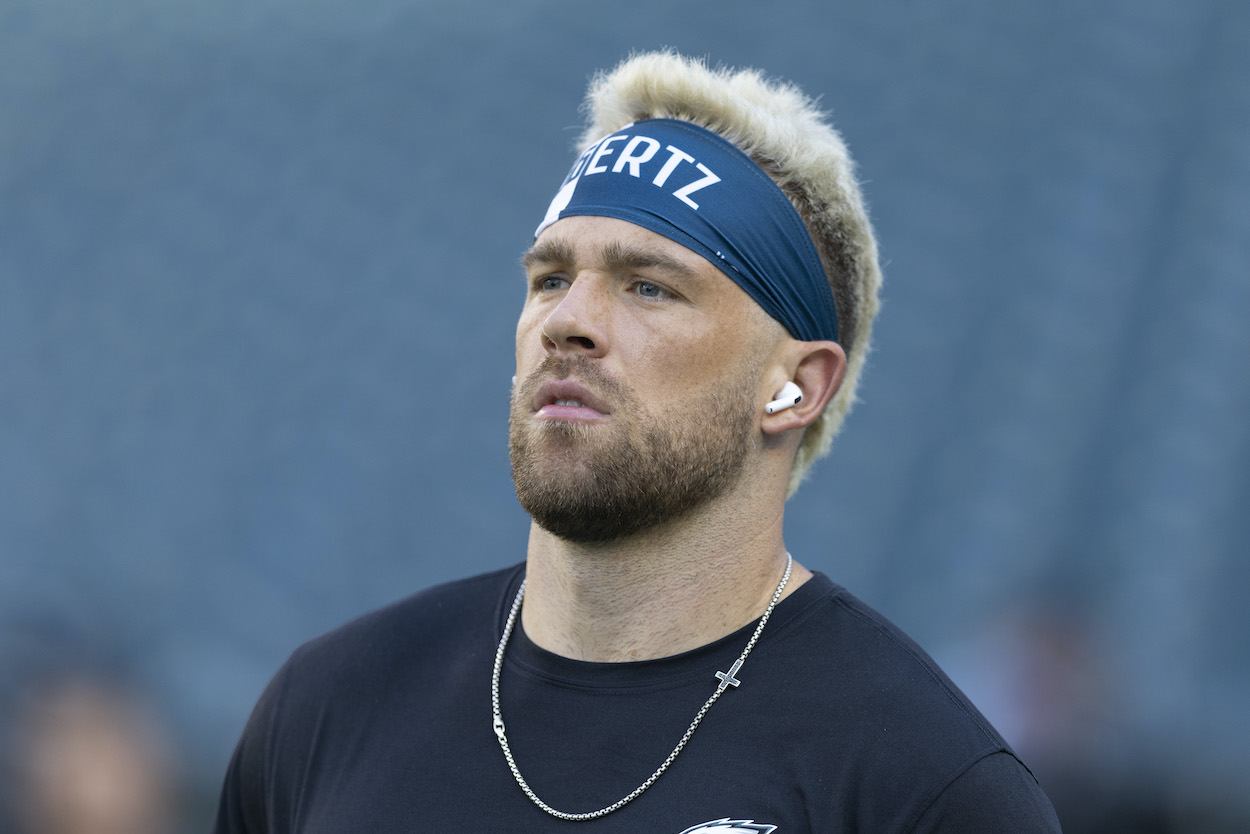 Zach Ertz's Long-Desired Plane Ticket Out of Philadelphia May Have Already Been Purchased by an Unexpected Eagles Teammate
A quarterback-turned-tight end might force the Eagles to say goodbye to Zach Ertz soon.
Only three weeks remain until the new NFL season kicks off, and Zach Ertz is somehow still a Philadelphia Eagle.
That might not be the case for long, though, as a lesser-known tight end has been unexpectedly turning heads in training camp. Tyree Jackson, who played quarterback in college and just recently switched to TE, has been the star of the offseason in Philadelphia, and he may have just purchased Ertz's long-awaited plane ticket out of town.
Zach Ertz still wants out of Philadelphia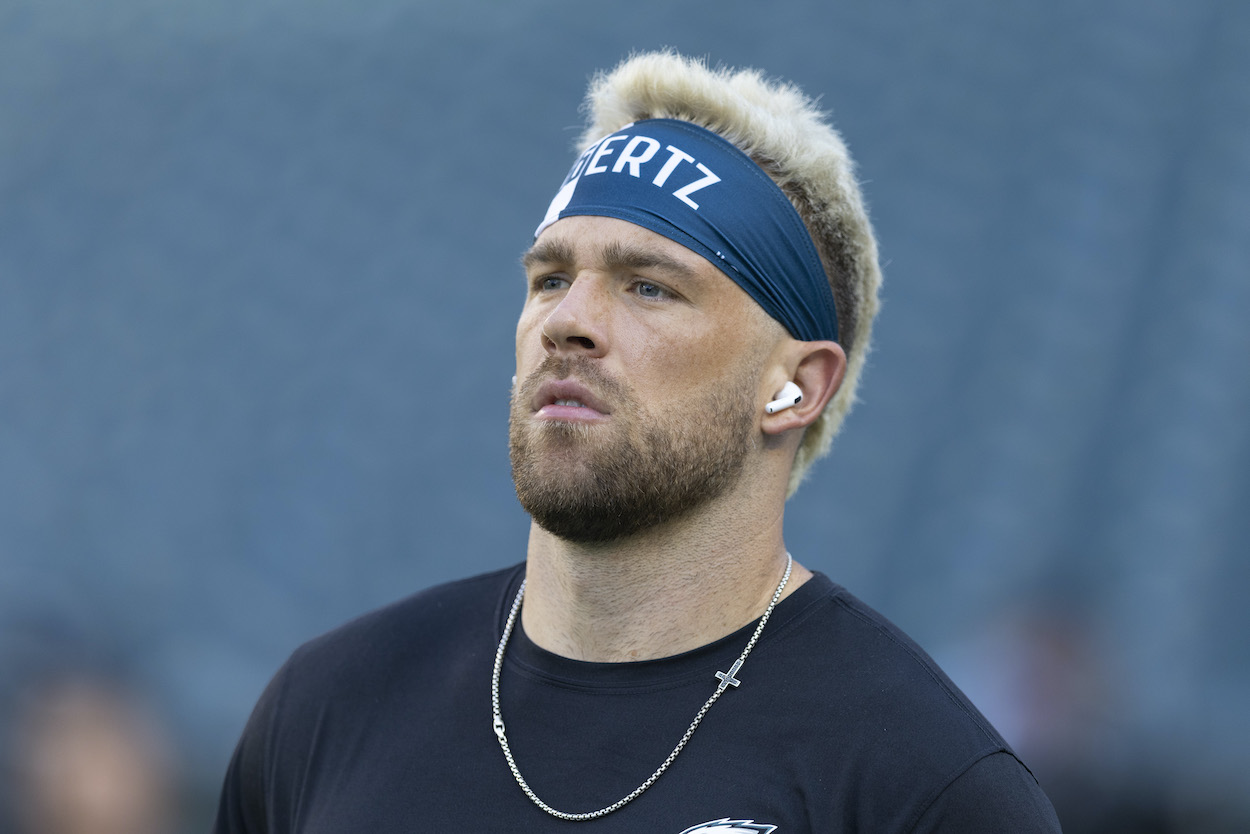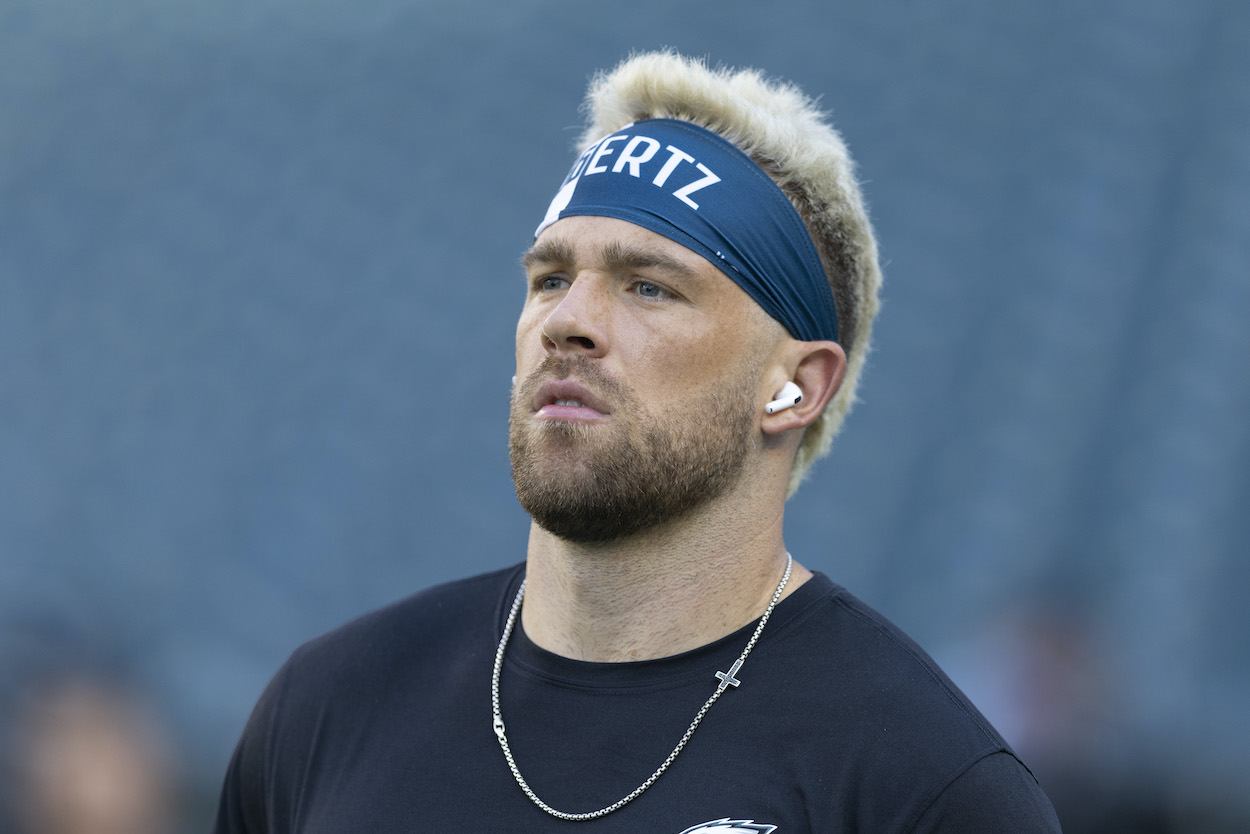 Ertz thought he was saying goodbye to his longtime team after the conclusion of the 2020 season. He stuck around after the final regular-season game to chat with Carson Wentz and Jason Kelce on the sidelines in what looked to be the trio's last moment together inside Lincoln Financial Field. Ertz even teared up during what he thought was his farewell press conference the following day.
But seven months later, here he is — still firmly on the Eagles roster with Week 1 quickly approaching.
The Eagles have reached out to teams this offseason about dealing Ertz, but they clearly haven't been satisfied with the offers coming back. With Philly getting younger on offense and Dallas Goedert set to make the official jump to starting TE this year, a 30-year-old Ertz with a $12.7 million cap hit this season doesn't make much sense to keep around. That being said, the team isn't going to ship him away for pennies on the dollar.
Ertz has been a team player in recent weeks by showing up to training camp and even playing in the team's first preseason game last week, but he could be on the move at any moment.
Tyree Jackson has emerged as the surprise star of Eagles training camp
With the uncertainty surrounding Ertz's future in Philadelphia, the Eagles added some depth to the tight end position by signing Jackson earlier this offseason. If you feel like you've never heard his name before as an NFL tight end, that's because you haven't.
Jackson was actually a quarterback until just a few months ago. He threw for nearly 7,000 yards and 49 touchdowns as a three-year starter at the University of Buffalo. After going undrafted in 2019, he signed with the Buffalo Bills but failed to make the 53-man roster as a QB. Jackson took his talents to the XFL in 2020 after he was drafted by the DC Defenders, but he didn't see much success there either.
A year later, Jackson decided to follow in Logan Thomas' footsteps by switching from QB to TE, and he seems to be a natural. The 6-foot-7, 250-pound unicorn of an athlete has been the surprising star of Eagles training camp this summer. He's been dominating individual drills at practice on a daily basis, and he made two nice grabs for 32 total yards in his preseason debut last week.
According to various practice reports from Eagles beat writers over the last few weeks, you would never be able to guess that Jackson has been playing the tight end position for less than a year. With final cuts just about two weeks away, the quarterback-turned-tight end has a much more realistic shot of making the 53-man roster than anyone could've imagined.
And if the Eagles are smart, they'll keep Jackson around while simultaneously adding more draft picks in an Ertz trade.
Jackson's strong camp could be Ertz's plane ticket out of Philadelphia
Ertz has been patiently waiting for a ticket out of Philly for months now, and he might've finally found one thanks to Jackson. If the former quarterback has been this impressive in the first summer at his new position, just imagine what he'll look like in a year or two.
Jackson is still just 23 years old. He's only due $660,000 in base salary this season, whereas Ertz is due $8.5 million. This decision is becoming more and more clear with every catch Jackson makes in camp.
He's simply too big of a human being to be covered by NFL safeties and cornerbacks. He's too agile for linebackers to keep up with down the field. With some more coaching and increased reps at his new position, Jackson has unlimited upside as a tight end. He's also in a perfect situation in which he can learn from Goedert and Richard Rodgers while he slowly works his way into the playbook.
Even if a proposed trade package isn't what the Eagles hoped for heading into the offseason, the team must find a way to deal Ertz before Week 1.