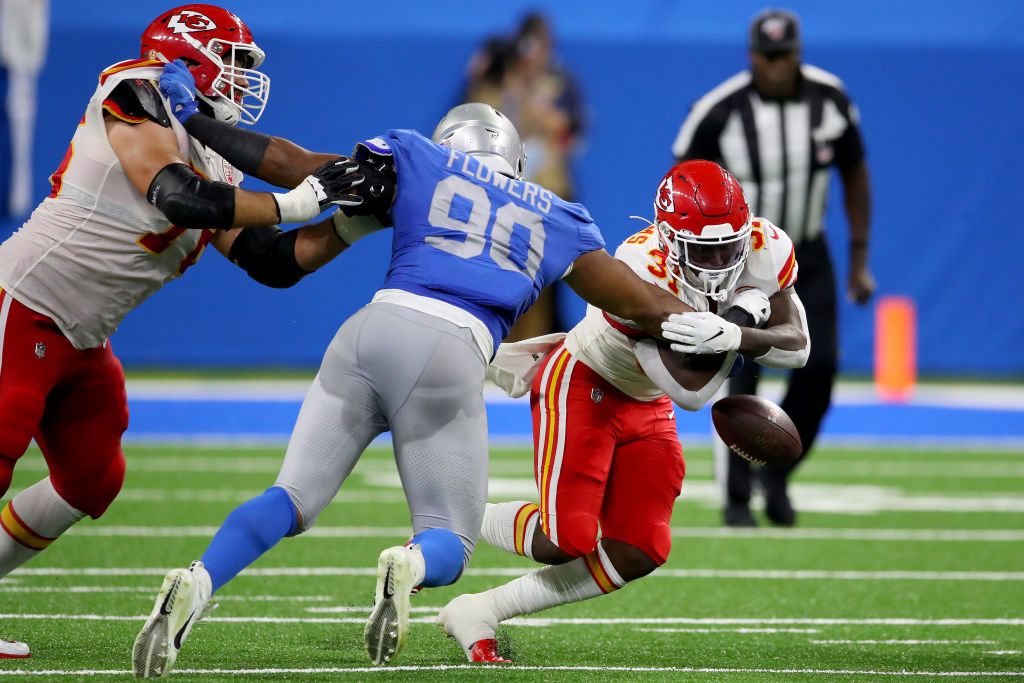 5 Biggest NFL Defensive Free Agent Contracts Since 2015
NFL free agency gets underway this week. Let's take a look back at the biggest contracts given out to defensive players since 2015.
As NFL free agency gets underway this week, millions of dollars will be on the line. For some teams, investing heavily in the free-agent market can make the difference between making the playoffs and winning a Super Bowl. Other teams elect to build through the draft and use their cap space to extend players already on the roster.
Of course, many people subscribe to the "defense wins championships" theory. So when a premier defensive player hits free agency, the contract numbers can get astronomical. Here are the five biggest free-agent contracts given to defensive players in the last five years.
Olivier Vernon, DE, New York Giants (2016)
Originally a third-round pick by the Miami Dolphins, Olivier Vernon quickly asserted himself as an NFL starter by his second season. Paired with veteran Cameron Wake, the duo wrecked havoc off the edge. The younger half of the pass-rush duo set a career high with 11.5 sacks in just his second season. Vernon followed up with 6.5 sacks and 13 quarterback hits in 2014 before exploding for 7.5 sacks and a whopping 36 quarterback hits in his contract year.
The New York Giants ultimately made Vernon the highest-paid defensive end in the NFL with a ridiculous five-year, $85 million deal with $52.5 million guaranteed. Unfortunately, injuries limited his effectiveness and he managed just 22 sacks in 39 starts before getting traded to Cleveland as part of the blockbuster Odell Beckham Jr. deal.
C.J. Mosley, LB, New York Jets (2019)
Last offseason, C.J. Mosley hit free agency as one of the hot-ticket defenders. The former first-round pick developed into an adept playmaker in the post-Ray Lewis era in Baltimore. In his first five years in the NFL, Mosley averaged 116 tackles and displayed the leadership qualities and toughness that made him such a coveted NFL draft prospect.
While the Ravens would have liked to continue the relationship, the New York Jets blew away the competition with an $85 million contract that included more than $50 million guaranteed. Unfortunately, injuries limited Mosley to just two games in the first year of his deal. Let's just hope the Mosley signing turns out better than another one of New York's free-agent flops.
Landon Collins, S, Washington Redskins (2019)
After slipping to the second round of the 2015 NFL draft, Landon Collins did everything possible to prove critics wrong. The physical safety broke out with an All-Pro campaign in 2016 (125 tackles, five interceptions) and earned his first of three consecutive Pro Bowl nods. By the time he hit free agency last offseason, he had built a reputation as one of the best players at his position.
In true Daniel Snyder fashion, the Washington Redskins signed Collins to a record-setting deal for a safety. Collins received $45 million guaranteed over the first three years of his new deal, including a whopping $15 million signing bonus. Unlike Vernon and Mosley, Collins played well in the first year of his deal, totaling 117 tackles in 15 games. However, he hasn't recorded an interception since 2017.
Trey Flowers, DE, Detroit Lions (2019)
When it comes to success stories, it doesn't get much better than Trey Flowers. A fourth-round pick out of Arkansas in 2015, the long-armed defensive end played just one game as a rookie before landing on injured reserve. Since then, he has developed into one of the better all-around linemen in the NFL.
The powerful, slithery Flowers became one of New England's most indispensable players and helped key two Super Bowl titles. A player who routinely elevated his game in the playoffs, Flowers priced himself out of New England and cashed in with a five-year deal that included $56 million guaranteed from the Detroit Lions. Reunited with former defensive coordinator Matt Patricia, Flowers recorded seven sacks and 21 quarterback hits in the first year of his deal.
Ndamukong Suh, DT, Miami Dolphins (2015)
The gold standard for NFL free agent contracts, Ndamukong Suh's $114 million deal with the Dolphins still stands out five years later. The contract included $60 million guaranteed at signing. Given his dominant track record and Miami's need for a superstar to build around on defense, it made sense to make him the highest-paid non-quarterback.
Though Suh still played at a Pro Bowl level, it didn't help Miami improve much on defense. Ultimately, his contract became a cap nightmare and Miami moved on after three years. Still, Suh's mega deal represents the largest free-agent contract for any defensive player in NFL history.