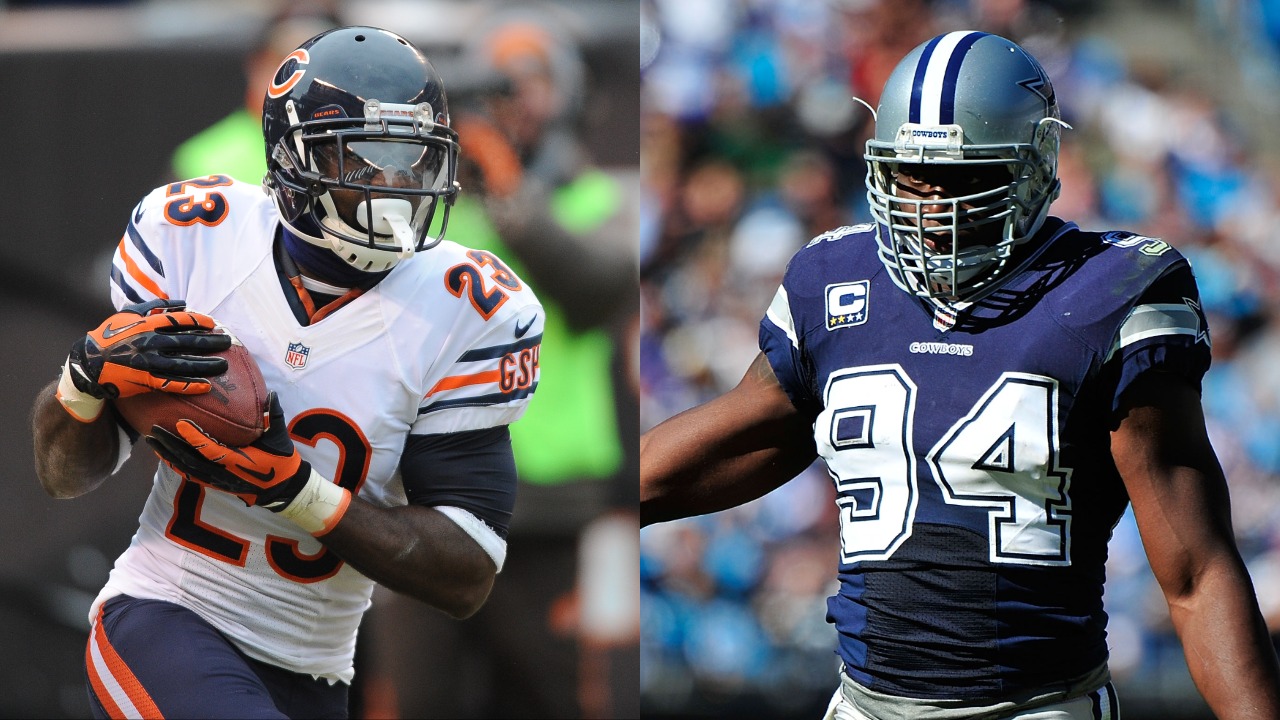 6 Most Notable Snubs for the Pro Football Hall of Fame 2022 Induction Class
Devin Hester and DeMarcus Ware headline the list of players who should've gotten stronger consideration for the 2022 Pro Football Hall of Fame class.
The Pro Football Hall of Fame revealed its eight-person class for the 2022 induction ceremony at the NFL Honors. Every year since 2012, the class has featured at least one finalist in their first year of eligibility, but not this time.
The Class of 2022 includes wide receiver Cliff Branch (seniors finalist), former director of officiating Art McNally (contributor finalist), and legendary head coach Dick Vermeil. The five modern-era inductees are offensive tackle Tony Boselli, safety LeRoy Butler, linebacker Sam Mills, defensive end Richard Seymour, and defensive tackle Bryant Young.
While all the enshrinees make valid cases for Canton, Ohio's Pro Football Hall of Fame, the list included notable snubs who may have been more deserving.
1. Punt/kick returner Devin Hester
Upon review of the official enshrinees list, Devin Hester is probably the most egregious snub in 2022. The NFL hasn't seen another player quite like Hester. The legendary return specialist spent 11 seasons in the NFL, most notably for the Chicago Bears.
The former Miami Hurricanes star made an immediate impact at the next level. He racked up 1,128 total return yards and five touchdowns as a rookie. Hester earned Pro Bowl and All-Pro nods in his first year in the league.
The Bears legend ended his outstanding career with 3,695 punt return yards, 7,333 kick return yards, and 19 combined touchdowns. Hester was the best player ever at his position. That alone should've warranted his induction into the Pro Football Hall of Fame during his first year on the ballot.
2. Wide receiver Reggie Wayne
Reggie Wayne is a player who didn't quite get the credit he deserved throughout his NFL career. As great as Peyton Manning was, he wouldn't have enjoyed nearly as much success without his supporting cast.
Wayne recorded 1,070 receptions for 14,345 receiving yards and 82 touchdowns in 14 seasons with the Indianapolis Colts. He made six Pro Bowls and earned one All-Pro selection. The wideout also helped the Colts take home the Lombardi Trophy in the 2007 Super Bowl.
Manning, wide receiver Marvin Harrison, and running back Edgerrin James are all in the Pro Football Hall of Fame. Wayne undoubtedly deserves to join the illustrious fraternity sooner rather than later.
3. Outside linebacker DeMarcus Ware
DeMarcus Ware was another baffling omission from the 2022 Pro Football Hall of Fame induction class. The former Dallas Cowboys and Denver Broncos star was one of the most dominant edge-rushers in the league during his career.
Ware racked up 657 tackles, 138.5 sacks, and 35 forced fumbles in 12 seasons. Even if he didn't get the sack, the Troy product made his presence felt. He finished his career with 229 quarterback hits.
Ware's stats jump off the page at you. It's difficult to understand why he didn't get in. His numbers are much better than Richard Seymour, who made the class. Sure, Ware didn't win three Super Bowls, but that's hardly his fault.
4. Wide receiver Andre Johnson
It's easy to forget how good Andre Johnson was in the NFL. He played 12 of his 14 seasons with the Houston Texans, who made the postseason twice during his tenure.
From an individual perspective, Johnson was consistently one of the best wide receivers in the league. He caught 1,062 passes for 14,185 yards and 70 touchdowns in his career. Johnson led the league in receptions twice (2006 and 2008) and receiving yards twice (2008 and 2009).
Johnson was one of the most physical wideouts in recent memory, but he could beat a defense in many ways. Playing for the Texans for so long probably held him back, which is even more reason he should be in the Hall of Fame.
5. Defensive back Ronde Barber
It's somewhat surprising that Ronde Barber hasn't been inducted into the Pro Football Hall of Fame yet. The longtime Tampa Bay Buccaneers defensive back was as consistent as they came, and he spent his entire career with one team.
Barber finished his career with 1,251 tackles, 47 interceptions, 28 sacks, and 15 forced fumbles in 16 seasons. He also proved to be a playmaker throughout his career, recording eight defensive touchdowns.
Barber enjoyed a long, productive career with the Bucs. With five Pro Bowls, three All-Pro selections, and a Super Bowl ring to his name, he should be a lock for the Hall.
6. Wide receiver Torry Holt
Torry Holt is another wide receiver who hasn't received the credit he deserved over the years. There's no "Greatest Show on Turf" without No. 81.
Holt racked up 920 receptions, 13,382 receiving yards, and 74 touchdowns in 11 seasons. The St. Louis Rams wideout made the Pro Bowl seven times during that span. He led the NFL in receiving yards twice (2000 and 2003), and he played a huge role in the team's Super Bowl run in 1999.
Holt is last on the list, but all of these players made valid cases to be part of the Pro Football Hall of Fame's 2022 induction class.
All stats courtesy of Pro Football Reference