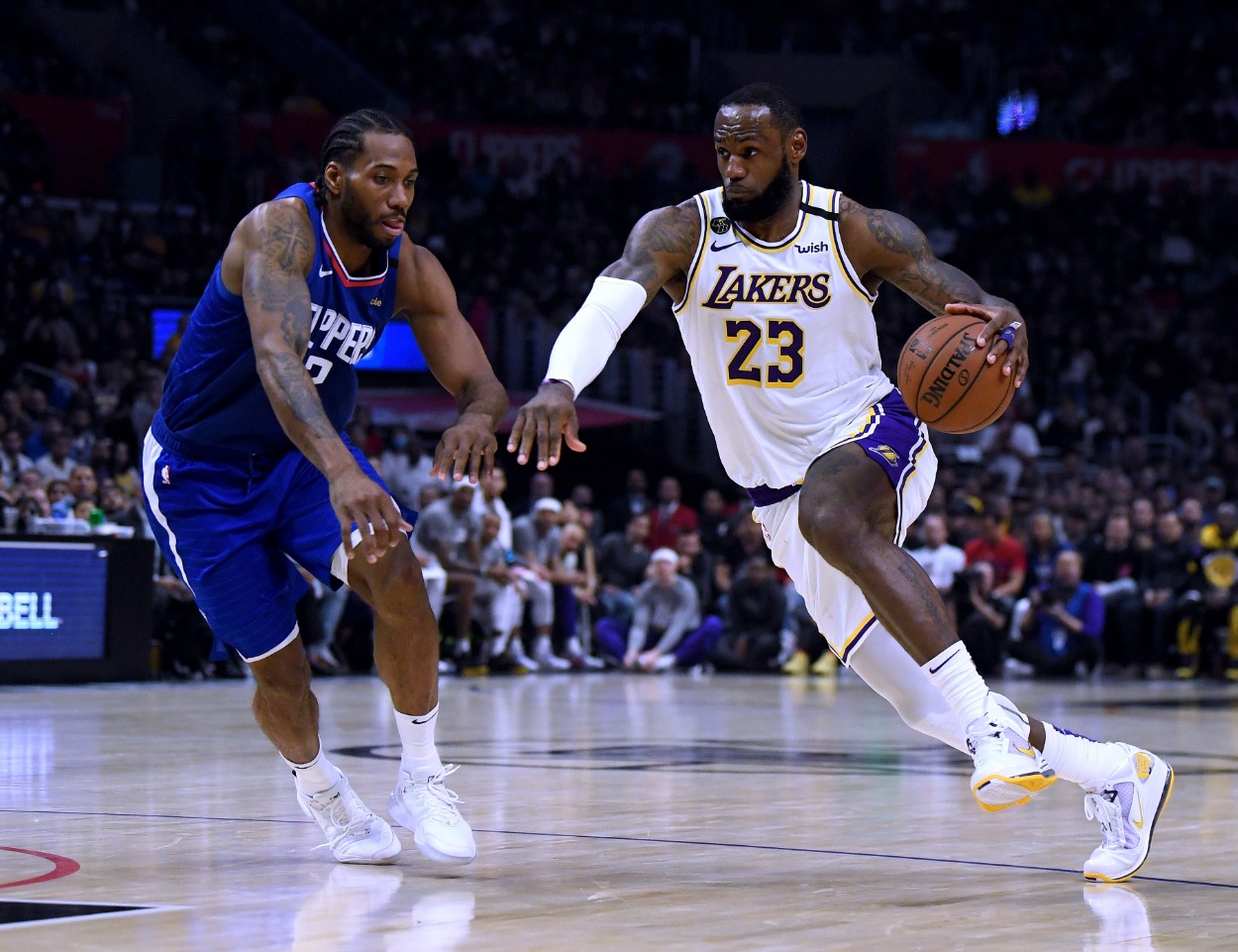 The $299 Ring That May Save NBA Players' Lives
When the NBA season resumes, players may wear a $299 ring that could save their lives. How will that impact the NBA playoffs?
It's been more than three months since the NBA suspended its season. Of course, Rudy Gobert testing positive for COVID-19 made playing basketball impossible. But with the NBA playoffs looming, everyone is eager to see LeBron James and the rest of the NBA get back on the court.
And when the NBA gets back in full swing in Orlando, a $299 ring could play a pivotal role in player safety.
The NBA suspended its season in March
The 2019-20 NBA season certainly will go down as one of the most memorable of all time. With about 20 percent of the schedule remaining, teams had positioned themselves for the NBA playoffs.
In the Eastern Conference, the Milwaukee Bucks, Toronto Raptors, Boston Celtics, and Miami Heat all boasted impressive records. Giannis Antetokounmpo looked like an MVP lock with career-highs in points (29.6) and rebounds (13.7). Boston swapped out Kyrie Irving for Kemba Walker and watched Jayson Tatum and Jaylen Brown emerge as superstars.
Out west, LeBron James and the Los Angeles Lakers appeared poised for a title run. The Western Conference also saw five other teams win at least 40 games before the season got suspended.
Sadly, NBA fans haven't seen a live game since Adam Silver shut everything down on March 11. Recently, discussions about a plan to resume play have taken place. And now, the fate of the NBA season may hinge on a $299 ring.
The $299 ring that could save the NBA season
With the NBA season set to resume on July 30, the issue of player safety has been a hot-button topic. But according to CNN, the league has a potential solution to offer its players in the form of a $299 ring designed to track health data. As for the ring's biggest claim to fame? It supposedly can predict if users are about to show the symptoms of COVID-19 infection.
Designed by Oura, the ring monitors sleep, pulse, movement, heart activity, and temperature. While the ring sounds promising in theory, it also comes with question marks.
"There is not a lot of data on it right now. There have been some studies that I've seen — most of the studies are published by the device manufacturers," Dr. Darria Long, an emergency room physician and clinical assistant professor at the University of Tennessee, told CNN.

Currently, the Oura device does not have the approval of the US Food and Drug Administration to monitor health data. And while smartwatches have undergone design changes to more accurately monitor a user's heart rate, utilizing a ring represents an orthodox approach.
"I don't care who — if it's Oura, or Fitbit or Apple — none of them are necessarily proven," Long said. "We can't use it to give a false sense of security. We need to think of this as data and ideas in research right now."
Ultimately, the $299 ring may fall short in its claims. Or perhaps it'll live up to expectations. Either way, it will be an interesting storyline to monitor as the NBA season resumes about a month from now. And when the league does get back underway, what teams should we expect to stand out?
What teams will look to make a strong push in the NBA playoffs?
Once basketball begins again, it will be fascinating to see which teams show signs of rust and which ones get back on track quickly. A long layoff could disrupt valuable chemistry built early in the year. Players may struggle with their conditioning if they haven't been staying in shape quite as diligently during this downtime.
Looking at the Eastern Conference, the Bucks have to be the favorite once the NBA playoffs roll around. Atetokoumpo can't be stopped when he's on his game. And Kris Middleton (21.1 points per game) offers plenty of scoring punch as a No. 2 option.
However, don't sleep on the Celtics. Boston boasts three top-flight scorers in Tatum, Walker, and Brown. Gordon Hayward (17.3 points, 6.5 rebounds, 4.1 assists) looked terrific in his second full season since breaking his ankle.
Out west, LeBron James' Lakers should be the favorite to make it to the NBA Finals. Of course, Kawhi Leonard and Paul George have the potential to knock the NBA legend out of the playoffs.
Assuming the league does pick back up at the end of July, it'll be a monumental moment for sports. Fans will finally have something to watch and cheer about, albeit from their homes. And players will have a chance to get back to doing what they love. Now we'll just have to see if Oura's $299 ring really does make a difference in keeping players safe.