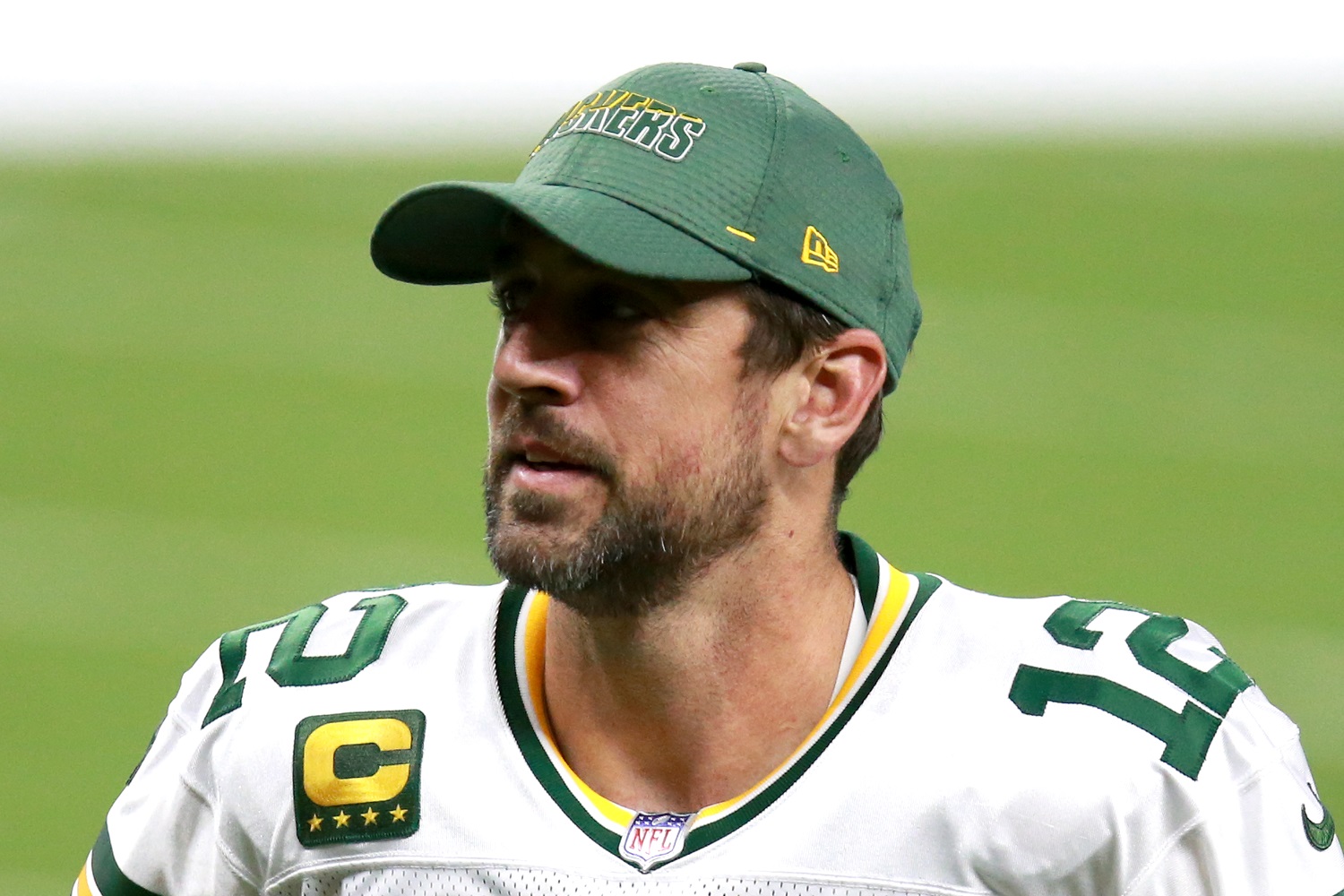 Aaron Rodgers Has Added Leverage in His Dispute With the Packers' Front Office
A new poll says Green Bay Packers quarterback Aaron Rodgers scores well as a potential permanent host of 'Jeopardy!'
Hosting a television game show doesn't pay as well as employment as an NFL team's franchise quarterback, but it does give Aaron Rodgers a card to play in his ongoing feud with Green Bay Packers management.
Contestant: "I'll try 'Polling Data' for $200, please."
Host: "Jeopardy! viewers rate him as a strong second choice to Ken Jennings as the next permanent host."
Contestant: "Who is Aaron Rodgers?"
The Green Bay Packers have been through this before
Every successful TV show has the potential to give birth to a spinoff. All in the Family gave us The Jeffersons. Breaking Bad inspired Better Call Saul. And there are so many Law & Order spinoffs that all the motives for murder have been exposed.
The Green Bay Packers, who've made 15 trips to the playoffs and won a Super Bowl this century, are currently streaming a sequel to their 2007 saga. That one featured then-quarterback Brett Favre deciding whether he was or wasn't retired.
Aaron Rodgers cast doubt about his future with Green Bay right after the Tampa Bay Buccaneers punted the Packers from the NFC playoffs in January. This spring, Rodgers doesn't want to return to the team under current conditions, making for fresh drama.
With his career winding down and heir Jordan Love already on the roster, Rodgers wants to win now. He believes his insight into how it can be done deserves acknowledgement.
Rodgers is becoming a TV brand
Rodgers made frequent appearances on Pat McAfee's sports talk show last season, recently popped up on Kenny Mayne's last episode of ESPN SportsCenter, and will be playing in The Match alongside Phil Mickelson, Bryson DeChambeau, and Tom Brady on cable TV in July. On top of that, he did a well-received stint as a guest host on Jeopardy! This spring following the death of the iconic Alex Trebek.
Hosting the game show on a full-time basis while still playing football probably isn't plausible. However, the TV gig is steady work – albeit not as lucrative – if Rodgers and the Packers can't stop agreeing to disagree.
Now, a poll says that viewers would react favorably to Rodgers replacing Trebek while the Packers are replacing him with Love.
According to the study by CivicScience, legendary Jeopardy! champion Ken Jennings is the preferred next host of 22% of longtime viewers, but Rodgers is a solid second choice at 16%. According to Awful Announcing, however, Rodgers' best numbers come from the younger end of the age scale and from people who stream – the future of video entertainment — more often than they watch live TV.
That could be appealing to advertisers, which would make Rodgers appealing to the show's producers.
Epilogue: Rodgers vs. the Packers
Contestant: "I'll try 'Sports feuds' for $1,000, please."
Host: "This Super Bowl quarterback has spent all of 2021 in a squabble with one of the NFL's storied franchises."
Contestant: "Aaron Rodgers."
Host: "Please present your response in the form of a question."
Contestant: "When will Aaron Rodgers and the Green Bay Packers put an end to this nonsense so that we can get back to talking about actual football?"
Host: "Correct."
Like Sportscasting on Facebook. Follow us on Twitter @sportscasting19.