Aaron Rodgers Gave Matthew Stafford the Biggest Compliment Without Saying His Name
Despite the long-standing rivalry between the Packers and Lions, Aaron Rodgers gave credit where credit was due to Detroit quarterback Matthew Stafford. The Lions have continually suffered from poor records, but this does not mean Stafford has not performed well with the franchise. 
Aaron Rodgers' comments on the no-look pass
Many NFL fans and commentators, especially those rooting for the Chiefs, have sung Patrick Mahomes' praises over the past few seasons. He certainly deserves credit for his consistent performance and back-to-back Super Bowl appearances. At the same time, many falsely give Mahomes credit for "bringing" the no-look pass and other artful plays to the NFL.
During his November 20, 2020 show, Pat McAfee observed this phenomenon, joking that he is "so thankful that Patrick Mahomes brought that into the NFL." This sarcastic remark came after Rodgers mentioned he completed a no-look pass in his game earlier that week against the Jaguars. 
Rodgers continued this commentary by stating that there is one NFL player who's performed epic plays like no-look passes for a long time, but gets little credit when he pulls them off. The QB avoided revealing the player by name but remarked that he wears No. 9 and plays in Detroit.
Rodgers gives Matthew Stafford credit where it's due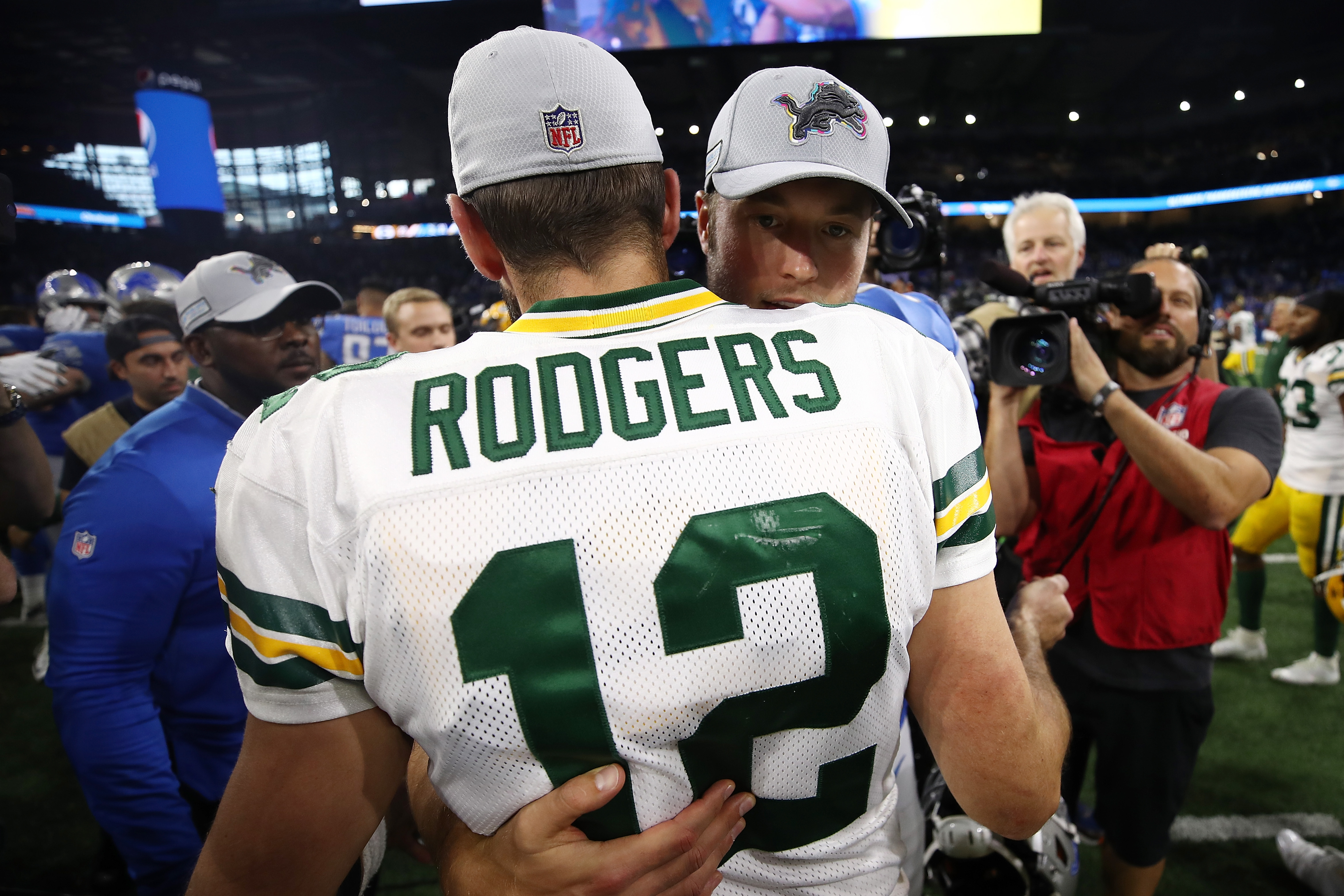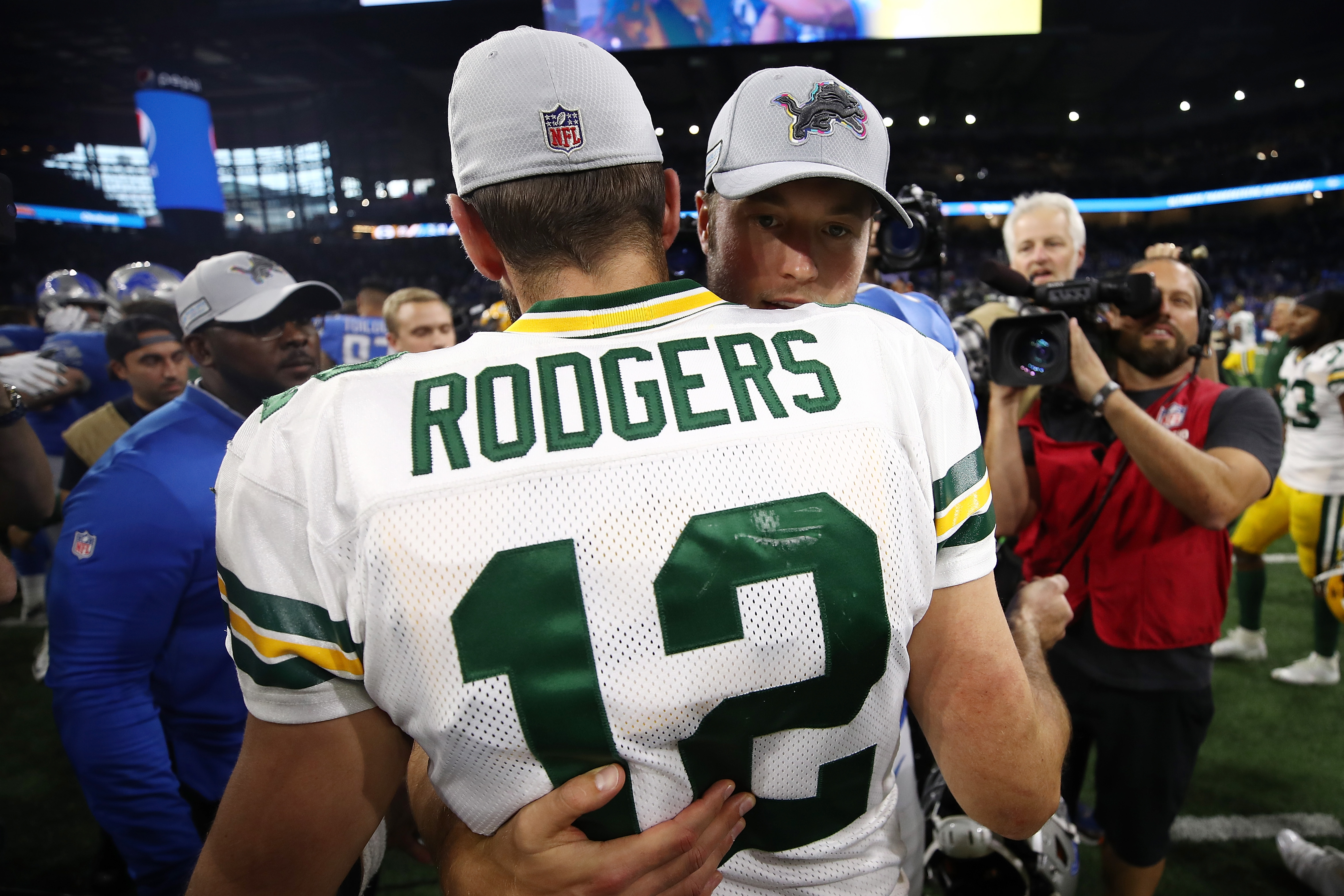 "That dude, what he does with the ball is impressive. Really, really impressive," Rodgers observed. "That dude is throwing crazy no lookers all the time. And he can throw from any arm angle." This glowing analysis came as a surprise to many. The Lions and Packers' rivalry has existed since they first met in 1933 and has only deepened over the years.
Perhaps this animosity encouraged Rodgers to never use Stafford's name during this discussion in an attempt to prevent diehard Packers fans from getting too riled up about his positive comments. Host Pat McAfee gave his own commentary saying that Stafford doesn't get credit because the Lions "stink."
Although the Lions ended their 2020 season with a better record than other franchises, like the Jaguars (1-15) and the Jets (2-14), the Lions still finished toward the bottom of the league with a disappointing 5-11 record. Stafford managed to lead his team to win a handful of games during the regular season, but it wasn't enough to secure them a playoff spot. 
Stafford's future in the NFL
Lions fans experience disappointment with familiarity, as they haven't won a playoff game in 29 seasons. Many, however, are looking to the future in hopes that a new QB will shake things up. After the conclusion of their 2020 season, reports ESPN, the Lions traded Matthew Stafford to the Los Angeles Rams.
In exchange, Detroit received Jared Goff, two first-round picks, and a third-round pick in upcoming NFL drafts. Stafford will enjoy warmer weather in his new home stadium. He'll also be with dependable play-makers like Robert Woods, Cooper Kupp, Tyler Higbee, and Gerald Everett. Plus, Cam Akers serving as the running back will provide another offensive threat. 
The LA Rams franchise has seen consistent success since moving to LA from Saint Louis in 2016. Football fans everywhere will be watching with anticipation to see how Stafford fares in a new franchise since he was first drafted to the Lions in 2009. Only time will tell.