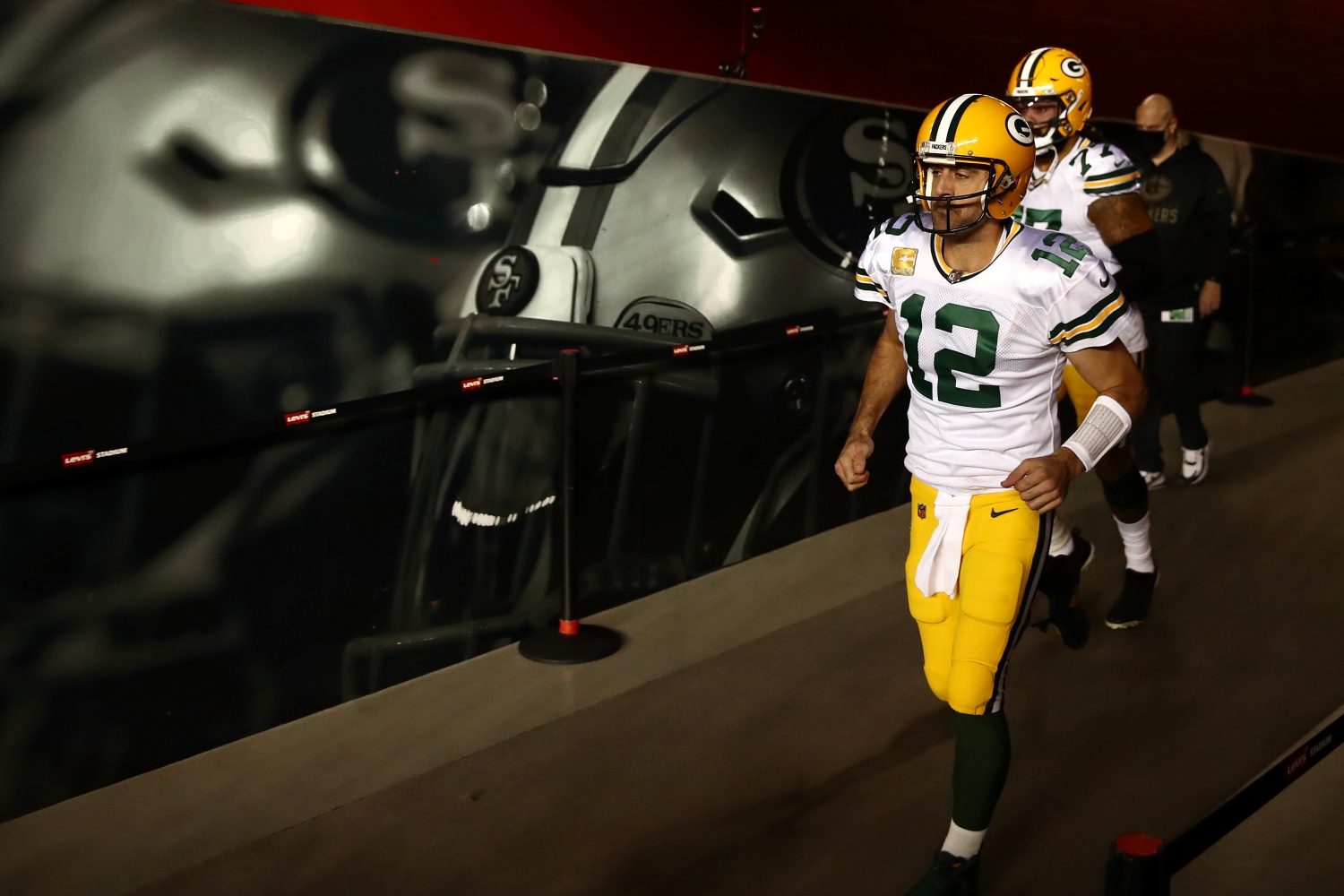 Aaron Rodgers Reportedly Ruined the Packers' Plan to Make Life Easier For Him
The Green Bay Packers reportedly would have been able to acquire a big name to help Aaron Rodgers. Will the NFL star regret not re-working his contract?
The 2021 version of the Green Bay Packers will feature many familiar faces from the 2020 team that lost to the Tampa Bay Buccaneers in the NFC championship game. In fact, Aaron Rodgers and Co. project to run it back with essentially the same roster as last season.
But it didn't have to be this way.
And if the Packers come up short in their quest to win a Super Bowl title, Rodgers may have no choice but to accept some of the blame.
Green Bay essentially skipped out on free agency this year
Coming off another brutal playoff loss, the Packers entered the offseason with a major problem: a lack of salary cap space. Green Bay possessed little financial wriggle room to make major additions to the roster. In fact, the team lost several key contributors in free agency.
All-Pro center Corey Linsley signed a record-setting contract with the LA Chargers. He had formed a tight relationship with Aaron Rodgers over the years, so his departure certainly represented a tough blow for the Packers.
In addition, Jamaal Williams also found a new NFL home. The dual-threat running back signed a two-year, $6 million deal with the Detroit Lions.
Meanwhile, the Packers surprisingly devoted eight times that amount on retaining Aaron Jones. And other than bringing back Kevin King and Marcedes Lewis, Green Bay basically made no noise at all in free agency.
Aaron Rodgers reportedly ruined the Packers' plan to help him
Packers fans probably wanted to see their team make at least one splash move this offseason. Early rumblings of interest in J.J. Watt inspired optimism that perhaps Green Bay would succeed in landing a high-impact player on the open market.
So far, that hasn't happened. But based on one report, it sure sounds like the Packers had every intention of making life easier for Aaron Rodgers.
The only problem? Money.
Peter Bukowski of SB Nation relayed some interesting insight from Bleacher Report's Tyler Dunne about Rodgers and the Packers on Twitter.
"One thing I heard: The Packers would've been able/open to pursuing a big name this offseason to win a title if Rodgers would've been open to reworking his contract in that manner. Instead, the dominant narrative is that they aren't doing enough for him," Dunne said.
While Green Bay does have a well-documented history of taking a conservative approach in free agency, that narrative has changed a bit in recent years. In 2019, the Packers broke the bank to sign linebackers Za'Darius Smith and Preston Smith. They also signed offensive lineman Billy Turner to a four-year, $28 million deal, and Adrian Amos arrived on a four-year, $36 million deal.
However, with Rodgers' contract situation unresolved, the team's plan of trying to pursue a big name never came to fruition.
What does the future hold for one of the greatest quarterbacks in NFL history?
Will Aaron Rodgers regret not re-working his deal? If the Packers experience another premature postseason exit, it will be difficult not to question his decision to not help free up cap space to give his team more spending power.
Then again, Rodgers also watched the Packers use a first-round pick on a quarterback in the 2020 NFL draft. And based on his repeated comments about facing an uncertain future, perhaps he had no interest in extending his stay in Green Bay.
Still, if winning a Super Bowl title mattered more than anything, restructuring his contract would have allowed the Packers to carry out their plan of signing a high-profile player last month.
Can the reigning NFC North champions finally get over the hump in the postseason? The answer to that question wouldn't be such a mystery if they had been able to upgrade their roster with a big-ticket free agent.
All contract data courtesy of Spotrac. All statistics courtesy of Pro Football Reference.