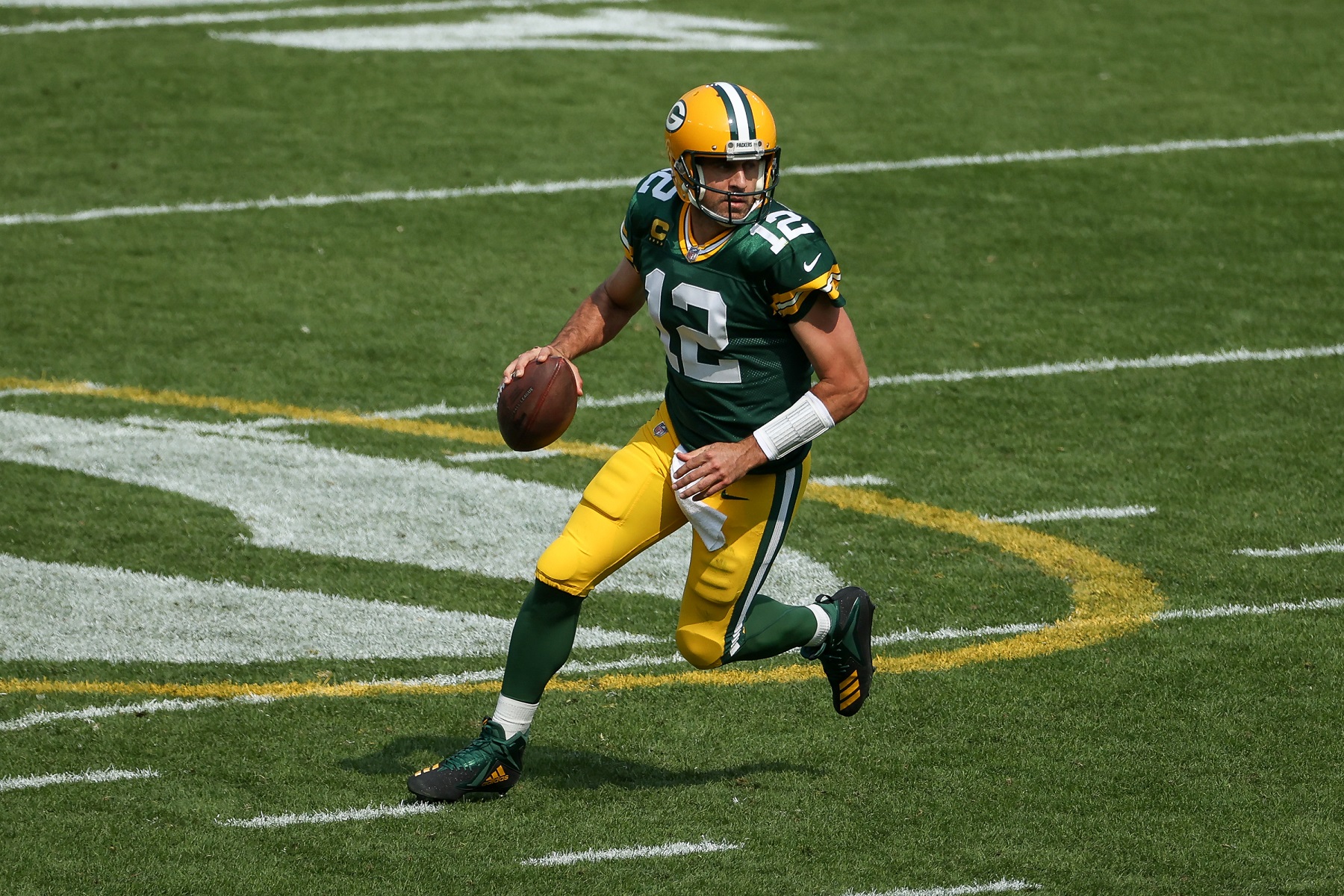 Aaron Rodgers Reveals How He Gets His Way With Packers Coaches
Green Bay Packers quarterback Aaron Rodgers admits he sometimes pretends that the speaker in his helmet is malfunctioning.
There's at least a remote possibility that Aaron Rodgers will be in a Super Bowl once more before he retires and a very good chance he'll be in the Hall of Fame. For the time being, however, the Green Bay Packers quarterback is mostly insubordinate.
The best part is that Rodgers is secure enough that he can brag about how he gets away with ignoring Packers coaches.
Aaron Rodgers knows all about quarterbacking
Aaron Rodgers arrived in the NFL in 2005 and has been the Green Bay Packers' starting quarterback since 2008. With all that experience, it's doubtful that a defense can throw a wrinkle at him that Rodgers hasn't seen a dozen or more times. And his track record suggests he knows how to deal with it.
Rodgers can go over 4,000 career pass completions in Week 4 of the 2020 NFL season and should also eclipse 50,000 yards through the air by the end of the year. He's thrown nine TD passes against zero interceptions thus far this season, which is consistent with his career ratio of 373 scoring strikes to just 84 picks.
It has meant eight trips to the Pro Bowl and a pair of selections to the first-team All-Pro squad for Rodgers, who quarterbacked Green Bay to a Super Bowl victory over the Pittsburgh Steelers after the 2010 season.
With the Packers' offense ranking No. 1 in the league in scoring and No. 2 in yardage through three weeks, Green Bay fans understandably have visions of another Super Bowl season.
NFL helmet technology is straightforward
There was a time when quarterbacks before Green Bay Packers star Aaron Rodgers called their own plays in college and pro football,. That went by the wayside decades ago. Coaches began using players, often wide receivers, to shuttle plays into the huddle, although the Cleveland Browns fooled around with radio technology in helmets. in the 1950s.
It wasn't until 1994 that the NFL officially allowed teams to use vastly improved communication systems in quarterbacks' helmets. Interestingly, defensive players weren't afforded the same opportunity until 2008.
The equipment may be sophisticated, but the system is relatively simple. The coach with the microphone has an open line to the quarterback until the play clock runs down to 15 seconds. Then, the speaker in the helmet goes dead. In the event of a malfunction with one team's communications system, the other team has to turn off its radios, too.
Aaron Rodgers figured out how to get his way
The problem with million-dollar-a-year offensive coordinators and the head coaches making five times that money is that $20 million quarterbacks like to think they have better ideas.
Appearing on Pat McAfee's show this week, Green Bay Packers signal-caller Aaron Rodgers admitted he has a workaround when head coach Matt LaFleur radios in a play not to the quarterback's liking. Although the equipment can legitimately fail, Rodgers occasionally fakes malfunctions in order to call his own plays.
"I have done that a fair amount. Every now and then it's real. I can't believe it and LaFleur thought I was messing around last year," Rodgers said. "The helmet went out three times, probably, and he could not believe it. And the second time it went out, he thought I was messing with him and I faked one in between the second and the third time."
Rodgers said the entertainment value in situations like that is immense as he watches the coach on the sidelines.
"I did the, 'I can't (hear signal)' and he was like, 'Oh, my God.' You could see him just freaking out on the sidelines. And I was laughing."

Aaron Rodgers
And when the audio legitimately fails?
"It's a little crazy. … You've got to kind of make up a play based on the personnel that's in," he said. "If you know the game plan well enough, you can fit in those parameters.
"Or you want to go rogue, you can pull something out of your ass you think is going to work."
All stats courtesy of Pro Football Reference.