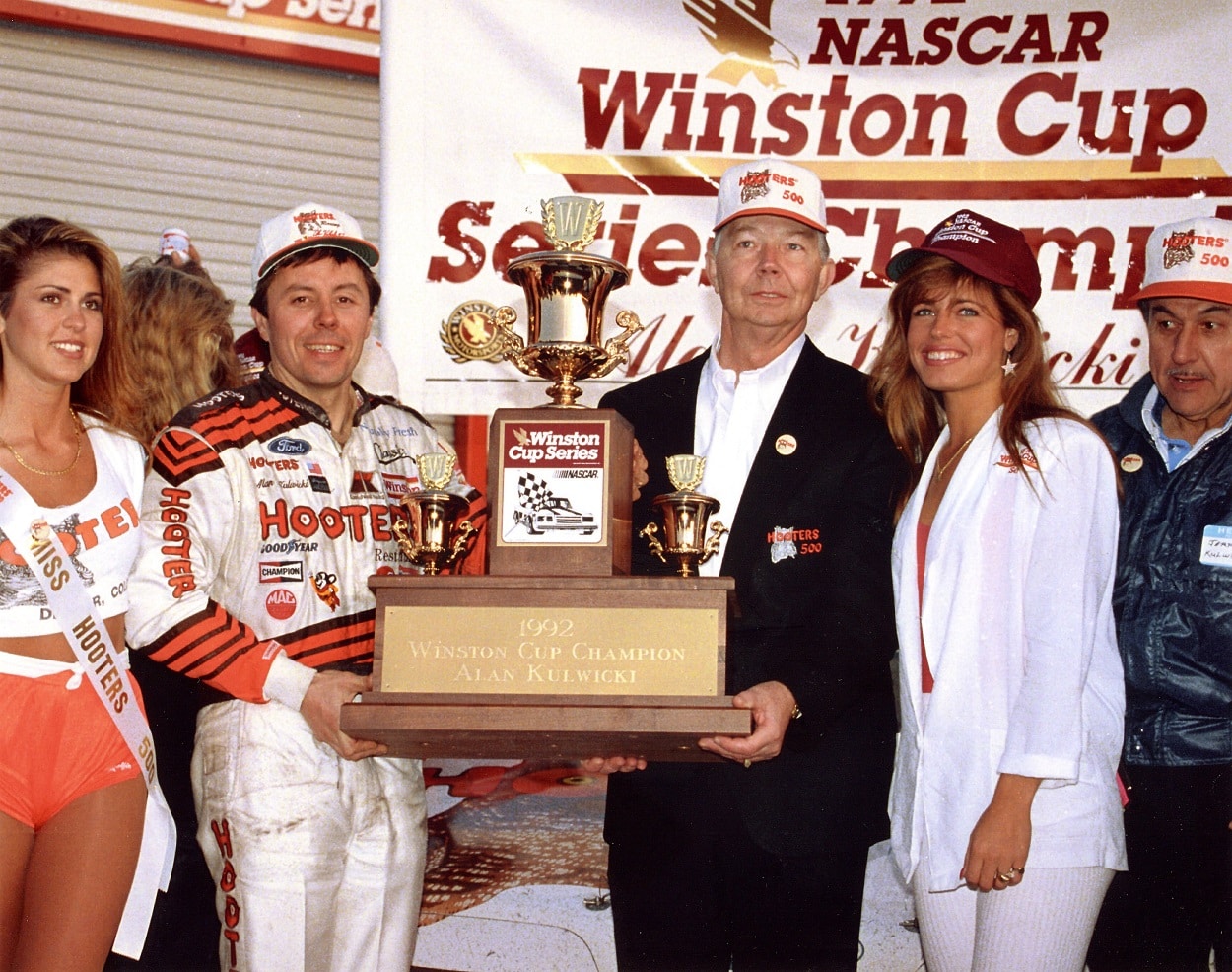 Alan Kulwicki Capped Off His Lone Cup Series Title at Atlanta Motor Speedway in the Greatest NASCAR Race of All Time Mere Months Before His Tragic Death
A look at the 1992 Hooters 500, which many call the greatest NASCAR Cup Series race of all time.
As the NASCAR Cup Series has been running races at Atlanta Motor Speedway since 1960, the famed venue has provided its fair share of special events. But none may be more memorable than the running of the 1992 season-ending Hooters 500, which many call the greatest race in NASCAR history, a race that featured plenty of storylines.
The 1992 Hooters 500 was Richard Petty's final NASCAR Cup Series race and Jeff Gordon's first
One major storyline at Atlanta that week was that the race was the 1,184th and final start for the Cup Series' all-time wins leader, Richard Petty. "The King" had been on a farewell tour all season, his 35th, but the 200-time winner nearly didn't even make the field, just making it through qualifying to start 39th out of 41 drivers. He ultimately finished 35th after a wreck on lap 95 ruined his final race.
While nobody knew how big a deal it would become, another big storyline from that day was that it was the first-ever NASCAR Cup Series start for Jeff Gordon. Debuting in the famous rainbow No. 24 for Hendrick Motorsports, Gordon, who went on to win 93 Cup Series races and four points titles over the next quarter-century, finished 31st after crashing out of the race on lap 164.
But while what turned out to be a true changing of the guard was special, there was a championship to be won that day, and the battle for the points title had been fierce all season long. Six drivers had a mathematical chance to win the championship on the 1.522-mile track, but the focus was truly on the top three in the standings — Davey Allison, Alan Kulwicki, and Bill Elliott.
Alan Kulwicki won his lone NASCAR Cup Series title in Atlanta just months before he was killed in a plane crash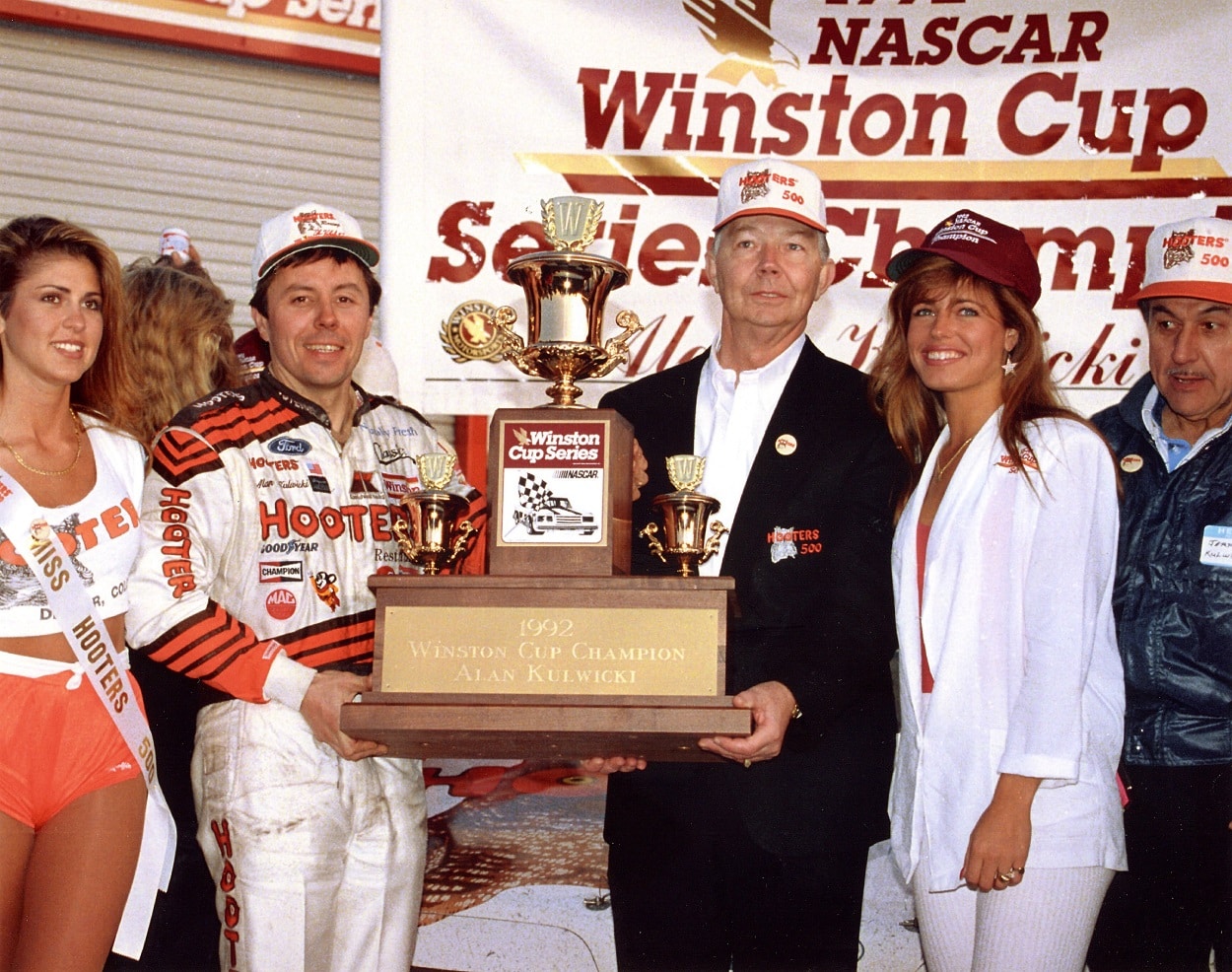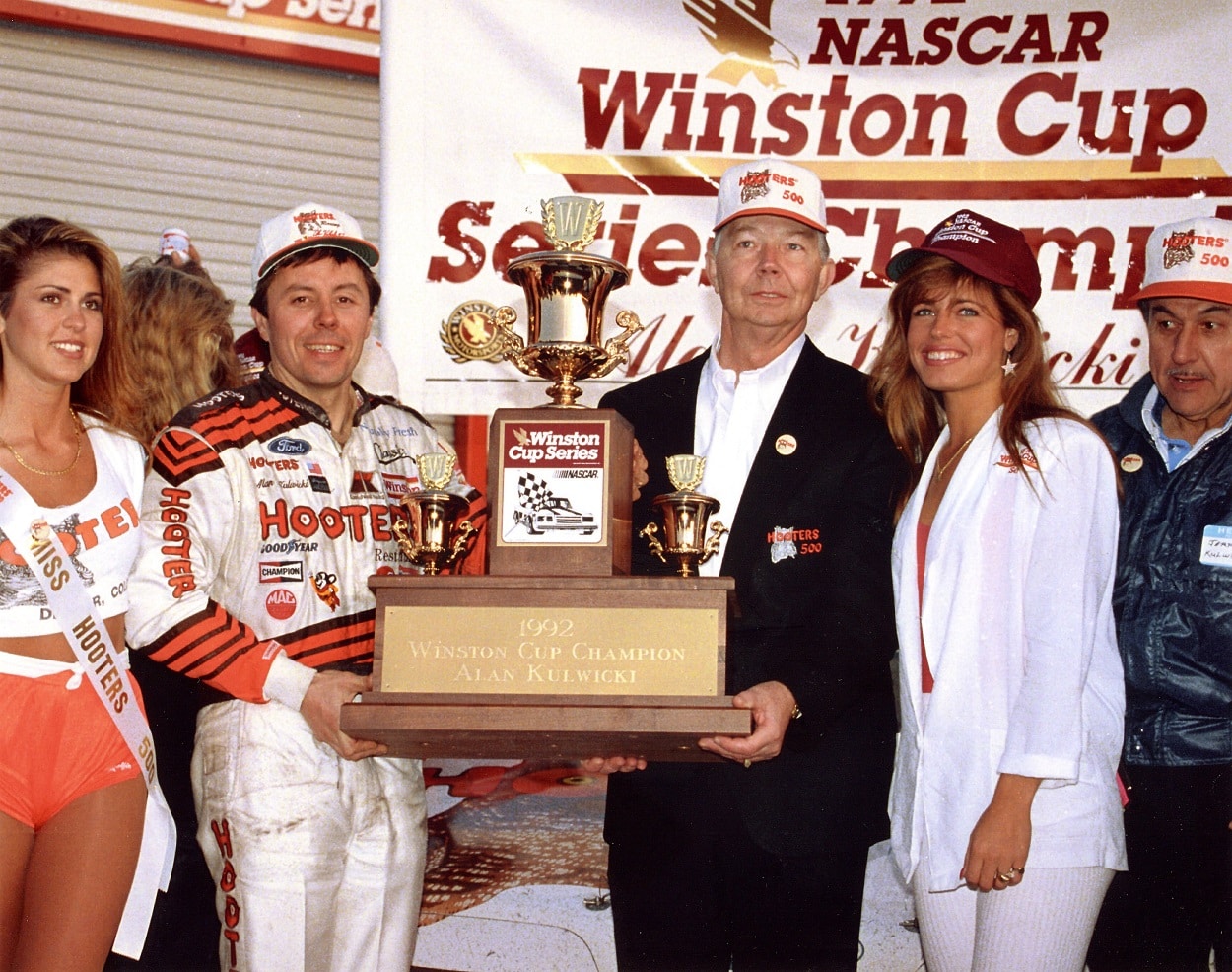 Allison held a 30-point lead on Kulwicki heading into Atlanta and a 40-point lead on Elliott. And he was running a solid race, keeping himself near the front of the pack well past the halfway point of the 328-lap affair.
But on lap 254, Ernie Irvan, running three laps behind, spun out on the front stretch, and Allison essentially had nowhere to go but directly into him. Allison's No. 28 Ford suffered steering and tie rod damage, and while he returned to the race, his title hopes were dashed, and he finished 53 laps down in 27th.
Following Allison's wreck, it was now a two-car battle between Kulwicki and Elliott, each of whom held the lead for long stretches of the race. In the end, however, it came down to just one lap. But not in the sense you might think, as most races obviously come down to one lap, that being the final one, of course.
But this was different.
Elliott ultimately cruised to victory, winning by more than eight seconds. But despite leading 102 laps and taking the checkered flag, he didn't claim the points title. And the reason why is because Kulwicki, who finished second, led 103 laps, the most of any driver in the field, which earned him a five-point bonus.
Combined with the points he received from being the runner-up, Kulwicki earned the exact same amount of points as Elliott, 180, which gave him a 10-point advantage in the final standings, earning him his first-ever NASCAR Cup Series championship. At the time, it was the closest margin of all time, a record that stood until 2011 when Tony Stewart and Carl Edwards tied for first.
The championship was that much more special as Kulwicki, who won twice during the '93 season, was 278 points behind in the standings with six races to go and fought all the way back.
Tragically, Kulwicki, just 38 at the time, was killed in a plane crash a mere four and a half months later. And only three and a half months after that, Allison was killed in a helicopter crash. Both were posthumously inducted into the NASCAR Hall of Fame in 2019.
Stats courtesy of Racing Reference
Like Sportscasting on Facebook. Follow us on Twitter @sportscasting19 and subscribe to our YouTube channel.