Andrew Luck Praises Peyton Manning for 'the Positive Influence' He Had on His 'Football Experience': 'I Grew up Rooting for Him'
Some of the best succession plans of all time were when legendary quarterbacks replaced other legendary quarterbacks. We saw Steve Young replace Joe Montana on the San Francisco 49ers and Aaron Rodgers take over for Brett Favre on the Green Bay Packers. However, the one that was supposed to be the most successful was Andrew Luck taking Peyton Manning's role as the Indianapolis Colts' starting QB.
Luck easily had the talent to fill Manning's shoes, but injuries and awful roster management by former Colts general manager Ryan Grigson led to Luck retiring early.
As Manning recently entered the Pro Football Hall of Fame, though, Luck shared his thoughts on what his predecessor meant to him.
Andrew Luck replaced Peyton Manning as the Colts' quarterback
The Peyton Manning-Andrew Luck situation on the Colts was much different than Montana and Young's, and Favre and Rodgers' on their respective teams; Indy's two former QBs never played on the same team together.
Manning had a legendary 14-year tenure in Indy, winning four MVPs, playing in two Super Bowls, and winning one title. However, he missed the entire 2011 season with a neck injury, which led to the Colts going 2-14 and earning the No. 1 pick in the 2012 NFL Draft.
Colts owner Jim Irsay then had to choose between Manning — who had an uncertain future due to his injury — and Luck, who was the best quarterback prospect in the draft since John Elway.
Irsay chose the latter, so Indy released Manning and drafted Luck with the first pick.
Manning went on to earn his fifth career MVP, play in two more Super Bowls, and won one championship during his four seasons with the Denver Broncos before retiring after the 2015 campaign. Luck, on the other hand, was on the Colts from 2012 through 2018. He earned four Pro Bowl selections and took Indianapolis to one AFC Championship Gam but retired before the 2019 season.
Luck revealed what Peyton meant to him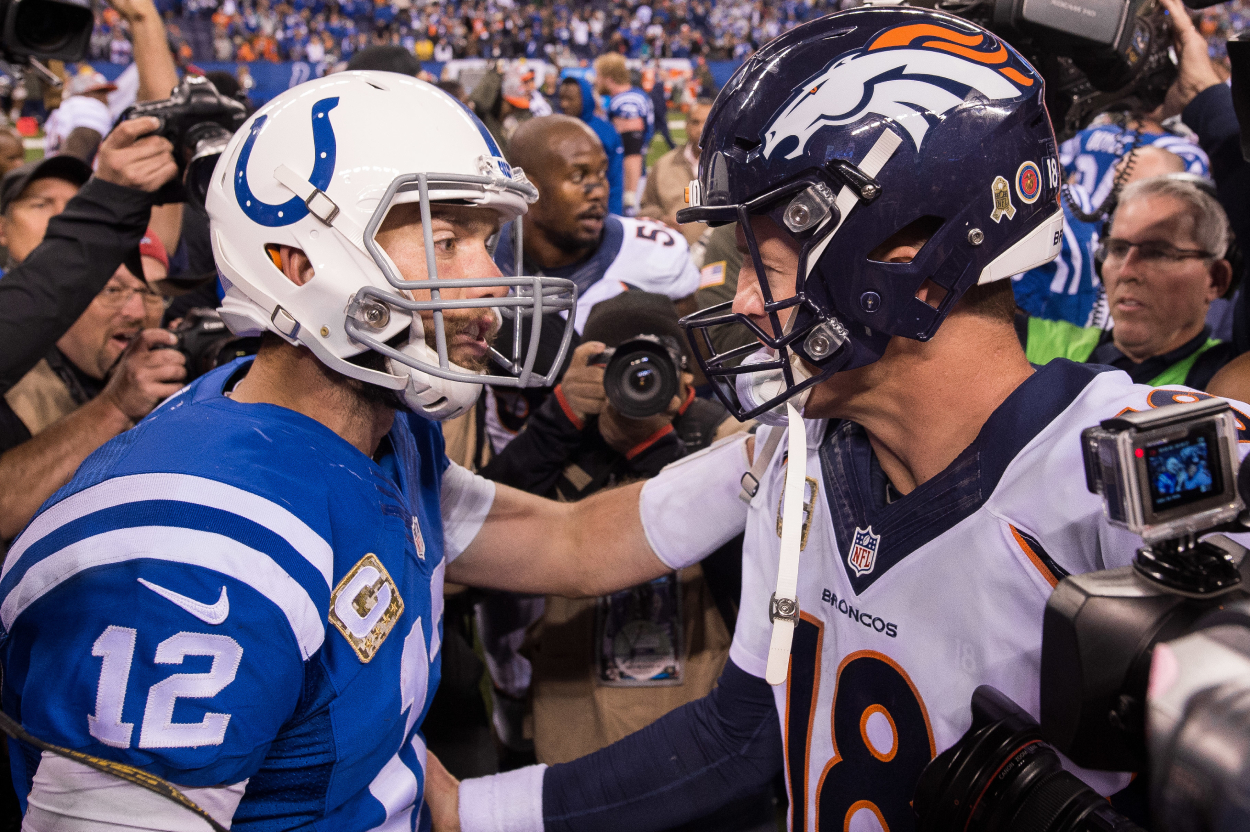 Manning recently entered the Pro Football Hall of Fame, and in recent weeks, many notable athletes, coaches, and other personalities have shared their thoughts on him and his career.
Luck was one of them.
"Peyton added new depth and definition to the word 'quarterback,'" Luck said to The Athletic. "I grew up rooting for him and stayed rooting for him — except, of course, when we were on opposite sidelines. He brought a one-of-a-kind personality and style to the game and changed how the position is played."
He continued: "It was an honor to both follow him in Indy and be a professional opponent. I sincerely congratulate him on his Hall of Fame induction and thank him for the positive influence he had on my football experience. What an era to be a Colts fan."
Many people probably think that Luck was just the player who followed Manning in Indy, but their relationship went back much further than that. According to ProFootballTalk, Andrew and Peyton's fathers, Oliver Luck and Archie Manning, were teammates in the NFL, so their relationship led to Peyton being a mentor for Andrew. In fact, Peyton even advised him to stay at Stanford for his senior season, as he did during his college days at Tennessee.
Sure, there's the weird dynamic in Peyton and Andrew's relationship, given that the latter took Peyton's job. But it appears they had the ultimate respect for each other, which is why Andrew had so much praise for the five-time MVP ahead of his Hall of Fame induction.
A look at Peyton Manning's Hall of Fame career
Peyton Manning was a no-brainer for the Hall of Fame; he was one of the greatest quarterbacks to ever play.
In addition to his five MVPs and two Super Bowl wins with the Colts and Broncos, Manning earned 14 Pro Bowl selections. He also threw for 71,940 yards and 539 touchdowns, which are both third in NFL history.
But Manning didn't just have the best stats year in and year out, his teams were always successful. He only missed the playoffs twice in the 13 years he was the Colts' starter (not including the 2011 season that he missed due to injury) and then made the playoffs in all four of his seasons on the Broncos. Manning's teams consistently won, and they were almost always contending for Super Bowls.
All in all, Manning's NFL career was legendary and one of a kind. No one probably understood that more, tough, than the man who had to play in his shadow.
Stats courtesy of Pro Football Reference