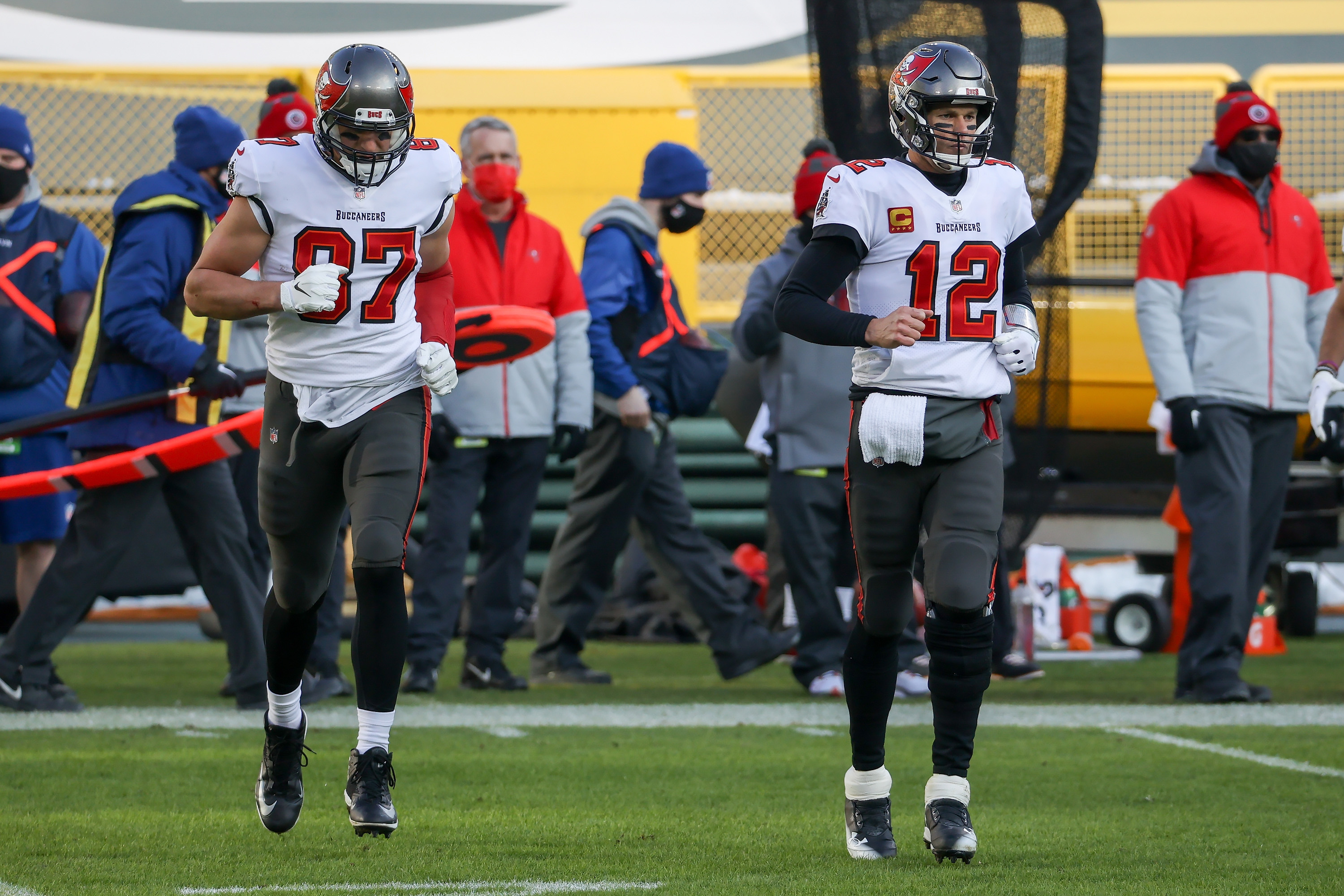 Are Patriots Fans Rooting for Tom Brady and Rob Gronkowski? Gronk Chimes In
Are New England Patriots fans rooting for Tom Brady and Rob Gronkowski to beat the Chiefs in Super Bowl 55?
It appears to be a dilemma for New England Patriots fans. Do they root for two guys who were a huge part of their dynasty when the Tampa Bay Buccaneers play the Kansas City Chiefs in Super Bowl 55? Tom Brady and Rob Gronkowski are now playing for another ring after walking away from the Patriots, the team both began their NFL careers with. Are Patriots fans holding a grudge against the two or will they be cheering them on for all they did for their franchise?
New-look Patriots had a tough season without Tom Brady
For the first time in 20 seasons, the New England Patriots faced life without Tom Brady. Brady, a six-time Super Bowl champion, tested free agency for the first time in his Hall-of-Fame career and was swept away by the Tampa Bay Buccaneers. Brady's departure left a huge void at quarterback for the Patriots.
New England signed former NFL MVP Cam Newton before the season began and got off to a quick start. The Pats got off to a 2-1 start, defeating the Miami Dolphins and Las Vegas Raiders while losing at the Seattle Seahawks in a shootout. Prior to New England's Week 4 game at the Kansas City Chiefs, Newton tested positive for the coronavirus (COVID-19).
Newton didn't play in the loss to the Chiefs but returned after their bye week. The Pats then lost three straight games when Newton returned to fall to 2-5. After winning four of the next five games to get back to .500, the Patriots dropped three straight to assure themselves their first losing season since 2000.
Meanwhile, in Tampa…
While the New England Patriots saw Tom Brady leave town, the Tampa Bay Buccaneers were quick to make him an offer. The Bucs signed Brady to a two-year deal worth $50 million. Not only did they sign him, but they surrounded him with some serious weapons.
Already armed with a pair of quality wideouts in Mike Evans and Chris Godwin, the Bucs quickly went to work to load up their offense. Tampa went out and lured Brady's former teammate Rob Gronkowski out of retirement. They also added troubled Pro Bowl wideout Antonio Brown and a former first-round pick, running back Leonard Fournette, giving Brady an arsenal of weapons.
Brady took full advantage. He led the Buccaneers to an 11-5 record and the fifth seed in the NFC. He threw 40 touchdown passes and threw for 4,633 yards. The Bucs then won three straight road games in the postseason, defeating the Washington Football Team, New Orleans Saints, and Green Bay Packers. The Bucs will meet the high-powered Kansas City Chiefs in Super Bowl 55.
Will Patriots fans be rooting for Brady and Gronkowski?
During a media session via Zoom on Monday, Rob Gronkowski reflected on his days with the New England Patriots. He said he cherishes those days and learned a lot about football and life while playing there. He also gave a little insight into whether or not he thinks Patriots fans will be rooting for the Tampa Bay Buccaneers in Super Bowl 55.
"My friends and family that I have been hearing from, I feel like I get a sense that there's a lot of people cheering for us," Gronkowski said. "All the friends and family I talk to are always like, 'Man, there's so many people cheering for you up here.' It's great and it's good to hear. It's a sense of relief to hear because when I was there I appreciated everything from the organization to the fans. They have unbelievable fans up there and it is just cool just to hear that they are still watching and when my friends are up there they are like, 'Yo, everyone is cheering up here for you,' it's pretty cool."
While some Patriots fans were upset when Brady and Gronkowski left town, it appears many of them are still backing two of the guys who will forever be New England Patriots.
All statistics courtesy of Pro Football Reference.